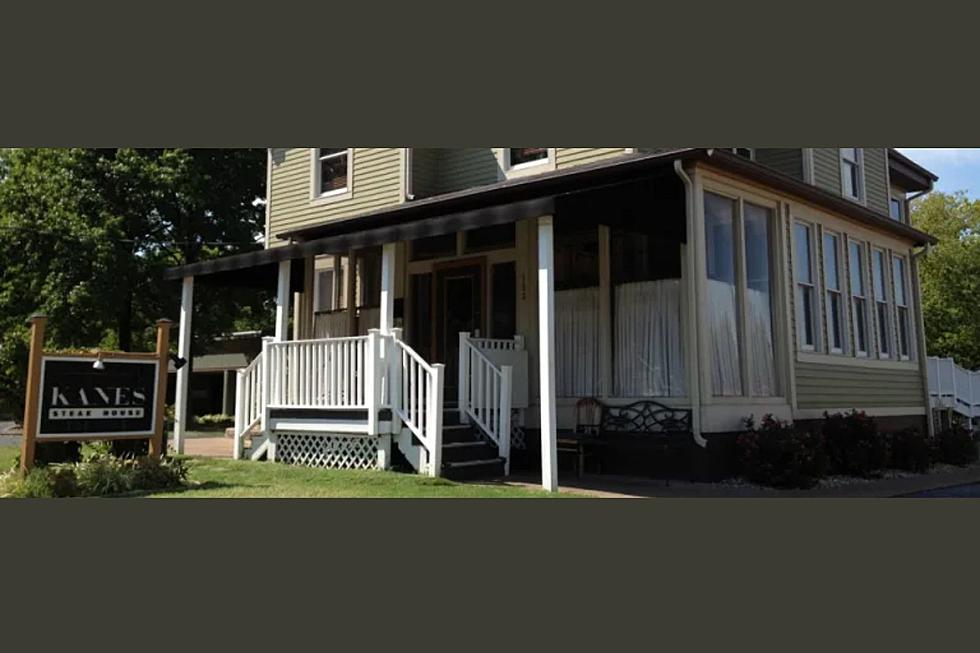 Missouri's Best Steakhouse Is Just Down The Road In St. Louis
Citizen Kane's Steakhouse
Love Food recently listed the best steakhouse for each state, and Missouri's surprisingly isn't in Kansas City, it's in suburban St. Louis.
Kirkwood to be exact. If you're wondering where Kirkwood is, it's a western suburb of St. Louis in St. Louis County. The steak house is Citizen Kane's. According to their website, Citizen Kane's is family-owned and operated and is in a turn-of-the-century home in the heart of Kirkwood.
Citizen Kane's website says the restaurant is, "Well known for our exceptional menu and award-winning cuisine, Citizen Kane's features a vast array of traditional and unique dinner entrees." Their About section says all entrees come with soup or salad and one of their signature side dishes.
So what can you get at Citizen Kane's? Appetizers include shrimp cocktail and a St. Louis specialty, toasted ravioli. As far as steaks go they serve a New York Strip, A Ribeye, Filet Mignon, and Tendorline Medallions. Non-steak options include Norwegian Salmon, Shrimp Scampi, a thick t-bone style pork chop, and Chicken Xanadau. Sides and desserts are about what you can expect.
Love Food cites the Ribeye as one of the entrees their customers love.
Beef entrees are priced at around $50.00, and non-beef entrees are priced at around $25.00-$35.00 depending on your order.
Unfortunately, as of this publication, Citizen Kane's is temporarily closed due to their kitchen being flooded out twice. Apparently, the restaurant lost power during a storm the first week of August which caused flooding in their prep and kitchen area. The latest update from the restaurant on their Facebook page doesn't offer a re-opening date for the restaurant, although their butcher shop and gourmet food store is scheduled to open back up on Wednesday, October 18, 2023, so hopefully the restaurant is not far behind.
I hope they'll reopen soon because I really want to try their Ribeye with a Toasted Ravioli appetizer.
You can keep up with Citizen Kane's Facebook page here.
Cementland: Murdered Artist's Vision Lives On, But For How Long?
Cementland, an incomplete public art exhibit that was the brainchild of St. Louis sculptor Bob Cassilly, still stands unfinished near St. Louis. Cassilly was found dead on the site in 2011, after a bulldozer he was driving flipped down a hill. An independent investigation undertaken by some of Cassilly's family found he had been beaten to death, however, the St. Louis Medical Examiner stood by the ruling of accidental death. The Cassilly family had hoped to continue Bob's work on Cementland but sold it in 2022 for $785,000.
WARNING: Under no circumstances should you enter this property. By doing so you risk bodily harm and/or prosecution for trespassing on private property.
Gallery Credit: Rob Creighton
Ghosts of the Once Great Lewis & Clark Tower
WARNING: Under no circumstances should you enter this property. By doing so you risk bodily harm and/or prosecution for trespassing on private property.
Built in 1963, opened in 1964, and a landmark by the late 1960s, The Louis & Clark Tower north of St. Louis was a destination for those looking for a swanky meal in the building's 10th-floor Top of the Tower Restaurant. Couples on date night could also check out a movie, or go bowling, in the attached retail section of the building. By the end, condominium values in the building had plummeted, much of the retail space was being used by social services, and some units in the building didn't have water. The elevators didn't work either. By 2014 authorities stepped in and condemned the building, forcing the few who still called the tower home out of the building.
In 2020 Tom V shot some video of the now abandoned building including the Top of the Tower Restaurant and some of the apartments. You can watch the video
here
.
Gallery Credit: Rob Creighton