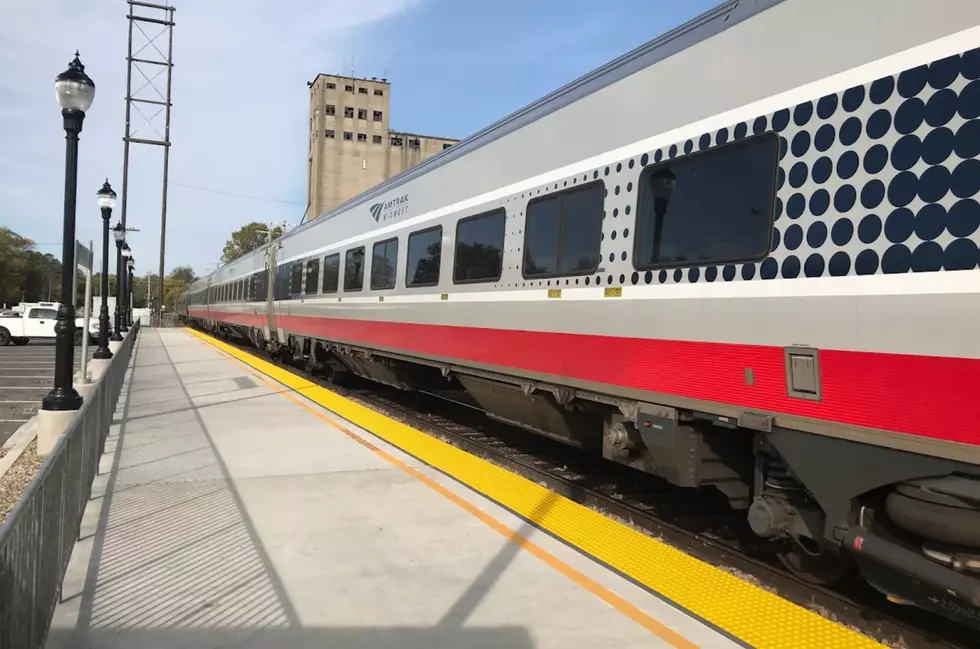 Amtrak Wins Awards For Train Service; Missouri Routes Shut Out
Rob Creighton/Tonwsquare Media
Some of Amtrak's trains in the Midwest have picked up some awards for their train service, yet service in Missouri and routes that come close to the Mississippi River were shut out of awards.
WanderU, a travel website devoted to ground transportation in America, just announced their 2023 Passenger's Choice Awards for Excellence in Ground Transportation. Many of Amtrak's state-supported regional services won awards in the contest.
Best Train Lines in the United States: 
Amtrak's Maple Leaf between Toronto and New York City. #1
Amtrak's Hiawatha service between Chicago and Milwaukee. #2
Amtrak's Keystone service between New York City and Harrisburg. #3
Amtrak's Saluki between Chicago and Carbondale. #4
Amtrak's Downeaster between Boston and Brunswick, Maine, and Amtrak's Illini between Chicago and Carbondale. Tie #5
Amtrak also dominated the Top 5 travel providers in the following geographic areas: the Southeast, Southwest, and Midwest.  While not as dominant, the railroad's lines also scored well in the Mid-Atlantic and New England regions.
In the Midwest, its Saluki and Illini trains serving Chicago, the far south suburbs, Central Illinois, and Southern Illinois terminating in Carbondale made their list. As did their Chicago-Milwaukee Hiawatha service, and Pere Marquette trains which serve Michigan towns between Chicago and Grand Rapids, Michigan.
While Amtrak's routes out of Chicago did rather well in the awards, note, that Amtrak's trains serving Quincy, along with its Lincoln Service / Missouri River Runner trains didn't make the list.
It's not surprising. I can't speak for the Quincy service as I haven't ridden it since I was in high school. I can speak for the Lincoln Service / Missouri River Runner trains as I just rode them last fall. You can check out my blogs on the ride here and here.
Some of the issues of the Lincoln Service / Missouri River Runner trains include the routes reliability issues, the on-again-off-again second train between St. Louis and Kansas City, a schedule not attractive to doing a day-long trip to either St. Louis or Kansas City, arrival times into Kansas City and Chicago that are most likely too late to give you the night to do anything but check into your hotel, and varying levels of friendliness and service offered by the crews.
The seats in Amtrak's new Venture cars are also uncomfortable for riders. My butt was aching halfway through my trip. I've read many other complaints about the seats, some from folks going much shorter distances than my ride.
Don't get me wrong, aside from my butt aching, I enjoyed my travel throughout Missouri and Illinois on Amtrak. It was nice to not have to navigate Columbia in rush hour, and St. Louis lunchtime traffic, or get into the south suburbs of Chicago during the afternoon rush.
The service does work well for St. Louis trips, and for those who want to spend a few hours in one of Missouri's small towns between St. Louis and Kansas City. Yet for anything more ambitious, you're going to need to consider train schedules and travel time in your travel plans.
Until they fix some of this, I don't think the Missouri River Runner / Lincoln Service trains will be a top award-winning route for riders anytime soon.
Look At What I Saw Out The Window Between Warrensburg and Chicago
I recently rode Amtrak's Missouri River Runner/Lincoln Service between Warrensburg and Chicago. Here's some of what I saw outside the window during the ride.
A Look At the Abandoned Once Great Millennium Hotel In St. Louis
The abandoned
Millennium Hotel
near The Gateway Arch and Busch Stadium was once one of St. Louis' great riverfront hotels. Since its abandonment several years ago, time, decay, and urban explorers have all taken their toll on the building. Unconfirmed reports of asbestos or other contamination in the building make it even more unattractive and expensive to rehab or tear down and redevelop.
Millenium Hotels
, who still apparently own the hotel, don't seem all that interested in redeveloping, remodeling, or selling the facility either.
Check out these photos, from a video shot several years ago before time began to ravage the complex. They're from a Youtube video shot by
BackyardExploration
seven years ago. You can check out more recent photos of the hotel's decline
here
.
WARNING: Under no circumstances should you enter this property. By doing so you risk bodily harm and/or prosecution for trespassing on private property.