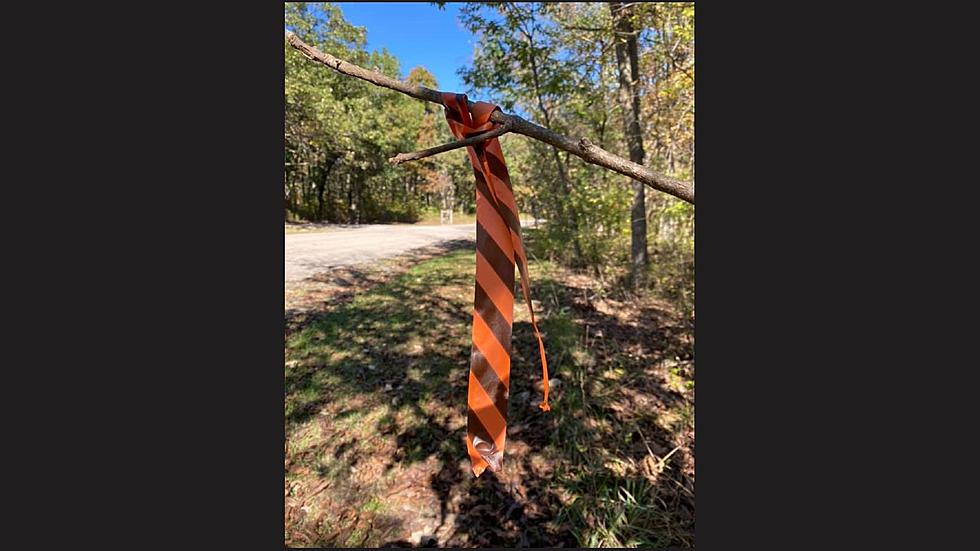 Why Are There Orange and Black Flags Tied to Trees at Knob Noster State Park?
Knob Noster State Park via Facebook
If you were out in Knob Noster State Park over the weekend and saw some plastic orange and black plastic "flags" hanging from the trees, here's what they mean.
Knob Noster State Park will be closed to the public for a managed deer hunt from sunset on Friday, November 5 through sunrise on Monday, November 8. The orange and black striped plastic flags have to do with the managed hunt.
According to a Facebook post, the park staff has flagged areas of the park that will be no hunting zones during the managed deer hunt. Park staff says if you see the flags, please leave them alone, and they will remove the flags after completion of the hunt.
In case you're wondering, the managed deer hunt is only open to registered participants who were chosen for the hunt and notified by the Missouri Department of Natural Resources earlier this year. Managed deer hunts are necessary at Knob Noster State Park to preserve the natural resources of Knob Noster State Park.
If you'd like to be notified of future managed deer hunts, or sign up for them you can get more information here. The Missouri Department of Natural Resources offers  Managed Deer Hunts for all kinds of hunters including youth and those hunters with disabilities.
And if you're goin' hunting at Knob Noster State Park in a couple of weeks. Have fun, good luck, remember to be safe, and pay attention to those orange and blag flags hanging from the trees. Enjoy the weekend.
LOOK: Here are the best lake towns to live in
Many of the included towns jump out at the casual observer as popular summer-rental spots--the Ozarks' Branson, Missouri, or Arizona's Lake Havasu--it might surprise you to dive deeper into some quality-of-life offerings beyond the beach and vacation homes. You'll likely pick up some knowledge from a wide range of Americana: one of the last remaining 1950s-style drive-ins in the Midwest; a Florida town that started as a Civil War veteran retirement area; an island boasting some of the country's top public schools and wealth-earners right in the middle of a lake between Seattle and Bellevue; and even a California town containing much more than Johnny Cash's prison blues.