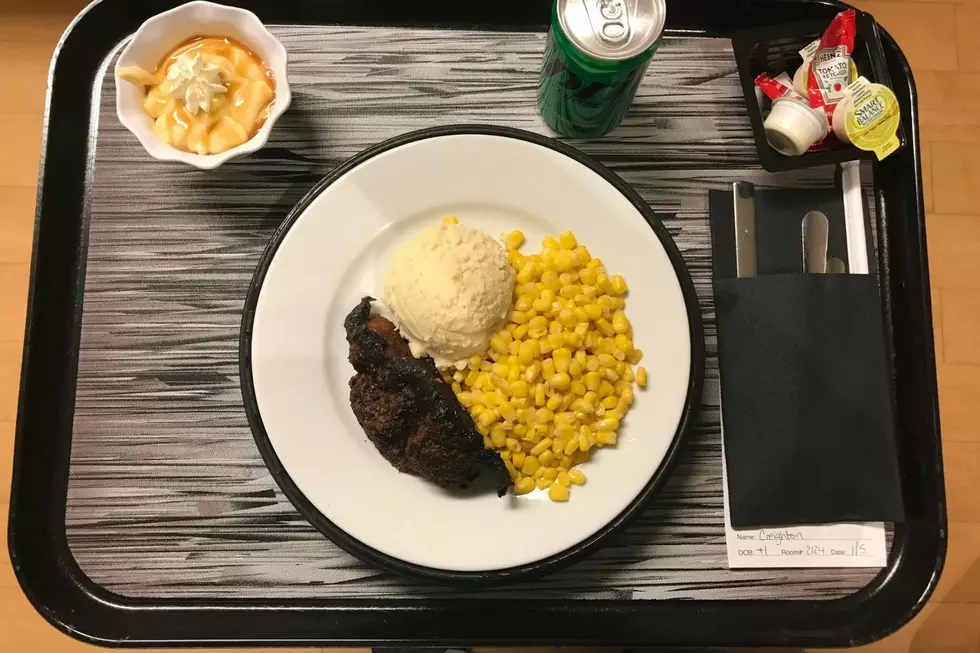 The Hospital Meals At WMMC Are Pretty Tasty If You Ask Me
The meatloaf dinner served by WMMC. (Rob Creighton/Townsquare Media
Don't let last night's picture of the meatloaf served to patients at Western Missouri Medical Center fool ya. The hospital food they serve to patients, and guests who choose to order a meal to eat with their hospitalized family member, is pretty good.  Even last night's meatloaf was very tasty, even if a little overdone.
Just before Christmas, my wife wound up at Western Missouri Medical Center, and she's still there. So she's had the pleasure of enjoying a lot of hospital food. I've even joined her for a few of them and I've been impressed with many of the meals I've eaten there. I even mentioned that their roast beef dishes seem to be tastier than Lion's Choice roast beef sandwich I tried last week.
I'm really surprised at how good the food tastes. Especially since my first bite of food at Western Missouri Medical Center was a somewhat hard, lukewarm grilled cheese sandwich that definitely didn't measure up. Yeah, I haven't ordered that again.
From simple cold sandwiches like turkey and roast beef to personal pizzas and even meals like chicken fingers, roast turkey, and roast beef. The meals are really good.
That said, I don't have a doctor telling me I have to eat a bland diet. Or a heart-healthy diet. Or any of the restrictions that might limit the tastiness of the food a patient might experience. So at least I got that going for me. It might be a different story if my doctor reads this story and tells the hospital dietician to put me on one of their restricted diets.
So here are the hits and misses I've experienced while enjoying meals with my wife during her hospital stay:
Hit. Personal Pepperoni Pizza. A personal-sized pizza with big slices of pepperoni, a good sauce, and a nice crust.
Hit. Roast Beef Sandwich on flatbread. A deli-style roast beef sandwich served with mayo and soup. It has a really nice flavor and the flatbread, mayo, and meat just play well together.
Miss. Grilled Cheese Sandwich. I ate half a sandwich my wife didn't want. I found the bread hard, and the cheese was not really tasty. Haven't had the guts to order one for myself since, even with the tomato soup.
Hit. Vegetable Soup. Perhaps one of my wife's favorite menu items. It's sometimes the best part of her meal.
Hit. Chicken Noodle Soup. My favorite soup. It tastes like the chicken noodle soup I ate as a kid.
Meh. Tomato Soup. I prefer a creamier tomato soup made with milk. I think this was made with water. It was OK, but I'd probably get the Chicken Noodle Soup given a choice.
Hit. Mashed Potatoes. I don't know if they're real or not, but they don't taste like flakes from a box. Excellent side with roast beef or turkey.
Hit. Green Beans. I'm not a green beans guy, but it's Kathy's go-to vegetable.
Meets Expectations. Corn. It's corn.
Meets Expectations. Roast Turkey. Not a bad meal by any stretch of the imagination, although I thought it didn't have a lot of taste and the gravy was light and watery.
Hit / Meets Expectations. I've had the meatloaf twice. The first time it was perfectly cooked. The next time, parts of it were burned. It tasted good both times though.
Hit / My favorite. Open-faced Roast Beef sandwich. My favorite meal. Great taste, as well as a tasty gravy.
Impressive. Chicken Fingers. Great breading, substantial chicken chunks, overall very good meal.
Looked and smelled good, didn't chance it. Lasagna / other Italian dishes. I had a bad experience or two with Italian hospital food while Kathy was in a hospital in Overland Park a couple of years ago, and Western Missouri's dishes looked similar. So I took a pass on them, although they smelled really good. Aside from burned noodles on a piece of lasagna, Kathy's enjoyed the Italian stuff she's been served.
The takeaway, while every meal isn't a home run, the people involved in food service at Western Missouri Medical Center whip up some pretty good meals. In fact, I'd say some impressive meals. There are more hits than misses on the menu and a pretty good menu selection. The only limitation if you're a patient is what your doctor and the hospital dietician limit you to.
For more information on Western Missouri Medical Center's meal and food service click here.
See How School Cafeteria Meals Have Changed Over the Past 100 Years
Using government and news reports,
Stacker
has traced the history of cafeteria meals from their inception to the present day, with data from news and government reports. Read on to see how various legal acts, food trends, and budget cuts have changed what kids are getting on their trays.
KEEP READING: 3-ingredient recipes you can make right now