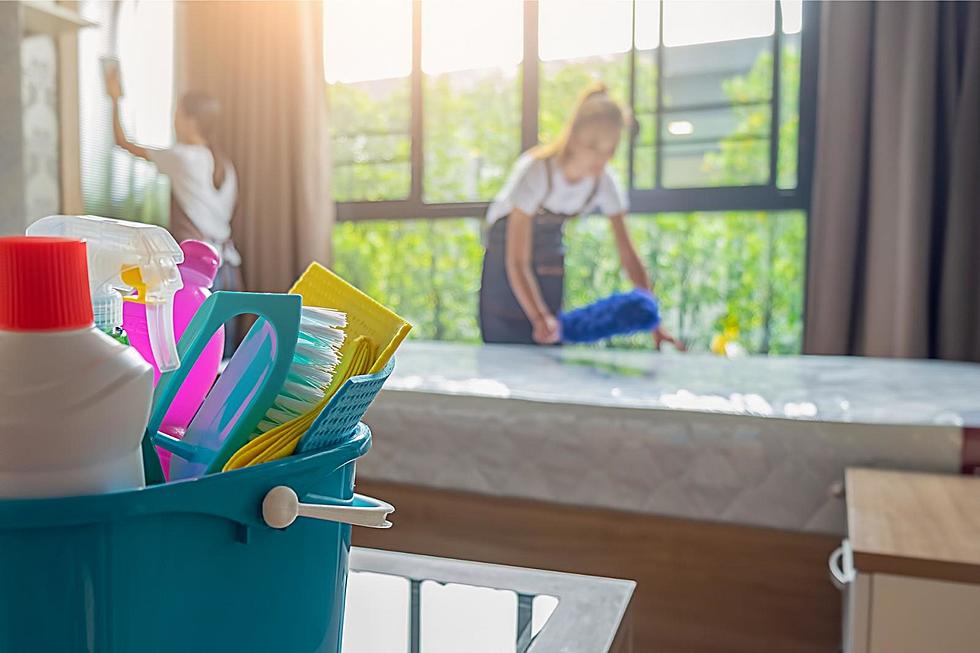 Spring Cleaning: How To Get It Done And What Not To Miss
Getty Images
I don't know about you guys, but I am not looking forward to Spring Cleaning this year. 
I mean, not that I'm super great at it anyway, but this year I think there are some things I definitely need to do in order to get this done.
I'm a big baby, and I'm lazy, so I saw a couple of ideas to help. The first one was one I would readily do and have done before: Get Help.  I think I might have to make a few calls on that one. One I already do, which is break it up into smaller tasks.  Like, I'm not going to tackle the whole house in one weekend. I might get the vacuuming around the furniture I hardly ever move in one day, for example.  The next weekend, I might break out the ladder to get the top half of the windows.  Smaller tasks make you feel more accomplished, I think. Then you can cross off multiple things on the list, and it'll encourage you to do more.
I also saw an idea where  you just convince yourself you don't have to like it, it just has to get done. Which is a big one for me.  So in order to help that along, you set an alarm.  You know you'll be cleaning for say, fifteen minutes.  After that, when the alarm goes off, you can take a little break to reward yourself before you get back to it.  And that also might be a good idea, so that you pace yourself.  I know it's easy to overdo it and kind of hurt yourself by straining for high places or trying to do too much and ending up with back or knee pain.
I'm going to start  year by getting stuff that I saw online that people just never get. Because honestly, seeing this list.. it's stuff I didn't think of, either. Stuff like your ceiling fans, behind the toilet, and the curtains/blinds.  I don't have blinds in my house, but I do have curtains, so I'm going to have to tackle that (cats like to rub on them, so I'm sure there's fur to remove).
When are you going to tackle Spring Cleaning? What are the places around the house you've got on the list?  What will you do to make it go faster?
Cleaningly yours,
Behka
."}" data-sheets-userformat="{"2":33554688,"11":4,"28":1}">
The 100 Best Places to Live in the Midwest