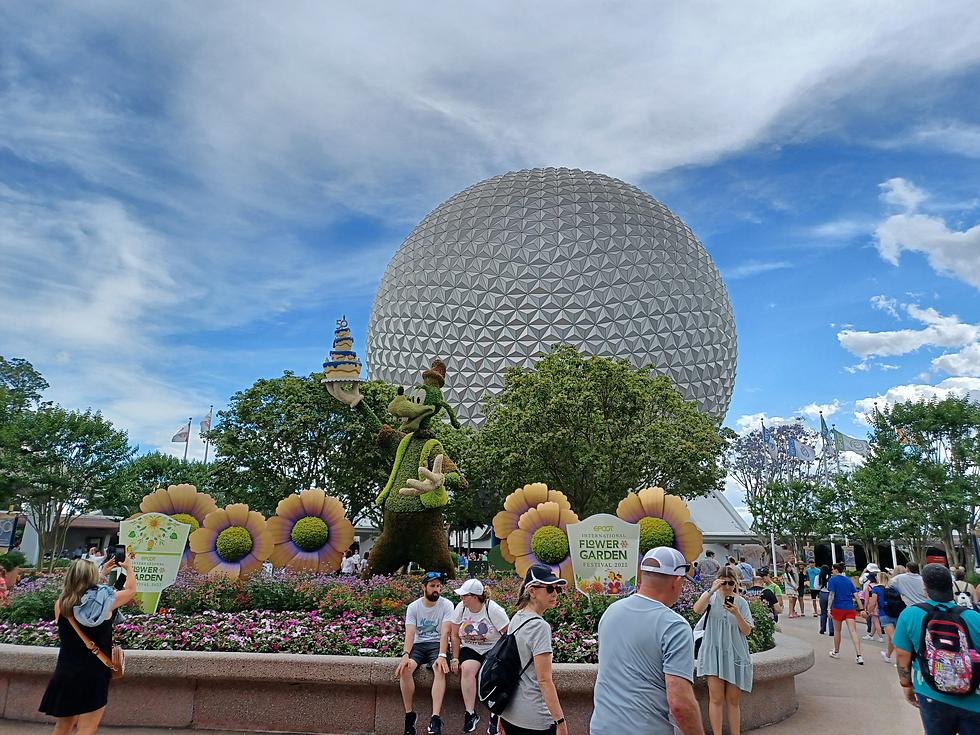 My Disney World Trip: Flying Fiascos, Rain Storms, Haunted Rides and More In Pictures
Rebehka Cramer
Hi guys, I was off on vacation last week, and you might have caught me saying where I was going a couple of times. My friend and I went to Disney World!
Well, I gotta tell ya, it was a great trip.  My friend Larry and I went down there for a spell to have a bit of fun.  Honestly I think he just wanted me to get out and have a little fun post D - Word.  And it was super nice of him to offer, and heck, who doesn't want to go to Disney World?!
So I thought I'd share the photos and tell you the story of how it all went, and that way if you want to plan a trip, you'll be a little informed. And if you can't go, well, you can live vicariously through the pictures. Or you can laugh at my nonsense and clumsiness.  Either way, win win, right? Right. Here we go.
Disney World
So overall, it was a pretty great trip. I kind of wished it could have been longer just so we could have seen more. If you're ever thinking of going, absolutely do it. There are a few things I can tell you now from my experience.
1. Transport.
Keep in mind you're going to be dealing with a lot of people, parking, transport, etc etc. So just be prepared. If you can avoid it, don't drive. There are rideshares, buses, trains, etc all around town. Parking must have been a nightmare.
2. Planning is key.
Don't even think you can see everything in a day or two. You can't. A lot of the majorly iconic spots are in the Magic Kingdom part, but not all of them are. Some of them are bus rides and/or train rides apart. Ideally, you should probably take a day for each part of the park - with the exception of maybe two days for Epcot. Look at the website beforehand, and download their app. It's got maps, wait times, etc right there. And you can order your food on the app, too - so if for example, you know you're in line at the Haunted Mansion, and you know you're gonna be there for about an hour. You can order your food then, and schedule it for when you're done, so you don't have to wait. Oh, and if I were you, I wouldn't travel in a huge group. You're going to be broken up a lot on different rides, and you'll have to wait even longer if you want to go on rides together.
3. Go in Patient.
If you don't like kids or screaming... well. You are not going to like it at Disney World. But in my experience, most kids were well behaved. Sure, there were a few screamers, but that's to be expected. And just know that you're going to wait longer than you think for Everything. Everything. I think the shortest wait time we had for something was a twenty minute fast food order at the park. The longest wait was somewhere around two hours. I would also recommend getting the fast pass if you're a smaller group. You cut down on the lines a bit and it's only $15 bucks more a person. Now, you'll have to jump through some hoops to use it, but if you can cut down your wait time by an hour, that's worth it to me.
4. Photos!
I kept forgetting to take pictures, so if you do go, keep your phone out and take a ton of photos. There's a lot to see and even if you can't go in every where, you can at least look at the pics later. And hey, with phones these days, it's not like you have to keep every photo you take.
5. Costs.
Yes, a trip like this is going to be expensive. For a lot of us (well, me) this is a once in a lifetime thing. The flight, the hotels, the park tickets, the rest of it is all very expensive, too. Budgeting, I think, would be not just helpful, but required. Like making sure you can only spend so much in one day - and that is totally doable. Cash isn't something that is needed a lot at Disney - you can use a card for everything and they encourage you to use their app. So I wouldn't even bother going to the ATM. You could lose your money easily, and why take the risk when everything works digitally? Also, keep in mind that you absolutely can enjoy a trip like this without spending a ton on souvenirs. I would wait til you're almost done to buy stuff to take home - like, maybe just a few things that you loved the most. A lot of what you get in each shop is available in other shops around the park as well. Not everything, like ride souvenirs are mostly only in the gift shop after the ride, but you get it. In fact, you don't even have to physically buy them at the park (which I think would be a great tip for Dads who have to carry everything). You can use the mobile line, buy what you want with your phone, and they'll mail it to you back home (and if I remember right, it's free shipping, but don't quote me on that). That way you also don't have to make room in your bags for your stuff, either. Simple.
Overall, I would say this was a great trip - 9.5 outta ten. The only things that sucked was the monsoon rain we got, rude teenagers on my first flight out (like, the flight attendants had to make actual announcements for them to sit down and stop throwing things), and the delay in getting home, so nothing really bad happened aligned with the park itself. And since I've been working out a bit more, I didn't get winded or need any major breaks from all the walking. Sure, I had to carry around a mini sunscreen to re apply on my pasty white English Ancestry DNA skin, but that comes with the territory. If you can go, go. Just, you know, plan, budget, get vaccinated if you haven't, and be patient.
Vacationally yours,
Behka
LET'S GO: The most popular historic sites in America