Got Your Mega-Millions Ticket? Here's What To Do If You Win Jackpot
Getty Images/iStockphoto
Tonight is the night.  If you purchased a Mega-Millions lottery ticket for tonight's drawing, you have a very slim chance to become a billionaire overnight.  It is the 3rd highest jackpot in the history of the lottery.  The odds are not in your favor, but they are higher than not getting one at all.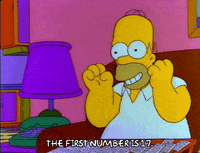 Well, if you do beat the odds, you life will change forever.  Obviously.  Here are some suggestions from Fox News on what actions you should take if you win.
Keep Your Ticket Safe
I would take a picture of the ticket, make a copy, and please read all of the info on the back.  If you have the lucky ticket, lock it up, hide it somewhere, whatever.  Yes, you are going to need it.  I also would NOT tell anyone!  No matter how tempted you are.
Protect Your Privacy
I am sure you have heard horror stories about people who end up going broke, despite winning the lottery.  You are probably going to have to get a new phone number, get a new mailing address, and change some personal information.  No doubt you will be getting a fair amount of people who will be looking for you to "help" them.
A few days ago, I asked our listeners what they would do if they won the lottery.  The responses are in the above article.  I suggested hiring a qualified business attorney, find a great accountant, and financial advisor.  Translation:
Get Professional Advice
Don't Make Any Big Decisions
You probably have had dreams of what you would buy if you won the lottery.  Try and resist that for a short while.  Get all of your affairs in order first.  Work with your legal team, to make sure all of your ducks in a row, and then buy that dream house, car and set up your immediate family for life.  Good luck!
KEEP READING: Here are the best places to retire in America