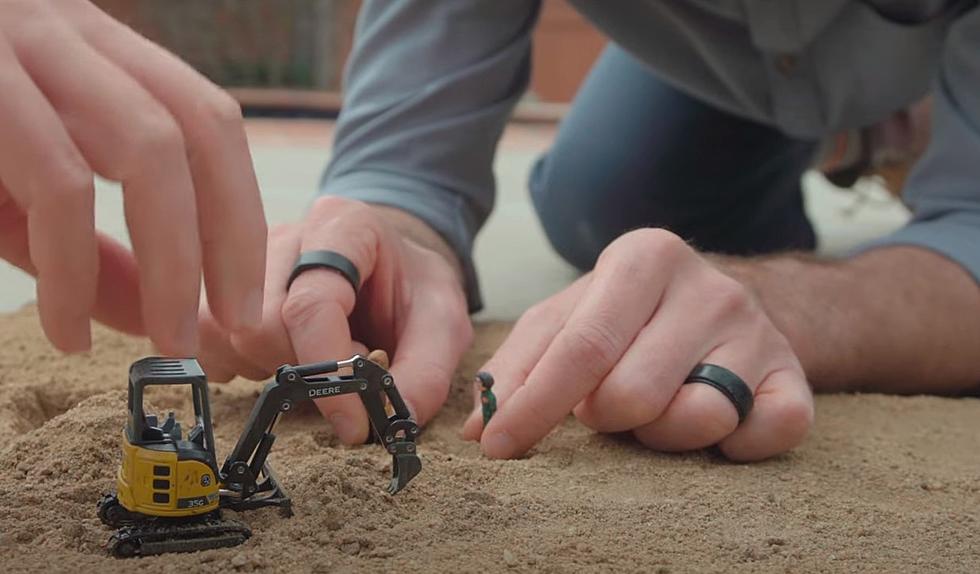 Four Of The Best Videos I Saw This Week Involve a Medium Sized Hole, AI, Skull Cakes, and Elaborate German Chest Tattoos
YouTube
Well, it's been pretty cold as of late, am I right?  That sure as heck makes me not wanna go outside more than I have to.  I know the St Patrick's Day parade was cancelled last week for that same reason. I know you're hanging on and waiting for Spring.  Until it comes, though, you might need a few extra minutes of indoor entertainment.  Well, I've got you covered!  Here are four videos I saw this week that were just amazing.  You can pick and choose what you like, ignore what you don't, and enjoy.  Here we go, in no particular order.
The Try Guys - Phoning it In: Fire Challenge.
This is a recurring series they do where basically a chef has to use a pay phone to communicate with a non-cook and talk them through a dish.  But of course, they are limited on time and resources, which makes it interesting.  Other bonuses for this episode (not spoilers):  Duff Goldman from Ace of Cakes is a judge, two members of another channel that I love, Watcher, are featured (Shane and Stephen), and somehow the two chefs randomly chose to make the exact same dish, even though they've never met before and were only given one word for a theme.  It's crazy, but hilarious. #Shaniac all the way.
Jimin- Set Me Free.
This one is a song.  It's the first solo song from BTS member, Park Jimin. Yes, they've done songs on their own in the context of their group before, but this is his first official solo project. He's going to be on The Tonight Show tonight and tomorrow, tonight for a speaking/game/non performing segment (it's under wraps, we don't know yet) and a performance Friday. This is a huge thing for our Christian Chim Chim (it's an old nickname of his, sorry), and if you're not into K-Pop, I get it. But the Twitter tag was trending that #JiminEndedKPop, so it might be worth a listen to you. And if you stick around 'til the end, you can see some of that newer back tattoo he got of the phases of the moon. Well, it's technically the phases of the moon surrounding a very specific date. And his chest tattoos? Not real. He has a real one on his chest, but this one is just makeup. It's a German poem named "Ich lebe mein Leben in wachsenden Ringen" by Rainer Maria Rilke (An eagle eyed fan found that on the web, not me). The title translates to "I live my life in ever-widening circles" in English. But we can move on from that, Behk, ya nerd.
Rhett and Link Dig a Medium Sized Hole.
I'm sure you've heard of Rhett and Link, and their show Good Mythical Morning. They've been friends since the first grade, and went through school and college together, and now their internet thing. It's basically a talk show where sometimes they try foods, they test things, they do original songs and commercials, you might even remember some of them from back in the day. This one was my favorite:
Anyway, it's just a very funny little thing I like to watch. And for some reason, these goofy goobers decided to go dig a hole in the middle of the desert. Well, not just a hole. A Medium Sized hole. It's kinda long, about a half an hour, so I get that you might not have that much time. But if you do, it's very gently taking over my brain with quotes and hole innuendos. The song is, too.
Sorted Food, AI Recipe Challenge.
I've talked about Sorted Food before. Basically they are four guys who have been friends since college. They have different areas of expertise like music, photography, marketing, cooking, etc. They combined their efforts to make a home cooking show and have been at it for about thirteen years. So now, they've got a new toy. AI. And they've asked that AI to write them recipes based on the ingredients they have on hand, and they'll cook it and share the results. Let's just say crab and blue cheese were involved, and it wasn't always pretty. Funny video, though!
Last week I asked you guys about other videos you like to watch on the internet. Feel free to link me some in the comments (assuming they're SFW).
Hole Diggingly yours,
Behka