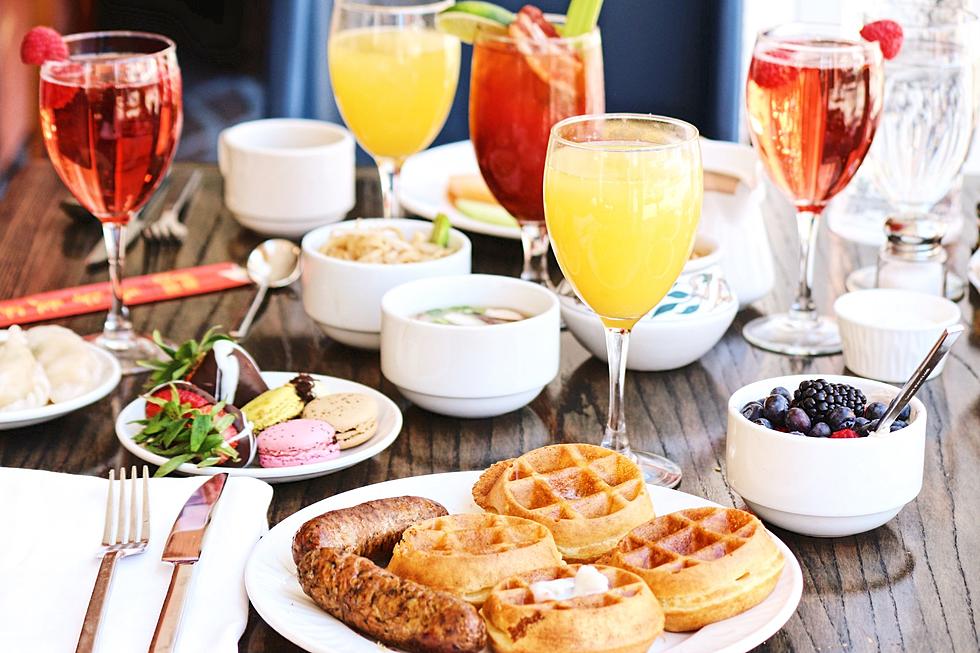 Best Places For Brunch in KC According to Trip Advisor
Austin Melonie Carroll
If you're planning a weekend getaway or a vacation to the Kansas City area sometime in the near future. Have you thought about starting off one of your weekend mornings with brunch? And no, I don't mean the free do-it-yourself breakfast bars some hotels offer. Yaknow, the ones where you toast your own bagels and make your own waffles. I mean an honest-to-goodness, hopefully, decadent spread of breakfast and lunch items, mimosas, and more.
My original intention with this blog was to highlight places where brunch kind of meant buffet. The kind of place with 20 to 30 items on the buffet. And maybe a carver there to slice off some beef, ham, or other meat. Yet none of those types of brunch places were at the top of Trip Advisor's list when I clicked restaurants and sorted by brunch. That said, there were some cool places that made the Top 5 according to their reviewers. And a couple of different types of restaurants you wouldn't normally go-to for brunch.
Anyway, here are the Top Five places to enjoy brunch near Kansas City as rated by Trip Advisor's rankings:
eggtc.
eggtc. has two locations in the Kansas City area, one on the South Plaza at 5107 S. Main Street, in Kansas City. And one in Shawnee, Kansas at 7182 Renner Road. The Restaurant is open daily from 6:30 AM - 2:00 PM CDT and is closed on Thanksgiving and Christmas.
According to a blurb on their website, "A local favorite for 16 years, the best breakfast, brunch, and lunchin Kansas City is served up daily at eggtc. A perennial "best of" winner in Kansas City Magazine, Trip Advisor, Ingram's, Yahoo, Her Life and the Kansas City Business Journal, regular customers will also tell you eggtc. is the kind of place "you could bring your grandmother to – or your yuppy friends from Chicago."
I really like their menu. They have a great selection of breakfast and brunch items. Classics, Tex-Mex selections, egg sandwiches, pancakes, omelets, skillets, and more. They also have a great selection of mimosas, brunch-appropriate cocktails, and a couple of sparkling wines that aren't cheap. I find the prices to be reasonable too. eggtc. ranks #1 on Trip Advisor's list of brunch places in the Kansas City area. Here's their info on Trip Advisor.
Cafe Gratitude
Cafe Gratitude is located at 333 Southwest Boulevard near Central and Southwest Boulevard. The restaurant is open from 11:30 AM - 8:00 PM CDT Sunday - Thursday, and until 10:00 PM CDT Friday and Saturday.
According to the Cafe Gratitude website, "Cafe Gratitude offers 100% organic, plant-based cuisine.  We never purchase conventional produce and always attempt to use what is locally seasonal and fresh.  We make everything by hand in house."
I'll be honest, I don't really know how Cafe Gratitude ranked so high on Trip Advisor's list. If you're looking for a decadent breakfast, then Cafe Gratitude is probably not the place you want to go. If you're a vegetarian, or into clean eating, then keep reading. While it doesn't fit my definition of a great brunch place, it is someplace I'd take a friend who I know is really into clean eating.
As far as brunch foods go, they offer personal-sized gluten-free banana bread, moist cake donuts with cashew icing, gluten-free cinnamon rolls, and plenty of coffees, teas, and espresso drinks along with tonics and elixirs. They even have cocktails, wine, and beer. Their mimosa and sangria on the menu sound delicious to me.
Cafe Gratitude ranks #2 on Trip Advisor's list of brunch places in the Kansas City area. Here's their info on the Trip Advisor website.
Gram & Dun 
Gram & Dun is located at 600 Ward Parkway in Kansas City. The restaurant offers brunch Saturday and Sunday from 9:30 AM -3: 00 PM CDT.
According to their website Gram & Dun, "brings culinarily-driven fare, while paying special attention to pairing food with libations. It's a place "for the people" where we can relax and enjoy the neighborhood vibe while we test theories of food, drink and the evolution of good times." Their slogan is, sophisticated, soulful and crafted.
Gram & Dun isn't an inexpensive place to eat. And the brunch menu is somewhat limited. Their french toast is $15 and shrimp and grits $26. Their short rib grilled cheese is $15 as well. Prime Rib, $35. And their brunch cocktails $9. They also accept reservations.
If I was looking to impress someone with a swanky brunch, this is where I'd take them. And even with some more, what I'd call fru-fru items on the menu, there's still stuff on the menu those of us with less adventurous palates would like.
Gram & Dun ranks #3 on Trip Advisor's list of brunch places in the Kansas City area. Here's their info on the Trip Advisor website.
Succotash
Succotash is located on Holmes Street and East 26th, 2601 Holmes in Kansas City. The restaurant is open Friday - Sunday 8:00 AM -3:00 PM CDT, and Monday from 8:00 AM - 2:00 PM CDT.
According to the restaurant's news page, "We are honored to be included in the Ultimate Guide to Gluten-free in KC by The Kansas City Dietitian!" The restaurant is also offering brownie donuts, which they call bronuts, and huge cinnamon rolls.
The restaurant has a significant offering of egg dishes. A build your own omelet, scramble, burrito option with over 30 items. And of course the usual pancakes and french toast. There are also a few brunch-friendly sandwiches available on the menu, along with fresh-squeezed juices and coffee drinks. They also recommend a slice of their rainbow cake.
Succotash ranks #4 on Trip Advisor's list of brunch places in the Kansas City area. Here's their info on the Trip Advisor website. 
Grinders
Grinders has two locations. One in Kansas City, 417 E. 18th Street. And another location in Lenexa, Kansas in the Stonewall District, 10240 Pflumm Road. Both locations open daily at 11:00 AM and closing time varies by location and day of the week. There is also conflicting information on the restaurant's website about whether they are open or closed on Sunday, so call them to confirm they're open on Sunday if that's when you want to dine with them.
Grinders is a very odd choice to wind up in the top five of Trip Advisor's list of brunch places in the Kansas City area, because Grinders is known for Philly Cheese Steaks and Pizza, and doesn't offer any kind of true brunch or breakfast menu. That is, outside of three interesting cocktails they've listed under a section entitled Saturday & Sunday Brunch. I think one of the reasons it may rank so high on Trip Advisors list is because Grinders and its founder Stretch have been featured on "Diners, Drive In's & Dives", "Guys Big Bite", and "Pizza Paradise".
According to their website here's what Grinders is about, "STRETCH (the restaurant's founder) believes there is a common thread between art, food and music, they cross all cultural boundaries. This vision is why he opened Grinders,  and GrindersKC in the Heart of the Kansas City Arts District.  Grinders has been an accumulation of STRETCH's travels and life experiences — a food-art-music-fusion inspired by places like punk club CBGBs, Maxs Kansas City, night clubs, and classic dive joints with quality food and a fun atmosphere. A great experience at a great price whether you're an artist, government official, lawyer, a musician, or a clown."
That said if breakfast foods aren't necessary for your brunch. Grinders might be a great place to check out. Big Ass Fires, Big Ass Tots, Funky Dough, and a Soft Pretzel are on the appetizers list. And Philly Cheesesteaks, pizza, and grinders are the main things on the menu. There's also an extensive beer menu, and any place that has the strong and yummy Duvel beer out of Belgium gets points from me. In the evening there's live music too.
Grinders ranked #5 on Trip Advisor's list of brunch places in the Kansas City area. Here's their info on the Trip Advisor website.
And there you have it. The top five places you can enjoy brunch in Kansas City according to Trip Advisor's reviewers. Which one will you pick?
LOOK: Route 66's quirkiest and most wonderful attractions state by state
Stacker
compiled a list of 50 attractions--state by state--to see along the drive, drawing on information from historic sites, news stories,
Roadside America
, and the National Park Service. Keep reading to discover where travelers can get their kicks on Route 66.
LOOK: Biggest underdog victories in March Madness
Every spring, legions of sports fans turn their attention to college basketball when
March Madness
takes the national spotlight. Using aggregated Associated Press data, BestOdds has come up with 10 of the biggest—and most unlikely—underdog wins in March Madness history.