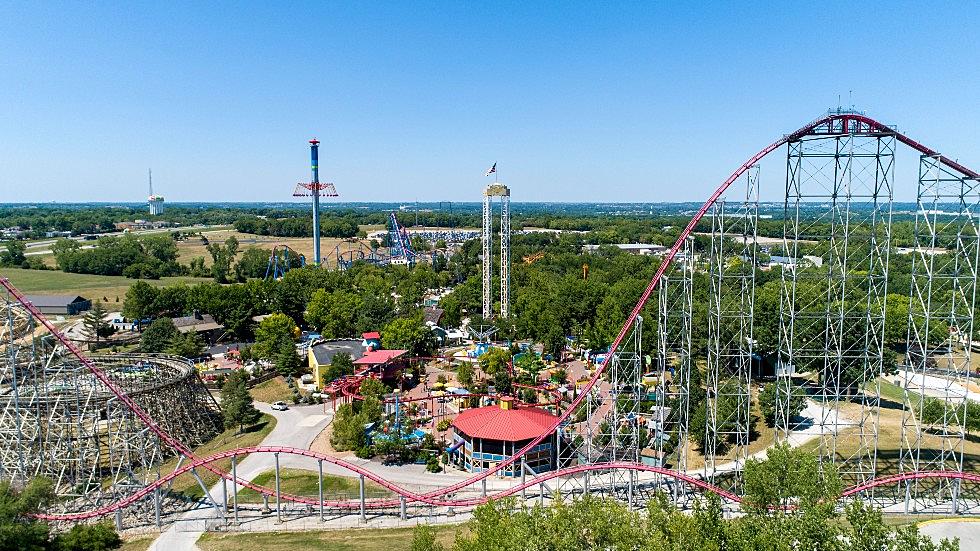 You'll Need to Ride the Coasters at World's of Fun By Labor Day
Chris Foshee / Worlds of Fun PR
If you've been thinking about heading to World's of Fun in Kansas City to ride the roller coasters or experience any of their other thrill and chill inducing rides you're going to need to get that trip in before Labor Day weekend comes and goes.
World's of Fun Vice President and General Manager Tony Carovillano announced by a message on the World's of Fun website that the park's last day of operation in 2020 will be Monday September 7, Labor Day and that Ocean's of Fun, the theme park's water park won't open at all.
You may be thinking you still have full month to head to the park and experience it because it's only August 6. Not so much. Earlier this summer the park reduced it's operating days significantly, and as the hot summer days of August come off the calendar, operating day's at World's of Fun become fewer and fewer. The park is open Thursday - Sunday this week and next week. Then moves to Saturday- Sunday only for the last two weeks of August and Saturday, Sunday and Monday Labor Day weekend.
It's certainly apparent by the reduced operating days that many folks decided a day at the theme park wasn't in the cards this year. Whether it's having to wear a mask while in the park. Having to reserve the day and time you want to go to the park, which is no longer in effect. The extra hoops the park is asking guests to go through to keep everyone safe. Or just that families aren't taking the risk, or can't afford it this year people aren't going.
I get some of that too. Who wants to walk around a theme park with a mask on all day under a blazing hot Missouri sun? Doesn't sound fun. Yet, the past several days the weather has been perfect. In fact the kind of weather that's perfect to spend the day outdoors. And the kind of weather that almost makes wearing a mask worth it, especially when you add the fun of roller coasters and thrill rides.
If we continue to get some nice weather and you're jonesing for the thrills, chills and excitement you can only get from riding a roller coaster or stepping on a stomach churning ride. This may be the time to do it. I suspect you won't have to wait in many long lines, and it'll be pretty easy to ride again.
MORE: See 30 toys that every '90s kid wanted