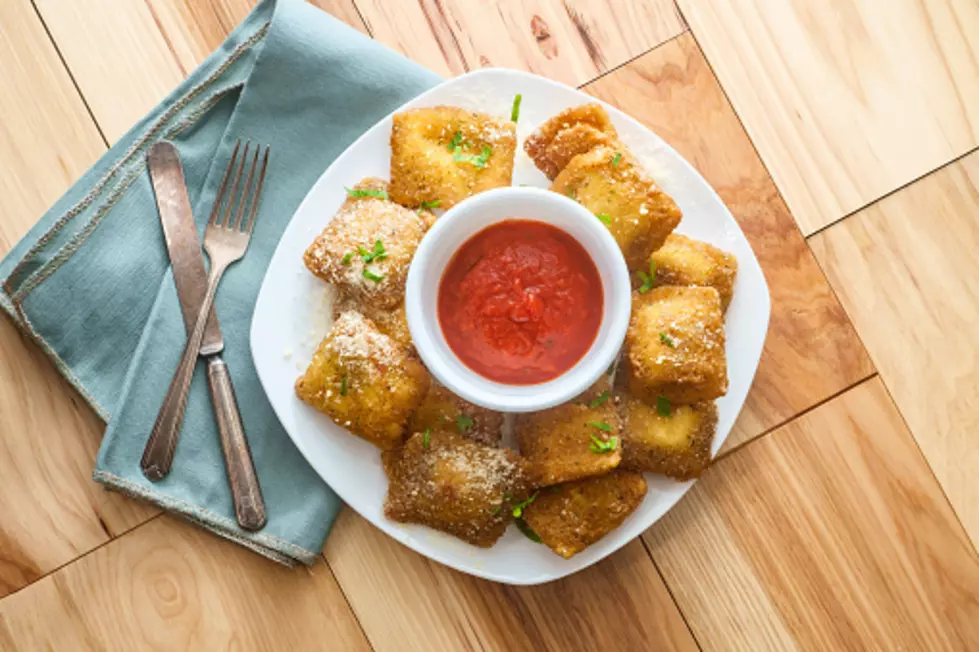 What Foods Are Missouri Best Known For? Perhaps These 11 Items
Getty Images/iStockphoto
When I first arrived in Sedalia, I was encouraged to try as many local restaurants as I could.  That is usually a safe bet to gauge what foods are best and what a town is known for.  It got me to thinking, what foods are Missouri known for? To compare, my own state of Illinois, I would say Deep Dish pizza, Italian beef, Polish sausage and Chicago Hot Dogs.  From a little research, these 11 items would be mentioned for Missouri.  See if you agree.
Toasted Ravioli
You can find some really good toasted ravioli in St Louis.  Stuffed with meat or cheese, and the marinara sauce. Extra parmesan for me, and the crispier the better.
Kansas City BBQ
This was a no brainer right?  Kehde's Barbeque, the Bar-B-Que Pit Stop, Little Big Horn.  Tomato and molasses based sauces.  All the sides.
Red Hot Riplets
Popular snack chips from St Louis.  Recently named best snack food in Missouri by Food & Wine.  Read my article about them HERE.
Ice Cream Cones
World's Fair in St Louis - 1904.  The ice cream cone made it's debut.  Now enjoyed all over the world.  But born in Missouri.  The World thanks you!
Slinger
A slinger is apparently a St Louis thing.  A dish that is described as made with eggs, chili, hash browns, and a hamburger, T-bone steak, or another meat.  The Broadway Diner in Columbia makes an item called 'The Stretch' which is basically the same thing.  I get mine with cheese and bacon.  Probably a great item for a hangover.
Pork Steaks
When Missouri residents say they want to cook up a steak, it is not necessarily sirloins ribeye, or strips.  The may ask for one from the pig shoulder, slow and simmered. With BBQ sauce of course.
Concretes
Many places sell concrete mixers, like the Culvers one below.  Think of frozen custard that is extra thick like...concrete.  Hench the name.  Ted Drewes in St Louis is known for arguably the best.  Click the name for their website.
St Louis Style Pizza
I never met a pizza a didn't like, unless it has pineapple or anchovies on them.  St Louis style pizza is cut into squares, extra thin and crispy and Provel cheese.  Who has the best around?
St. Paul Sandwich
This classic sandwich has an egg foo young patty between two pieces of white bread. It's usually dressed up with pickle, onion, mayo, lettuce, and tomato. Sandwich has become a St Louis staple for about 80 years.  Learn about it HERE.
St Louis Style Ribs
St. Louis-style ribs are spare ribs with the sternum bone, cartilage and tips removed. Missouri really does love our grilled meats.
Gooey Butter Cake
The name says it all—this sweet treat is gooey and buttery. Dusted with powdered sugar, it's an irresistible crowd-pleaser.  Someone please tell me where we can find this around here?
So what do you think? Do you find this list to be pretty accurate? Is there an item or items that have been left off the list that should be there? Feel free to share.
LOOK: Food history from the year you were born
From product innovations to major recalls,
Stacker
researched what happened in food history every year since 1921, according to news and government sources.