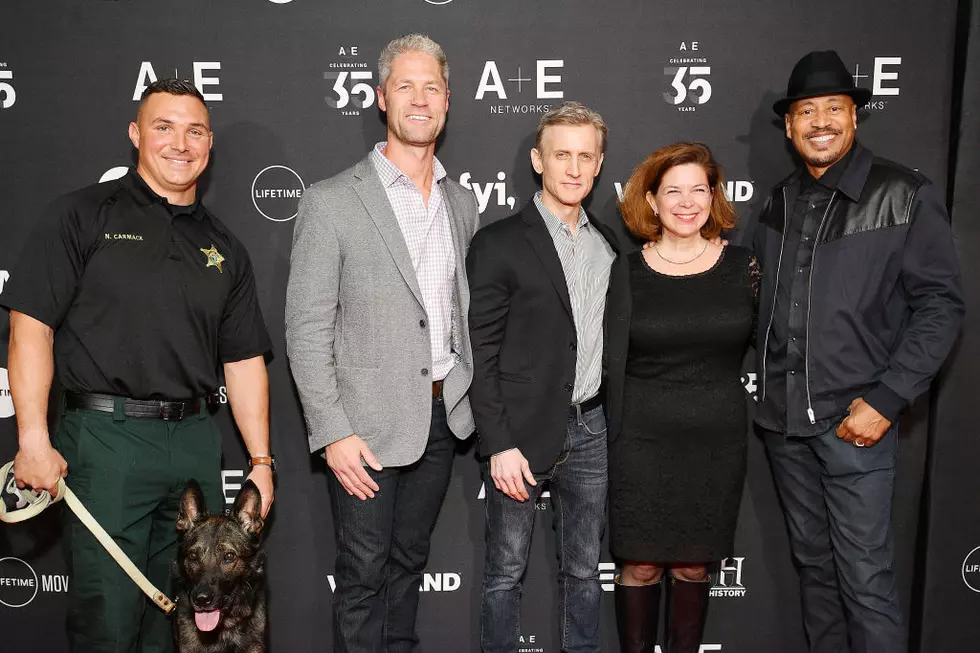 The Cops and Cast of 'Live PD' Ride Again on New Network
Getty Images for A+E Networks
Do you remember that TV show from a few years ago that had camera crews out following local police departments with Dan Abrams anchoring at a desk?  Well, it's coming back this summer on a new network. And, personally, I'm glad. I don't think it should have been canceled to start with.
"Live PD" was the anchor of A&E's programming until George Floyd's death at the hands of the police; and Live PD's cameras captured, but did not air, the death of a Black man in custody by Williamson County, Texas sheriff's deputies. Further complicating matters, the show says they destroyed the video a month later as per their contract.
Despite the unpopularity of the police at that time, I really thought the show offered viewers a close-up look at how cops did their job. And how some officers, and some departments, did it better than others. My wife and I had discussions about those things in our living room. And it seemed to me at the time the show could help with the discussion our nation was having about law enforcement.
I became interested in "Live PD" when I took a Citizens Academy class offered by the Lubbock Police Department, the Lubbock County Sheriff, and the Texas Department of Public Safety. I really thought the show did a nice job at giving the general public a virtual ride-along every weekend with a variety of police officers and departments.
On one level the show is just fun to watch. A virtual cops and robbers game for people to watch from their couch. And in some respects, I suspect that's what gave A&E cold feet. Because all of a sudden after George Floyd, watching cops arresting people or dealing with a combative citizen wasn't as much fun as it was, or it wasn't supposed to be fun.
On another level, the program showed some excellent police work. And told the stories of some brave men and women that wear the badge that the show followed. It showed police officers helping people in their community. And in many instances, it showed disciplined officers keeping their cool while dealing with folks who were just downright disrespectful.
It also shined a light on various departments and let people see how different departments operated. Like one California police department that seemed to draw their guns as often as the cast of "NCIS" does in the opening credits sequence. Or the professionalism of the Richland County Sheriff's Department in South Carolina. And how rarely any of their officers lost their cool.
The reboot of the show, according to Variety, will air on Reelz Friday and Saturday nights this summer, probably under a different name. Dan Abrams will return as host, along with commentary from retired Tulsa Police Sgt. Sean "Sticks" Larkin and Deputy Sheriff Curtis Wilson of the Richland County Sheriff's Department in Columbia, South Carolina.
Variety quotes Abrams, "Law enforcement is front and center in the national discussion, and our hope is that showing the work of police officers in a live format will provide viewers with direct access to the work they do. I'm thrilled our team is finally back together and excited that Reelz has committed to making this show front and center on their network."
One thing the new show will do is try to bring citizens into the conversation by offering local residents where the show is filming an opportunity to ride along with law enforcement  And invite community members into the studio as guests where they can share their ride-along experiences, observations, and comment on the night's live activities.
I like that idea, and I've always thought a good segment might also be to promote local, county, and state police department programs that try to engage the public with the department. Everything from explorer programs to citizen academy programs departments like the Sedalia PD offers.
You bet I'll be watching. And if they're anywhere in Missouri, I'm going to try and see if I can do a citizen ride-along for the show. I think that'd be more fun than just watching the show.
The Cast of 'Friends': Then & Now
LOOK: The Most Famous Actor Born Every Year