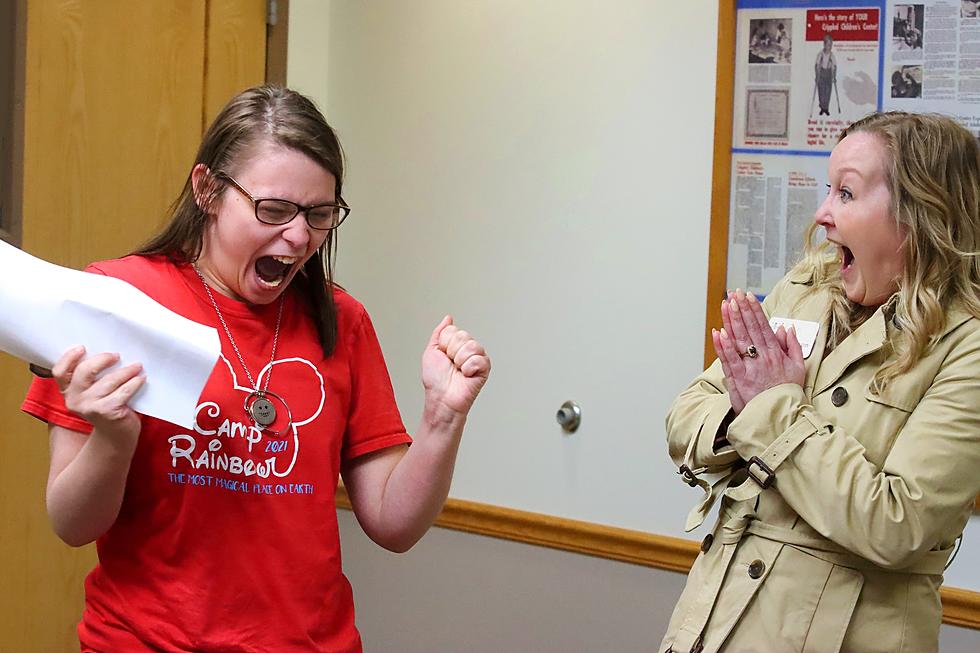 Superfan Christelle Attends Sara Evans Concert at Lyceum
Randy Kirby
Christelle Cardwell considers herself a superfan of country music star Sara Evans.
So when the folks at the Lyceum Theatre in Arrow Rock showed up at the Roger Garlich Center in Sedalia to surprise her with free tickets to Evans show, Christelle was more than excited.
Christelle, 22, is a consumer at the Garlich Center, and as far as she knew, March 31 was just a normal day, the end of the work week and the end of the month.
But little did she know that two fourth-row tickets to the Sara Evans show, slated for Saturday April 1, awaited her in the board room. In the room were two representatives from the Lyceum, Katie Shannon, who also serves as the Sedalia Area Chamber of Commerce president, and Steve Bertani, managing director.
As soon as Shannon explained why she was there and presented Christelle with the tickets, Christelle screamed loud and long with delight at the thought of seeing Sara Evans in person.
She immediately gave Shannon a big hug and thanked her. And screamed again.
"What a great way to start the weekend!" she declared.
"You're going to have a big day tomorrow," Shannon said to Christelle. "Enjoy every minute."
The Sara Evans show sold out in 19 minutes.
Pam Cardwell of Sedalia is Christelle's mother, who also was in the board room at the Garlich Center when the tickets were presented to her daughter.
Pam explained that Christelle comes to the Garlich Center every Monday, Wednesday and Friday for activities.
"Brian (CHS assistant director of community support services) got wind that Sara was coming to the Lyceum Theatre, and Chanisty Lambert (CHS training and community outreach coordinator) contacted the Lyceum Theatre about donating some tickets for Christelle," Pam explained. A chaperone accompanied Christelle on her journey to and from the Lyceum.
Shannon confirmed that she was indeed contacted by Lambert, and that Christelle always carried a picture of Sara Evans with her wherever she went.
Lambert asked Shannon if there was any way the Lyceum could help out and get tickets for her, and she said of course. "If there's a will, there's a way. We will get this done for her. So we're super excited that we're able to make this happen. And as you've seen by her reaction, she was thrilled," Shannon said.
The Arrow Rock Lyceum Theatre, a 501(c) (3) nonprofit organization, is one of Missouri's oldest professional regional theatres which seats 416 people. More than 33,000 patrons enjoy Broadway-caliber productions created by professional theatre artists carefully chosen from around the country. The first performances at the Lyceum were presented in 1961.
Evans, 52, is a Missouri native, born in Boonville and grew up in New Franklin on a 400-acre farm. Her parents are Pat and Jack Evans, and Sara was one of seven children which also included her half-siblings after her mother remarried.
Upcoming shows at the Lyceum, a former church converted into a theatre, include Tony Danza April 15, The Addams Family June 9-18, Beautiful – The Carole King Musical June 30 - July 9, Rodgers and Hammerseins' "State Fair" July 21 – 30, and Neil Simon's "Laughter on the 23rd Floor" Aug. 18 – 27, to name some of the highlights of the theatre's 62nd season.
Shannon also noted that in addition to Lyceum musical productions, dramas, comedies, and concerts, that in June, there will be a group of patrons traveling to Ireland.
For more info on the theatre, visit LyceumTheatre.org.
Christelle Gets Sara Evans Tickets
Superfan Christelle receives Sara Evans concert tickets from the Lyceum Theatre
QUIZ: Can you identify 50 famous companies by their logos?
How well do you know the logos of 50 of the world's most famous companies? Keep scrolling to see if you can guess which icon belongs to which brand.