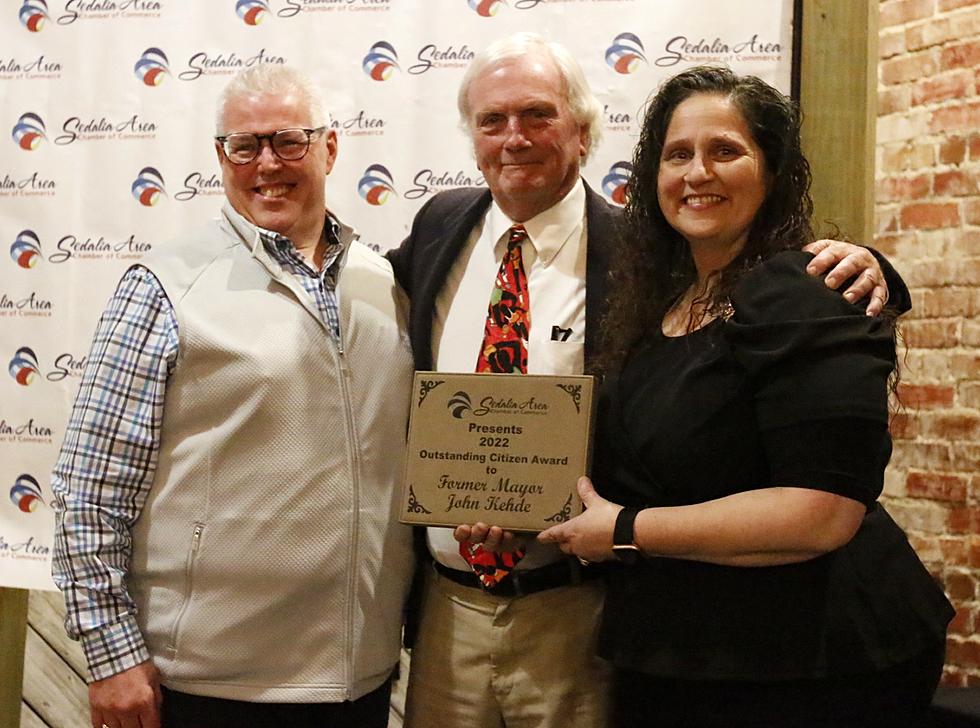 Sedalia Area Chamber of Commerce Awards Strongest Supporters
Randy Kirby
About 170 people attended the 2023 Sedalia Area Chamber of Commerce Awards Banquet Thursday night at The Venue, 219 South Ohio.
Chamber President Katie Shannon emceed the event, and Local Sweets & Treats provided a catered dinner.
The Chamber currently has 365 members, according to Executive Director Debra Andresen.
After a moving musical rendition provided by Pastor Candace Fowler from First United Methodist Church, attendees enjoyed dinner and then applauded those receiving awards.
The President's Award went to the Boys & Girls Club of West Central Missouri, Inc., and was accepted by CEO Gary Beckman. The award was selected by President Shannon as the project most significantly contributing to the list of annual chamber accomplishments.
"It's an honor for our organization to be honored by the Sedalia Area Chamber of Commerce with the Presidents Award! The BGC Family of Youth Development Professionals, Site Assistants, Site Directors, Area Directors, Admin Coordinators and Directors, and the Board of Directors all pour their heart, love, time, energy, courage, and every ounce of resource they have for our kiddos to have a valuable, memorable, and phenomenal experience growing into caring and service-minded members of their school, club and community. It takes ALL of us doing whatever it takes every day without hesitation because our kids deserve it," Beckman told KSIS.
According to Shannon, for more than 60 years, the Boys & Girls Club have played an important role in the Sedalia area, giving them a safe, fun, and educational place to go when school is not in session. In 2022, they served more than 1,600 kids, seeing more than 500 each day. There are 12 Club Sites in seven communities and offer 25 learning programs, everything from STEM to cooking to art to service learning.
The Committee of the Year was Smith-Cotton High School Robotics. Coincidentally, the Robotics Regional Championship is being held this weekend on the S-C campus.
The award is presented to the standing committee that most successfully completes their plan of action.
In 2022, the leadership team and board of directors successfully raised money for a capital project to build a new practice facility.  This project was funded in partnership with the Sedalia School District through donations from Maxion Wheels, Inter-State Studio, Heckart Family Foundation, WK Family of Dealerships, Gardner Denver, Venture Manufacturing, Ditzfeld Transfer, Nucor Steel Sedalia, and Premier Climate Control.  This new facility will help Team SCREAM expand and it will serve as a hub for local teams as well.
Susan Mergen and Kyle Herrick received Lifetime Membership Awards Thursday night.
Erica Petersen was named the Chamber's Volunteer of the Year.
Petersen was selected by the membership development advisory team for individual contribution of time and effort in the community.
"It was an honor to receive the volunteer award from the Chamber this year, I was very surprised," Petersen said after the dinner.
Petersen, who is senior vice president and senior business development director of Central Bank of Sedalia, which is a Chamber member, said "We do a lot. We have the ability to do quite a few things for the community. So we do a lot of financial literacy (programs) for the schools, which is a really big initiative for me. We have had a really good response," she said, adding that there are two more remaining in the school year and volunteers are more than welcome.
Petersen noted that she and her staff stay very busy taking care of customers at their day job at Central Bank, "but we're always trying to make sure we are seen in the community and supporting the community, because without them, we don't exist, we don't have a job. So we want to make sure we're doing our part to give back. But then I also get to do fun stuff, like being on different boards."
When asked if serving on a board is really considered fun, Petersen replied, "It is, it's a lot of fun," she insisted.
In her acceptance speech, Petersen credited Central Bank President Greg Eby (pronounced eebee) with allowing and encouraging her to pursue these opportunities, such as the financial literacy program that is educating thousands of area students all all ages.
Petersen's parents, husband and two of their three children attended the dinner (one was at a track meet) with her. "That was nice that they got be here and celebrate," she commented, "because if it wasn't for them, I wouldn't be able to do a lot of things that I do. We've been very blessed with a close group of family, so they help us cart our kids around."
Baylee Garrison, also from Central Bank, was named Young Professional of the Year by the Chamber.
The Young Professional Award recognizes one young professional who has emerged as a business leader, demonstrated excellence, creativity, and initiative in his or her career and community, who has had a positive impact on their workplace and community.
Teremok Coffee and Desserts received the Chamber's Small Business of the Year Award.
To be named Small Business of the Year, it signifies that a company that has shown growth or sustainability of their business with strong employee relations and a record of giving back to the community.
Best Take Media won the Sedalia Community Connection Award.
The award is presented for extraordinary efforts in promoting growth and progress in the Sedalia area.
Chanisty Lambert was named the Chamber's Ambassador of the Year. She has been an ambassador for three years, and spoke with KSIS about her award following the dinner.
"I absolutely love it. I love getting the chance to be around the businesses, seeing the new businesses open, and just getting out there and getting to know everyone around," Lambert said.
Lambert moved here from Alabama and now is the community outreach coordinator for Center for Human Services.
"We serve individuals with disabilities as well as impoverished families and kids from Kansas City to St. Louis," she said. "I coordinate volunteer efforts for individuals, but also, I volunteer a lot in the community in various different ways."
The Ambassador of the Year award goes to an ambassador who has gone above and beyond volunteering her time towards the many events the Chamber has hosted.
Lambert credited Susan Mergen with teaching her a lot, and has worked with her for many years. Mergen recently retired from CHS as development director.
Chanisty has been an ambassador for the Chamber for three years. She works for the Center for Human Services, and she is the Community Outreach Coordinator with our Day Services Department. She helps to create partnership for the individuals that CHS serves, throughout the community.  She has been a great asset to the Sedalia Chamber. She has volunteered for the chamber golf tournament,  Chamber breakfast, ribbon cuttings, Christmas Parade, and also helped with providing a meal for our Sedalia Police Department, and Sheriff's Department for the evening shifts. Chanisty also organizes for CHS to come and put together welcome packets for Whiteman AFB.
The Chamber's Spirit Award went to Msgt. Dustin Majewski, from WAFB Security Forces (not present), and Msgt. Chance Kinnamon from WAFB Maintenace Squadron.
Spirit Award: Selected by the military affairs committee to recognize military personnel who have gone beyond in building relations between Sedalia and Whiteman Air Force Base.
Former Sedalia Mayor John Kehde received the Chamber's Outstanding Citizen Award.
Sonny Broyles introduced Kehde and read aloud a very long list of accomplishments credited to Mayor Kehde during his four-year tenure (2018 – 2022).
Kehde was asked how he felt about receiving the award.
"Well, it's teriffic. I love Sedalia, and it couldn't be a better award for someone who loves Sedalia. I just promote Sedalia. I kind of took a sabbatical for a while, after Andrew won the election, and he asked me to be on the hospital board, (a volunteer position) so now I'm currently on the hospital board," Kehde told KSIS. "I'm obligated for three years."
He jokingly added that he is still searching for the money tree, but hasn't yet found it.
As for his future endeavors, former Mayor Kehde, now private citizen and business owner Kehde, said "I'll do what I can. We have a lot of opportunities in Sedalia, it's a great place to live. Obviously, we have some issues we need to deal with, like any other community, but I think we're going to make it work."
Kehde remarked that being mayor was a good gig.
"I had a lot of fun, as we did a lot of great, positive things and had a great group of people. It was a wonderful opportunity. And I'm sure that Andrew is having the same opportunities I had," Kehde said.
He recalled saying that if he was elected mayor, he would only serve one term. "One and done," he said.
He kept that promise and did not run for reelection.
Sumner Insurance (Caleb & Casey Sumner), APS Solutions (Al & Jennifer Simon), Preuitt Insurance (Sonny Preuitt) and The Sedalia Democrat (Jim Perry & Nicole Cooke) were named "Chamber Champions."
Past Chamber board members Ahrazue Wilt, Eric Kraus and Mykel Schlotterbeck were also recognized at the event.
2023 Chamber officers include Sonny Broyles, President-Elect; Lauren Thiel-Payne, VP of Community; Casey Sumner, VP Membership; Greg Eby, VP Business; Craig Hahn, Treasurer.
New Chamber Board members include: Kelsey Weymuth, WK; Alana Gump, Wilson & Toellner; Yves Exilus, BestTake Media; and Blue Ramirez, El Espolon
Shannon recited several stats about the Chamber, which included:
365 Members
40 New Members
307 Renewals
90% Retention Rate
Launched our Cell phone App
22 LEAD Sedalia Graduates
40 Ribbon Cuttings
11 Chamber Surprise Squads
22K+ Online Visitors
1K+ Online Calendar Views
10K Chamber Directors Printed
11 Chamber Breakfast Meetings
3K+ Facebook Followers
2K+ Facebook Likes
703 Instagram Followers
56 Twitter Followers
465 Linked In Followers
900+ Email Subscribers