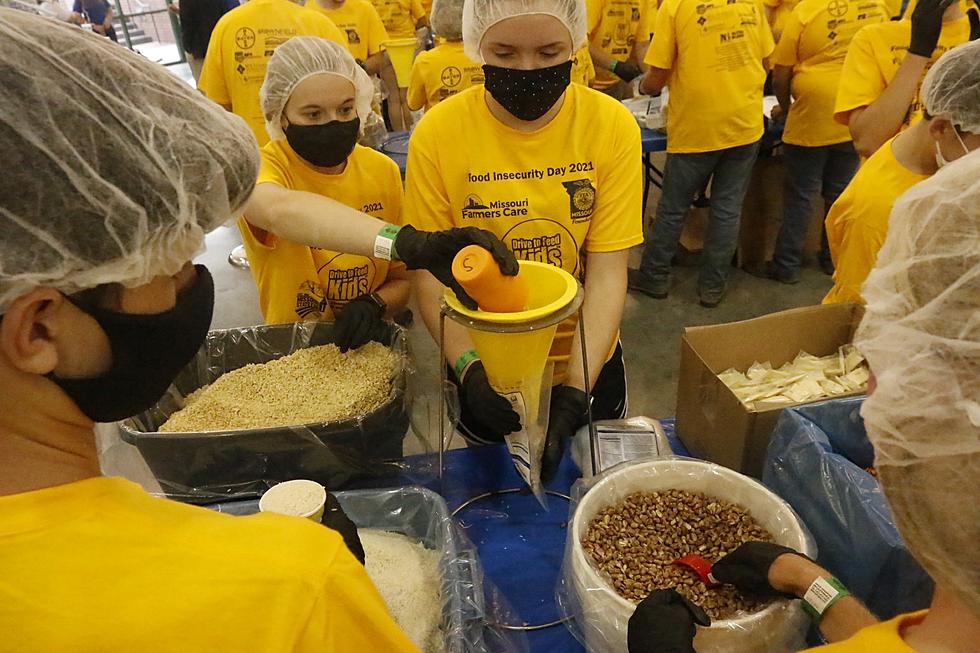 Missouri FFA Shoots For Goal of 200,000 Meals
Randy Kirby
On Tuesday morning, which was Missouri Farmers Care Food Drive Day at the 2021 Missouri State Fair, close to 900 FFA members from across the state converged on the Lowell Mohler Building on the Missouri State Fairgrounds to help package bags of food to be distributed to various food banks in Missouri.
The FFA members, all dressed in bright yellow T-shirts, worked in three shifts and gathered around rows and rows of tables in production line style to achieve their goal of 200,000 meals by the end of the day.
They were joined by 2021 Missouri State Fair Queen Rosie Lenz, Secretary of State Jay Ashcroft and Lt. Gov. Mike Kehoe, and other state officials, all of them wearing hair nets and face masks as they worked side by side. The finished product was then loaded onto food trucks waiting nearby for distribution across Missouri.
Ashley McCarty, Kirksville, executive director of Missouri Farmers Care, addressed the FFA members seated in bleachers at the start of the event.
"The stark reality is that one in five Missouri children and families face food insecurity on a regular basis," said McCarty, who has served as executive director since the start of 2016. "Make no mistake, this is our favorite day at the Missouri State Fair. There is nothing more heartening than seeing you guys spending the last days of your summer packing meals that will go back into our communities across the state."
Missouri Farmers Care works with farmers and ranchers in the fight against hunger in the state.
"We have a big goal this year. This 200,000 meals is huge. But it's well over a part of a million fields that we have a goal for this year that will be possible thanks to your efforts," McCarty told those in the yellow T-shirts.
Chris Chinn, Missouri State Department of Agriculture director, noted that the Missouri Farmers Care program is in its fifth year.
"The work you're doing here today, is going to be reaching every corner of the state of Missouri," she told the students.
The first year of the program, about 52,000 meals were packed by one shift of FFA members. The next year over 100,800 meals were packed. And in 2019, FFA members packed 128,416 meals.
Chinn challenged the FFA to do something in their own community to reach out to those in need when they return to their hometowns.
State FFA President Kaitlin Kleiboeker, who has served as president since early May, also addressed her fellow FFA members.
She told KSIS Radio her term so far has been amazing. Kleiboeker is from Scott City, but her home FFA chapter is Pierce City (Bay chapter).
"I am incredibly proud of what's going on today. The fact that we've have 900 FFA members packing 200,000 meals is overwhelmingly amazing. This is going to be the most meals that we've ever packed over the five years we've done this. So reaching that is goal is something that I have no doubt the FFA members will do," Kleiboeker said.
The meals will be going to all the different food banks throughout Missouri. "We have four or five trucks waiting for us right now," she noted.
25 True Crime Locations: What Do They Look Like Today?
Below, find out where 25 of the most infamous crimes in history took place — and what the locations are used for today. (If they've been left standing.)