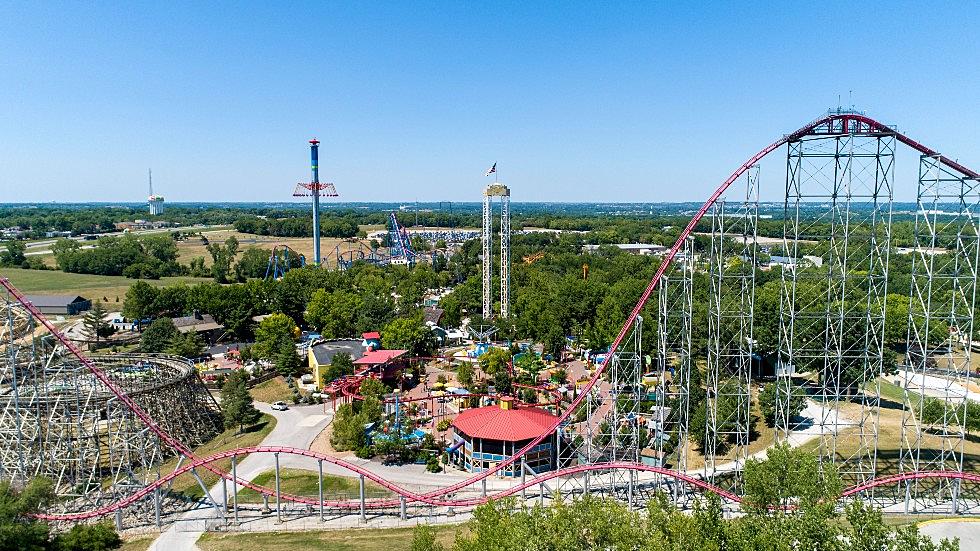 Kansas City's Worlds Of Fun Opens May 22
Chris Foshee / Worlds of Fun PR
After a difficult 2020 operating season that saw Worlds of Fun close with a whimper after Labor Day weekend, and Oceans of Fun not open at all. The theme parks are ready for a bigger, better and more fun 2021 season including the return of a couple of popular events and a new ride at the water park.
Worlds of Fun will open for the 2021 season on Saturday May 22 and operate weekends including Memorial Day until Friday June 11, when it will open daily through Sunday August 15. Then operate weekends through October 31, including Friday nights in mid September through October 31 for their Halloween Haunt.
Oceans of Fun opens Memorial Day weekend, Saturday May 29 and operate weekends including Memorial Day until Friday June 11, when it will open daily through Sunday August 15. It will then operate weekends through Labor Day September 6 when the water park ends it's season.
New this season at Oceans of Fun will be Riptide Raceway, the longest mat racing slide in the world. According to Oceans of Fun, "Guests will race down five stories on soft foam mats through four side-by-side tunnels and around a thrilling 360-degree loop. The slide concludes with a final splashdown at the finish line."
Riptide Raceway was supposed to open last summer, but it's debut was delayed when the water park didn't operate. Here's a video from Worlds of Fun that shows what Riptide Raceway will be like:
Returning to Worlds of Fun between Saturday July 24 and August 8 is the park's Grand Carnivale, which they characterize as their " day-to-night, larger-than-life cultural celebration." It includes food and drinks, games, crafts and traditions from nations spanning the globe along with an amazing parade and street party.
Also returning at the end of the season is the park's popular Halloween Haunt from September 17 through Halloween.
Worlds of Fun says all 2020 season passes to the park and add on products are good through the 2021. And anyone holding a single day ticket for 2020 can use that ticket this year on any regular operating day through Labor Day, September 6.
While the park will be monitoring the pandemic and working with health experts and government officials to maintain the health and safety of visitors and employees. The pre-arrival health checks, staggered entry times, and a lot of the perceived hoops guests were asked to submit to last season don't seem to be part of the plan for 2021.
At least there's none of that on the Worlds of Fun website right now. That could be because we're more than two months out from the park's opening. Or some of the protocols from last year aren't needed based on what we've learned about COVID over the past year. Or Worlds of Fun really expects very modest attendance this season.
The theme park says visitors can check the Worlds of Fun website for the latest requirements, policies and safety protocols for the 2021 season before they make their park visit.
READ MORE: 25 Companies You Might Not Know Are Owned by Disney