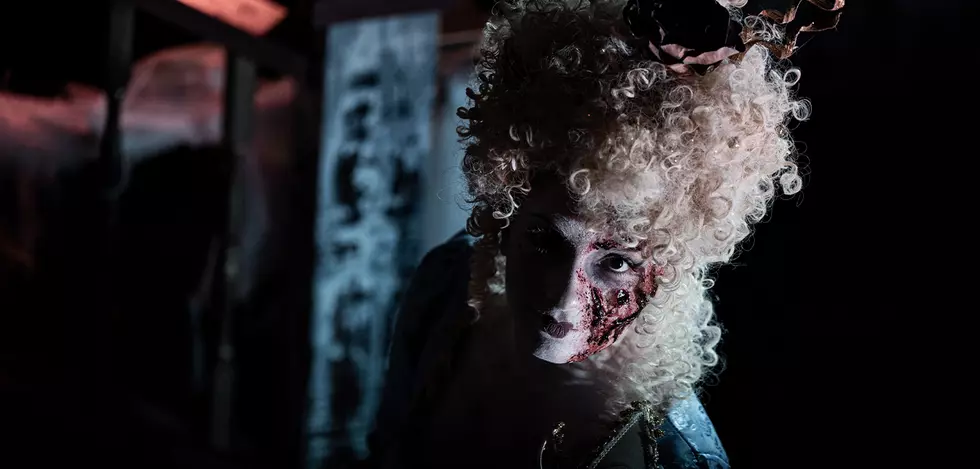 Experience 'Malice In Wonderland' at This Year's Halloween Haunt
Worlds of Fun
As in years past, Worlds of Fun is getting ready for its annual Halloween Haunt at the park. For the uninitiated, the Halloween Haunt is the transformation of Worlds of Fun from a family-friendly theme park to a haunted amusement park where you can experience all the thrills and chills of your favorite ride, with some extreme haunted attractions. New this year is Malice In Wonderland, a twisted take on Alice In Wonderland.
First, here's how Worlds of Fun explains the transformation of the park every evening Halloween Haunt is happening:
As darkness falls, fear rises when the Overlord calls his army to transform the park into Halloween HAUNT. This Halloween event allows you to experience the thrills of your favorite rides and the chills of extreme haunted attractions as you navigate the fog-filled midways where over 400 monsters lurk to feed off your screams. All you fear is here select nights this fall.
New for this year is Malice In Wonderland. Malice In Wonderland works from the premise that her experience in wonderland was a fantastic dream, one which she's working to experience again. Yet, following the white rabbit's manic hop, she and the rabbit fall through the mirror, yet she doesn't realize it's the "Dark Mirror" leading to a much more dark and menacing Wonderland, a place where everything, including her, is dark and dangerous.
Other Halloween experiences include the Blood on the Bayou Haunted House, the body hacking factory of fear Blood Shed, scarecrows that come to life in Corn Stalkers, and another new experience called Fear Ground, which is a dilapidated fairground where the carnies and clowns might just get you.
Some of the rides operating include Boomerang, Detonator, Flying Dutchman, Le Taxi, Mamba, Prowler, and more.
Haunt Admission prices start at $39.99 and the Halloween Haunt is not recommended for kids under 14 years of age. For the younger kids, Worlds of Fun is offering The Great Pumpkin Fest. According to Worlds of Fun:
Great Pumpkin Fest offers one-of-a-kind Halloween activities for kids throughout the park! In Europa, you'll find play zones, costume contests and dance parties with Snoopy and the whole PEANUTS™ gang. During the kids' Halloween event, loads of family-friendly games and activities await at every turn. Around every hay bale you can catch toe-tapping, live entertainment and grab a comfy seat to just kick back and take it all in. And the food! All over the park you'll find delicious fall flavors in sweet treats and savory goodies.
Halloween Haunt runs select evenings from September 16 through October 29 and The Great Pumpkin fest runs from September 17 through October 30. For more information please check out the Worlds of Fun website.
The Abandoned Schlitterbahn Waterpark in Kansas City
Schlitterbahn's fourth waterpark,
Schlitterbahn Kansas City
, opened on July 15, 2009, on land that originally was home to the Wyandotte County Fairgrounds near Interstate 434. Grand plans for the waterpark included a resort with 1,000 hotel rooms, a sporting goods store, and an area of shops and restaurants.
Between the economy, a child's death on the Verrückt waterslide, and the coronavirus pandemic the waterpark never matched the success of Schlitterbahn's other waterparks in Texas. After the 2018 season, the park was never re-opened and was demolished for redevelopment about two years later.
Check Out This Home That Looks Like A Hotel In Kansas City
Check out this private, secluded Mediterranean home on Ward Parkway in Kansas City that looks like a hotel. The home is on two acres, has a resort-style backyard, and a spectacular interior that's appointed like a hotel. You can learn more about this home being offered by Kbt Leawood Team,
Reece Nichols Real Estate
for four million dollars. You can see the listing on
Zillow
.