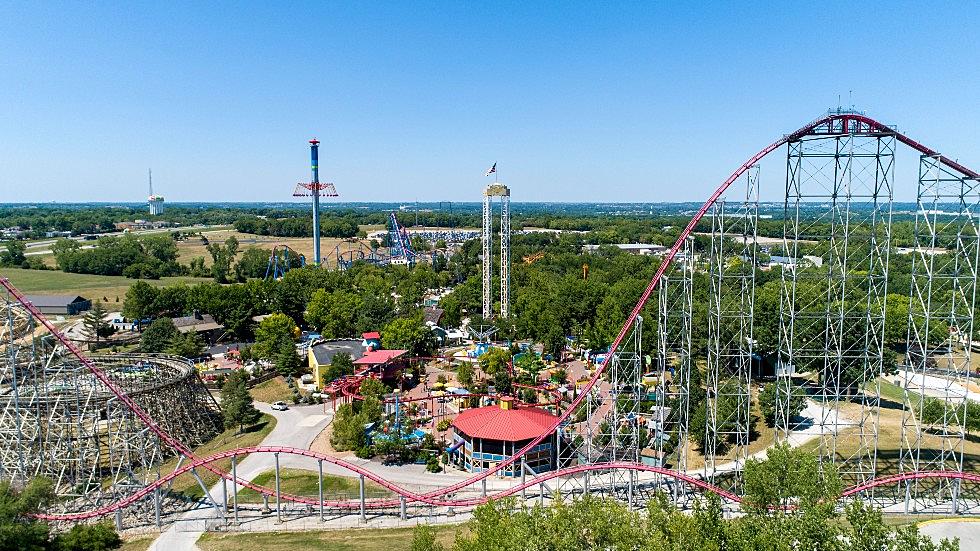 Here's What You Need to Know About Worlds of Fun Re-opening
Chris Foshee / Worlds of Fun PR
If your kids have been bothering you to take them on your yearly pilgrimage to Worlds of Fun in Kansas City you're in luck. The theme park owned by Cedar Fair is set for it's re-opening on Monday June 22. Here's some things you need to know if you're going to take the family or get a group of friends together to experience Worlds of Fun this summer:
Like most theme parks, museums, zoos and places where many people will be congregating you'll need to make reservation on the Worlds of Fun app or website before heading to the park.
One person in your visiting party will need to have the Worlds of Fun app on their phone when you visit and location services will need to be turned on.
One of the less popular decisions theme parks and museums are making: All guests will need to wear a mask while in the park.
Health screenings and temperature checks will be required for all guests and employees of the park.
The folks at Cedar Fair and Worlds of Fun have created a great web page to help you understand what you need to do before your visit, what you need to do when you arrive, and what to expect while in the park. If you're considering a trip to the park this summer it's a great informative read that can help you decide if it's something you want to do or not.
Digging a little deeper into their notes here are some of my takeaways:
I've wondered how serious places like theme parks and zoos etc. will be with forcing people to wear masks. I've found mask wearing to be more uncomfortable the hotter it gets. And that's just going from my car to the grocery store entrance. I couldn't imagine wearing one for most of my visit to an amusement park. That said, Worlds of Fun seems serious about mask wearing in the park. So it wouldn't surprise me to see this enforced.
Some rides won't be operating. If the park can't social distance you on a ride, don't expect that ride to be operating. The park says rides not operating will be listed on the Worlds of Fun app.
You won't wait longer to get on a ride because of reduced capacity. That said, your wait may not be shorter either. Park capacity will be reduced. And part of the formula for determining park capacity beyond health department orders and CDC guidance will be ride capacity too.
There's a health assessment you'll need to take online before heading to the park. Only one assessment needs to be filled out per group. Less work for everyone, however, a failed health assessment necessitates rescheduling the park visit for everyone.
The app with location services turned on allows you to store tickets or season passes digitally and allows contactless entry into the park. During your visit the park can send you real time updates on social distancing procedures. This could be great if it keeps ride lines down and points people to rides with shorter lines, and can give you a heads up when you might want to head to a popular ride. Or it could just be frustrating if the app keeps warning you away from the ride you've wanted to get on all day.
Don't flake out on reservations. If you make a reservation, show up, or call the park to cancel so they can let others enjoy the park. If you're a no call no show twice, you'll be put into Worlds of Fun reservation jail, I'm speaking metaphorically here. However, the park could penalize you in some way or block you from making another reservation for a period of time.
Theme parks are an expensive proposition these days. And I think the parks are doing a pretty good job trying to follow public health guidelines and orders while trying to keep a fun atmosphere for everyone and salvage a season in a business where surprisingly it can be hard to turn a profit in a good year.
One thing is for sure. Worlds of Fun and Cedar Fair have done an excellent job at laying out what to expect if you want to visit them this summer. It's up to you to decide whether or not it's worth the effort.