Change The Overtime Rules In Football
Getty Images
This weekend could have been one the most exciting in the history of the NFL.  All four games were decided on the final play.  3 were won on last second field goals and of course the amazing, heart-stopping games with our Kansas City Chiefs and Buffalo Bills that went into overtime after the two teams scored a combined 25 points in the final 2 minutes.
Now, I am as excited as you in regards to the Chiefs winning this game.  But if we are being honest, if we would have lost that coin toss in overtime, I do not think we win that game.  If you recall a few years ago, a game between the Pats and Chiefs, the same thing happened, and Mahomes never had a chance to touch the ball in overtime.  Because we lost the coin toss.
Because the Buffalo Bills lost the coin toss, Josh Allen never had a chance to touch the ball.  Both defenses were certainly gassed.  It was obvious.  Now we love offense, but somehow this seems like a tough way to go out.  Winning the coin toss (50/50 chance), represents such an unfair advantage now.  I grant you, if you team wins, you love it.  But how might we be reacting if the Chiefs had lost that coin flip?  Patrick on the sideline, after driving the team in 13 seconds to give them a chance to tie the game?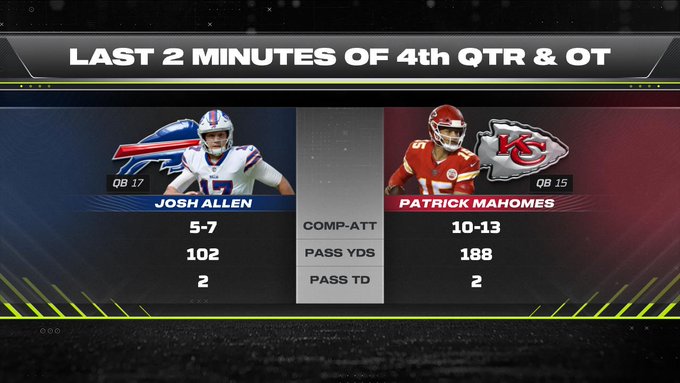 Now Buffalo could have squib kicked the kickoff and perhaps taken another second or two off the clock, so that decision may have cost them.  But somehow it seems time to allow both offenses to possess the ball regardless of if one team scores a touchdown or now.  With one exception.  If the defense scores.
If this game would have continued, I bet the Bills go down and score too.  Kansas City had their secondary not at 100%, and this game was so amazing to watch.  I am thrilled that Kansas City pulled out this game, but I think it is time to change the overtime rules.  Perhaps the college version might work.  I am sure this will be a discussion in the off season.
But #ChiefsKingdom is alive and well, and the road to the Super Bowl now goes through Arrowhead Stadium.  And we can avenge our loss to the Bengals earlier in the season.  4 straight championship games for Patrick Mahomes.  LETS GO CHIEFS!
TACKLE THESE: Check Out the Best Uniforms In Each NFL Team's History