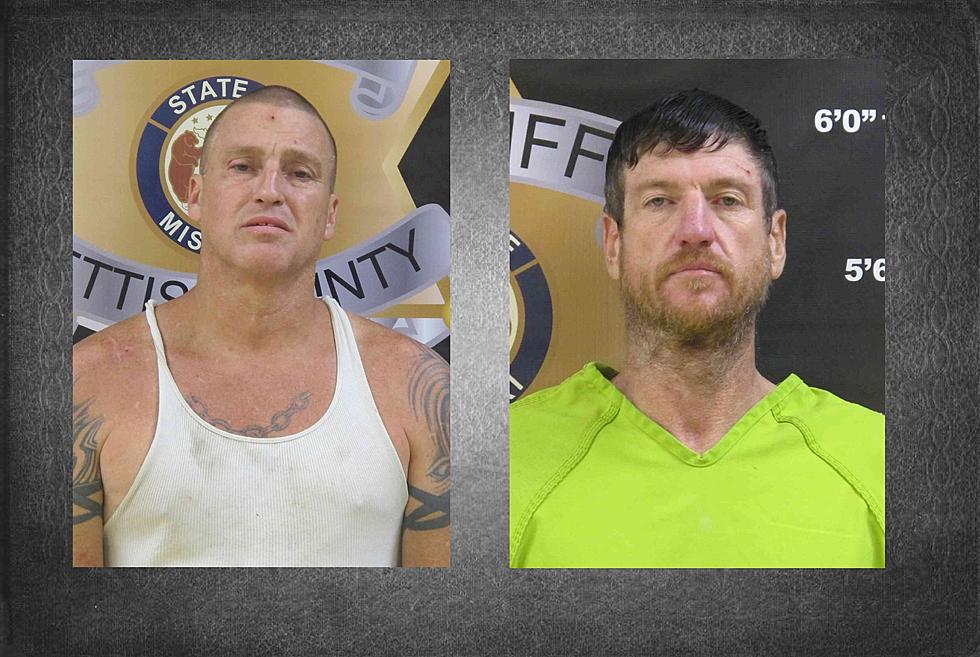 Brothers Arrested After Search Warrants Served in Pettis County
Pettis County Jail - Ricky & Tony Meyer
On Tuesday at approximately 3:30 p.m., a search warrant was served at 16803 Buchanan Road (southwest Pettis County) by the Pettis County Sheriff's Office, the Mid-Missouri Drug Task Force, and the Bates County Sheriff's Office.
The warrant is the culmination of, regarding this specific incident, over two years of investigation including multiple law enforcement agencies such as Henry County, Sedalia Police Department, Pettis County Sheriff's Office, and the Mid-Missouri Drug Task Force targeting Tony D. Meyer, 51, of Pettis County as an alleged, extraordinarily large, illicit drug distributor.
This first warrant served in Pettis County was conducted via Sheriff Anders' mutual aid request with the Bates County SERT, who successfully and safely concluded this investigation.
Upon arrival, Tony Meyer was taken into custody after a brief attempt at flight, and his brother Ricky Meyer, 56, of Pettis County, was taken into custody without incident. A search of the persons and property revealed the following:
Just under two pounds of methamphetamine, a Schedule II Controlled Substance
Suspected Heroin, a Schedule I Controlled Substance
Oxycodone, a Schedule II Controlled Substance
Over $10,000 in US currency
Two Morphine, a Schedule II Controlled Substance
16 Hydrocodone, a Schedule II Controlled Substance
3.44 grams fentanyl, a Schedule II Controlled Substance
3.45
Glock 42 .380 Auto
Smith and Wesson 9mm
Authorities also seized a Dodge Challenger, Cadillac sedan, and Honda CBR, to be forfeited.
Shortly after this service, a second warrant obtained during this investigation was served, again by Bates County SERT, Pettis County Deputies, and Mid-Mo Drug Task Force, at 19532 Maltsbarger Road.
A search of this property resulted in the following:
20 Hydrocodone, a Schedule II Controlled Substance
44 Alprazolam, a Schedule IV Controlled Substance
1 gram of Methamphetamine, a Schedule II Controlled Substance
Springfield .45 ACP
Taurus 9mm
Mossberg 500 12 gauge
Several altered Missouri license plates
Drug paraphernalia
A stolen flatbed trailer
A suspected stolen Kubota tractor
A stolen Kawaski Ninja motorcycle
There was a third search warrant relating to this investigation served in Henry County with a small amount of methamphetamine seized.
Initial charges of Trafficking, Receiving Stolen Property, and Felon in Possession of a Firearm will be submitted to the Pettis County Prosecutor's Office for an initial bond, reference Tony.
Charges against Ricky will be submitted to the Prosecutor's Office as well for Trafficking. The cases will then be submitted to the US Western District Court via the DEA for federal indictment, at which time the state charges will be dropped and defendants transferred to the custody of US Marshals upon said expected indictment.
"This is a tremendous advancement in the effort to make the county safe for all of our citizens. I cannot thank Bates County and Sheriff Chad Anderson enough for their patience and professionalism in the service of the warrants here in Pettis County. It is truly appreciated. A big shout out to Henry County Sheriff Kent Oberkrom as well.
"Our Task Force, deputies, fellow deputies, sheriffs, and police officers are committed to making a positive impact within not only our own jurisdictions but that of others. It is an honor to serve with them," commented Sheriff Brad Anders.