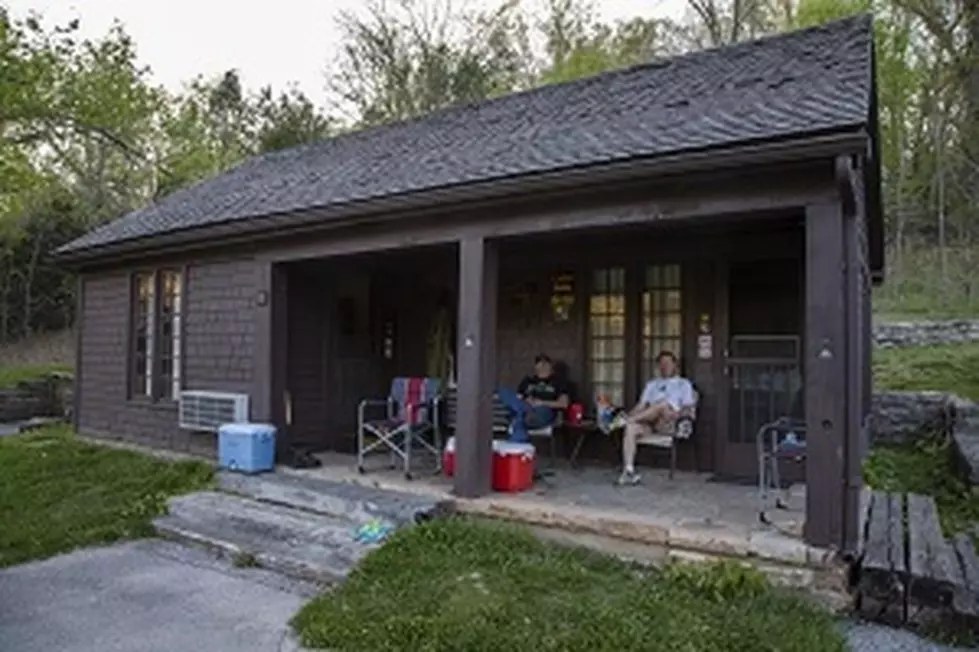 Want An Ultimate Fall Getaway? Try These 10 Cozy Missouri Cabins
Missouri State Parks
You still have some time for a fall getaway, or maybe throw caution to the wind and plan a winter one.  Have you ever wanted to own or rent a cabin in the woods? Someplace where you can go for a little isolation? Missouri State Parks have you covered.  Here are 10 cozy cabins for you to check out.
Mark Twain State Park
These camper cabins at Mark Twain State Park in Florida Missouri all come with electricity, heat and air conditioning. Catch the sunrise on their porches in the AM.  There are 6 of them and you can get more info on them HERE.  The inside of the cabin looks nice doesn't it.
Johnson's Shut-Ins State Park
After hiking around Johnson's Shut-Ins State Park, you will need to rest in one of their 6 cabins.  One, two or three bedroom options are available. Bring your camping gear.  More info is available HERE.  This state park is located in Middle Brook, Missouri.
Washington State Park
Washington State Park is located in Kingston Township Missouri.  Outside grills and fire pits are available and cabins come with bedding.  Petroglyphs, quaint hiking shelters and incredible Ozark overlooks define the Washington State Park experience. 11 cabins.  Click HERE for more info on the lodging.
Montauk State Park
For premier trout-fishing in Salem, Missouri, Montauk State Park is the place to go. Camping, hiking, a picnic.  After a long day of enjoying the park, spend the night at one of the one or two-bedroom cabins, all equipped with free Wi-Fi. Lodging info is HERE.
Lake Wappapello State Park
Rustic camper cabins are available at Lake Wappapello State Park in Williamsville, as well as kayaking, canoeing and boating.  Plenty of miles to hike and it is very picturesque. 2 and 3 bedroom cabins available.  Lodging info is HERE.  Some cabins will have satellite service.
Bennett Spring State Park
Lebanon Missouri is the home of Bennett Spring State Park.  More than 100 million gallons of clear, cool water gush from Bennett Spring each day and form a spring branch stocked daily with rainbow trout waiting for lucky fishermen.  When you get tired or too cold, warm up in one of the homey cabins. Lodging info is HERE.
Lake of the Ozarks State Parks
Enjoy the solitude of an undeveloped cove hidden along the shorelines of one of Missouri's largest lakes. Swim, fish, boat or simply take in the view from a shady campsite or picnic area overlooking the Lake of the Ozarks. Lake of the Ozarks State Park will also have 12 trails to hike or bike.  Lodging info is HERE.  You can get a yurt or a cabin.
Stockton State Park
Stockton State Park - Dadeville Missouri is a place where the lake might be too cold to swim in that doesn't mean you can't enjoy a picturesque sunset on Lake Stockton. The log cabins provide accommodations for up to four adults and two children. For lodging info click HERE.  Duplexes, camper cabins and 1 large cabin are available.
Big Lake State Park
Big Lake State Park can be found in Craig, Missouri.  Spend a morning bird watching with a cup of coffee at Big Lake, which is a wetland that acts as a rest stop for migrating birds.  The 407-acre state park offers everything visitors need to create a memorable vacation with a campground, camper cabins, day-use area and access to Big Lake. Lodging info is HERE.
Meramec State Park
Meramec State Park is located in Sullivan, Missouri.  You can sleep along the Meramec River, which flows through beautiful bluffs, wooded areas and a dramatic cave entrance. 13 miles of hiking trails and the cabins are dog friendly.  Lodging info is HERE.  11 cabins to check out.
So which one of these options is the closest to you? Have you been to any of them? Share your thoughts and enjoy the getaway.  These cabins and campsites may be just for you.
RANKED: Here are the most popular national parks
To determine the most popular national parks in the United States, 
Stacker
 compiled data from the 
National Park Service
 on the number of recreational visits each site had in 2020. Keep reading to discover the 50 most popular national parks in the United States, in reverse order from #50 to #1. And be sure to check with individuals parks before you visit to find out about ongoing, pandemic-related safety precautions at 
www.nps.gov/coronavirus
.