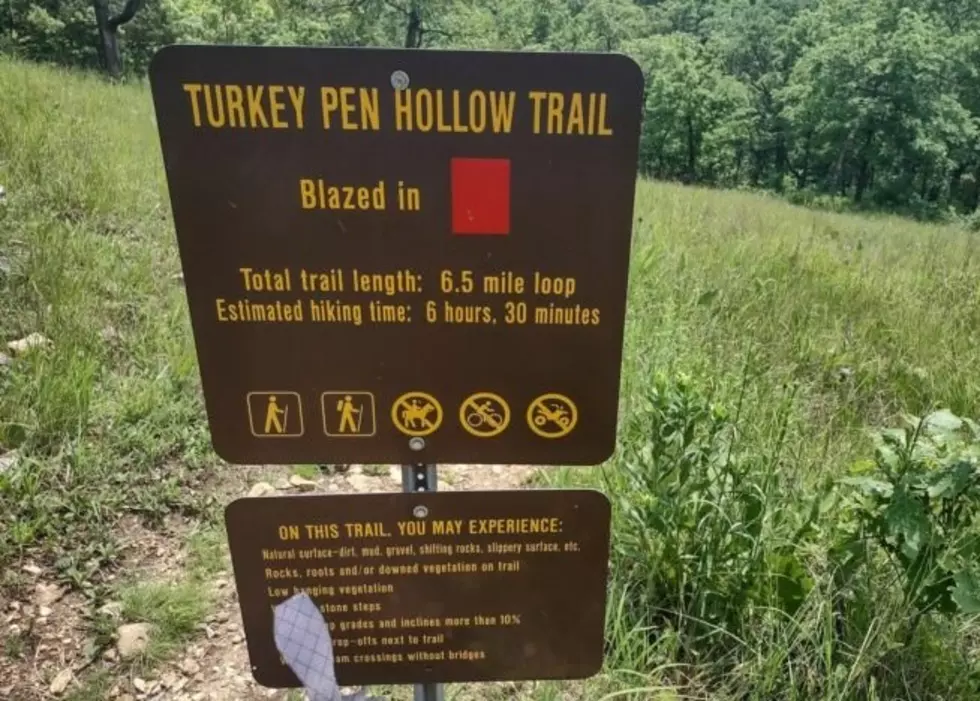 Turkey Pen Hollow Trail In Missouri Is Only 90 Minutes Away. Why You Should Go
All Trails/David Wilson
Missouri really has so many great places where you can get out and enjoy nature and all its natural beauty.  One place you may be familiar with is Ha Ha Tonka State Park.  This park is located in Camdenton Missouri which is about 90 minutes away.  But you may not be as familiar with Turkey Pen Hollow Trail which is located in the park.  Allow me to fix that for you.
This trail is about 6.5 miles long and this trail would be a 6 1/2 hour hike.  It may be worth it.  It is described as being "drenched in natural beauty". This hike will allow you to see some beautiful scenery.  Glades and rock formations.  Perhaps even magical.
You are going to want a comfy pair of good hiking shoes.  At least 3 hours of the trail with have some difficult terrain, with rocky areas, fallen down trees, and visible roots. Mud in some areas, and a lot of sun.  Bring sunblock!
Sometimes you will end up with a view like the one below.
You would not be surprised to encounter a fair amount of wildlife.  You might see deer, tortoises, snakes and armadillos.  Just let them be, and you should be in good shape.
You will find waterfalls, and some pools of water in different areas.  Plenty of areas where it will be quiet enough for you to relax and regroup from the hike.
It looks relaxing doesn't it? Do not forget your bug spray, that is for sure.
Again there will be plenty of water views that you will encounter.  Hopefully they will be crystal clear.
Sunny in the summer, but I can imagine that during the fall months, the colors could be amazing.  Winter adventures are an option too. Perhaps this could be a bucket list place to walk or check out.
For an option of all the amenities that are available at Ha Ha Tonka State Park you can click HERE and see if this is something that may interest you, especially if you love the outdoors.  But this trail is one that you may want to prepare for.  Get your backpack ready with water, snacks, your sun block and bug spray and begin your adventure.
The address of the trail:   Turkey Pen Hollow Trailhead, Missouri D, Camdenton, Camdenton, MO 65020.    If you do encounter a deer, take a picture!
RANKED: Here are the most popular national parks
To determine the most popular national parks in the United States, 
Stacker
 compiled data from the 
National Park Service
 on the number of recreational visits each site had in 2020. Keep reading to discover the 50 most popular national parks in the United States, in reverse order from #50 to #1. And be sure to check with individuals parks before you visit to find out about ongoing, pandemic-related safety precautions at 
www.nps.gov/coronavirus
.