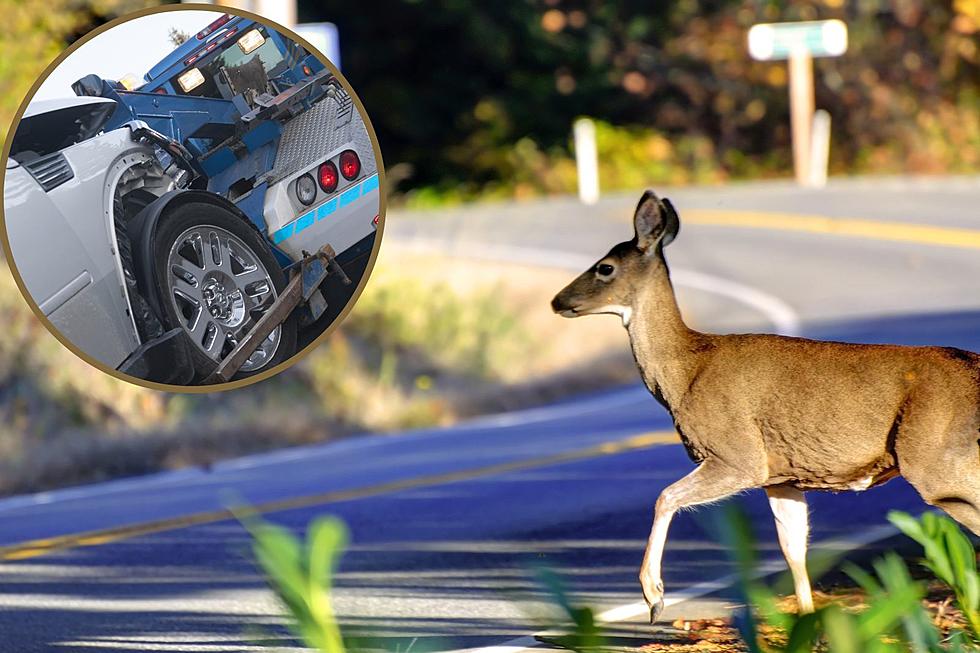 Missouri One of The Worst States for Deer -Vehicle Crashes
Getty Images
I don't think the headline is all that surprising. It certainly isn't if you drive Highway 50 between Warrensburg and Sedalia. I've noticed an uptick of dead deer along the side of the road. So what are your chances of having a deer dart out in front of your vehicle?
According to data from State Farm Insurance, your chances of being involved in an insurance claim involving an animal and your vehicle in Missouri is 1 and 80. That means, one of every 80 drivers in Missouri may hit an animal with their car, and it most likely will be a deer.
According to the Missouri Department of Transportation, "Shorter days mean motorists are driving in the dark more often and when deer are more active," said MoDOT State Maintenance Director Natalie Roark in a news release. "This leads to a peak of vehicle collisions involving deer and other wildlife from mid-October through the end of November."
The MoDOT news release also cites State Farm's research and acknowledges that we moved up from being the 14th worst state for deer crashes to the tenth.
So how can you avoid the hassle of hitting a deer or animal? According to State Farm Insurance:
Stay alert and pay attention to signage warning about crossing animals and deer.
Use your high beams. They illuminate dark roads, and in some cases flicking them on and off can cause an animal in the road to scurry.
Don't Swerve. If a car-animal crash is going to happen, maintain control of the vehicle and don't veer off the road.
Brake as necessary. If you can avoid hitting an animal do it. Stop. Slow down. Reduce your speed. Honk your horn. Make sure you know what traffic, if any, is behind you too.
Remember peak season. Animal collisions happen most frequently between October - December, which is hunting and mating season.
Many crashes happen around dusk and dawn.
Watch for herds and groups of deer. If you see one deer, more are probably nearby.
Wear your seat belt and drive the speed limit.
Good luck, keep your head on a swivel, use the high beams, and drive safely. Hopefully, we can all get through this deer season without any vehicle damage.
LOOK: Here are the states where you are most likely to hit an animal
Hitting an animal while driving is a frightening experience, and this list ranks all 50 states in order of the likelihood of such incidents happening, in addition to providing tips on how to avoid them.
Gallery Credit: Dom DiFurio & Jacob Osborn
LOOK: 25 must-visit hidden gems from across the US
From secret gardens to underground caves,
Stacker
compiled a list of 25 must-visit hidden gems from across the United States using travel guides, news articles, and company websites.
Gallery Credit: Abby Monteil