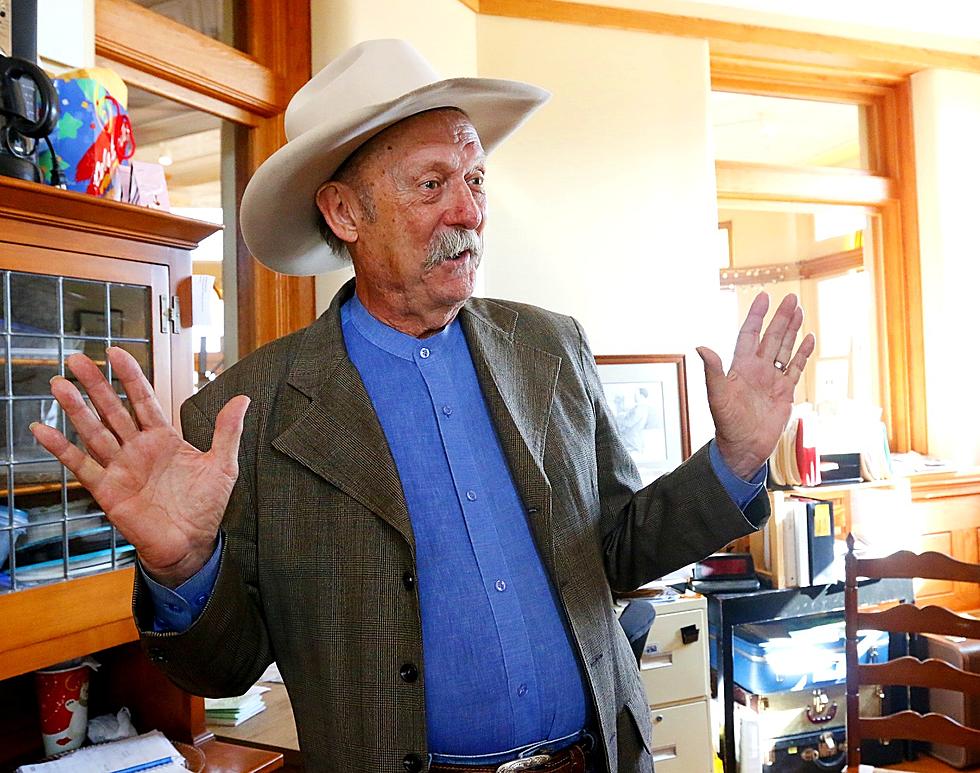 True West Magazine Owner, Writer, Illustrator Bell Pays Visit to Sedalia
Randy Kirby
True West magazine writer Bob "Boze" Bell paid a visit to the Katy Depot, 600 E. 3rd on Saturday morning.
He was accompanied by author Mark Lee Gardner, nephew of Carolyn Crooker, Sedalia Convention and Visitors Bureau.
"We love to travel to historic sites, so anytime I can get out snd see what my readers want to see, then I'm going to do it," Bell said, explaining his love of travel and all things historical."
The executive editor and co-owner of True West was on his way to Otterville to see for himself one of the famous locations associated with Jesse James and his outlaw lifestyle.
James was born Sept. 5, 1847 in Kearney and died at the age of 34 in St. Joseph on April 3, 1882 as a result of a gunshot to his head.
Bell has been involved with the magazine for 23 years, and is the author of The Illustrated Life and Times series of biographies on Geronimo (Goyahkla), Doc Holliday (John Henry Holliday), Wyatt Earp (Wyatt Berry Stapp Earp ), Billy the Kid (William H. Bonney, Jr.), and Wild Bill Hickok (James Butler Hickok),  as well as the quintessential gunfighter series Classic Gunfights I, II and III, all available on Amazon.
"This is a magazine I read as a kid, growing up in Kingman. This is our 70th year. Me and two crazy friends bought the magazine in 1999 and moved it from Stillwater, Oklahoma to Cave Creek, Arizona, where we've been ever since," Bell told KSIS.
Bell explained his desire to explore the life and times of Jesse James.
"Well I grew up in the 50s when it was wall-to-wall westerns on TV, and my family on my mother's side claimed relations to outlaws, which drove my mother crazy," Bell said. "I loved to go to my grandmother's house, because she would tell us how we were related to outlaws, and I was like, nine years old."
Then one night when he was watching the Life and Legend of Wyatt Earp on TV, during the theme song, his grandmother pointed at the TV and said, "Wyatt Earp was the biggest jerk who ever walked the West."
And that was the spark that launched Bell on his non-stop journey to learn for himself the truth about the Old West. True West magazine was sold at Desert Drugs in downtown Kingman.
"I loved the magazine," Bell confessed.
So when True West magazine come up for sale in 1999, he and his friends "paid way too much for it" and moved it to Cave Creek, where it's been located ever since.
Bell's current project – The Illustrated Life & Times of Jesse James -- will end up in True West in several forms, including the travel section, and in book form. There's already been a cover story published on James, by Mark Lee Gardner, called "The Day Jesse James died," with new evidence uncovered.
Bell's most recent book is called Hellraisers and Trailblazers: The Real Women Of The Wild West, which he co-wrote with Jana Bommmersbach, published Jan. 1, 2022.
Bell is also an illustrator and cartoonist, and his work is published regularly alongside his literary works.
"I come from the comic book side of things. I want to see it. I call it graphic cinema. I want to see if there's a key scene of Jesse James and where Bob Ford was standing," said Bell, who's responsible for 45 covers in True West magazine.
"We have 25,000 subscribers, and on the newsstand of course. We have a much bigger digital footprint now," Bell said, adding that his True West You Tube channel generates a million views. "We used to have subscribers all over the world, (Finland, England & Germany) but the postage (expense) killed that."
Bell noted that most Germans know more about American history than Americans.
"The foremost expert on Billy The Kid lives in England," Bell stated.
When asked what that says about Americans, Bell responded simply, "We're lazy."
Bell then shared his "mantra" about the whole thing.
"We have to do a better job telling stories," adding that kids today are distracted by 200 platforms vying for their attention.
"I said (to Mark Gardner) you know, someday I'd really like to come to Missouri, because I really haven't done it right. So he graciously set up this four-day tour for me. And we've already seen the Clell Miller graveyard, which is outside Kearney," Bell said.
Bell noted that Jesse's brother, Frank James, who lived to the age of 72, used to sell pebbles from Jesse's grave for a quarter.
Alexander Franklin James was a Confederate soldier and guerrilla. In the post-Civil War era, he was an outlaw. Frank was also part of the James–Younger Gang.
"Yesterday, we were at the Jesse James farm (just outside Kearney), and his grave was just outside the window where his mother could sit on her bed and look out and see Jesse's grave.
Jesse's body has since been moved into the City of Kearney. "He's in a family plot there, and I believe it's because they were worried that grave robbers were going to come and dig him up," Bell said.
"Frank's curse was that he lived to old age," Bell said, with all types of people constantly coming to the farm and asking him questions about his adventures with his brother Jesse.
"A lot of people think Frank was the real killer, the mean one, and Jesse was the charismatic one," Bell noted.
"They kept trying to extradite Frank to Minnesota for the Northfield, Minn., robbery where one of the men (Jesse or Frank?) shot the First National Bank clerk on duty and killed him when he (Joseph Lee Heywood) wouldn't open up the bank vault for them in August of 1876," Bell recalled.
The clock on the wall supposedly stopped at the exact moment of the robbery, and to this day you can walk into that bank in Minnesota and see the clock.
When the townspeople were alerted, they attacked the robbers, defending their town and their savings.
In the melee that followed, Nicholas Gustavson, a Swedish town resident, was killed, as were gang members Clell Miller and William Stiles.
The pursuit of the gang went on for weeks and covered some 400 miles. The Youngers were eventually captured at Madelia, Minnesota, in another gun battle, in which gang member Charlie Pitts was killed.
The three Younger brothers were tried in Faribault, found guilty of murder, and sentenced to life in the state prison at Stillwater, according to the Minnesota Historical Society.
True West writer visits Sedalia