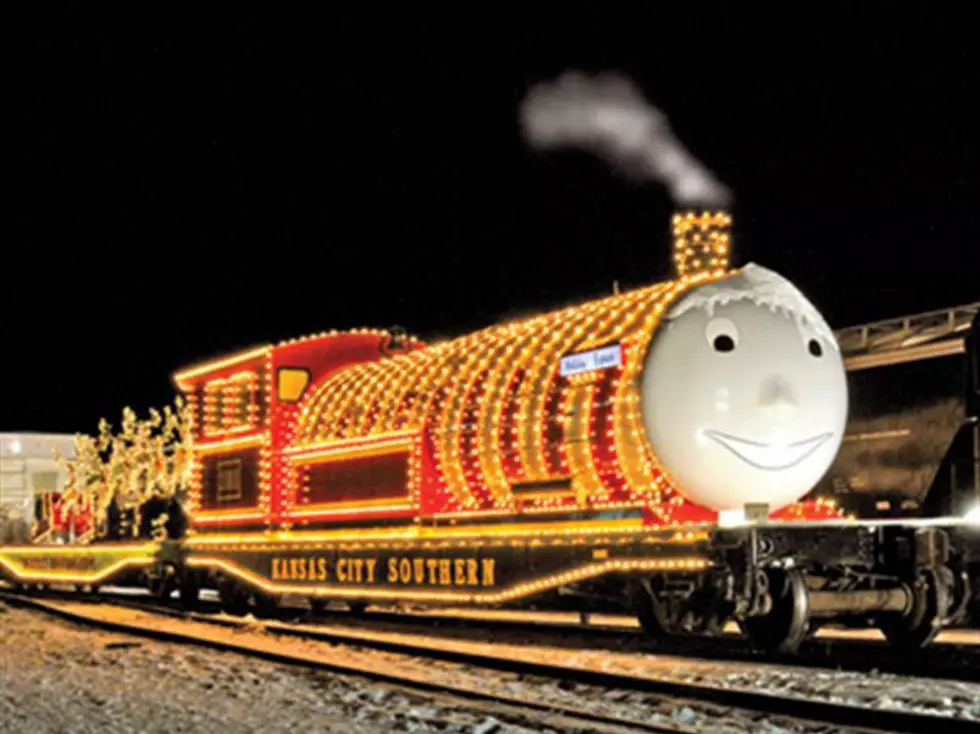 The Holiday Express Is Rolling into Higginsville and KC Next Week
Kansas City Southern
Kansas City Southern's Holiday Express is rolling into Higginsville and Kansas City next week. If you're unfamiliar with Kansas City Southern's Holiday Express, here's how the company describes it:
"Led by KCS' Southern Belle business train, the Holiday Express train includes a smiling tank car 'Rudy'; a flat car carrying Santa's sleigh, reindeer and a miniature village; a gingerbread boxcar; an elves' workshop; the reindeer stable; and a little red caboose.  Each car is dressed in lights."
Visitors to the Holiday Express can board the train, meet Santa and his elves, and tour three cars of the six car train. Each event is free and open to the public. KCS' Holiday Express is scheduled to arrive in Higginsville at the Depot on Tuesday December 17 at 4:00PM CST. The train is them scheduled to arrive at Kansas City's Union Station on Wednesday December 18 at 2:00PM CST. People will be able to view KCS' Holiday Express at Union Station through Sunday December 22. KCS president and chief executive officer Patrick J. Ottensmeyer says:
KCS is thrilled to bring joy to communities throughout our network with the Holiday Express project. This special tradition brings people together, strengthens community ties and supports our corporate values.
Each year KC Southern employees, vendors, and friends contribute to the Salvation Army and funds are donated to the Salvation Army at each Holiday Express stop and designated for the purchase of warm clothing and other necessities for children in need. If you're interested in making a donation you can do that here.
Kids, train lovers and kids at heart will love visiting KCS' Holiday Express. In fact, it could become a holiday tradition for your family. Here's the Holiday Express schedule for our area:
Tuesday December 17 4:00PM CST Higginsville Train Depot
Wednesday December 18 2:00PM - 7:00PM CST  Union Station Kansas City
Thursday December 19 11:00AM - 6:00PM CST  Union Station Kansas City
Friday December 20 11:00AM - 5:00PM CST Union Station Kansas City
Saturday December 21 10:00AM -7:30PM CST Union Station Kansas City
Sunday December 22 10:00AM -7:30PM CST Union Station Kansas City
If you're interested in the route the Holiday Express Train takes you can look at the schedule published by Kansas City Southern here.