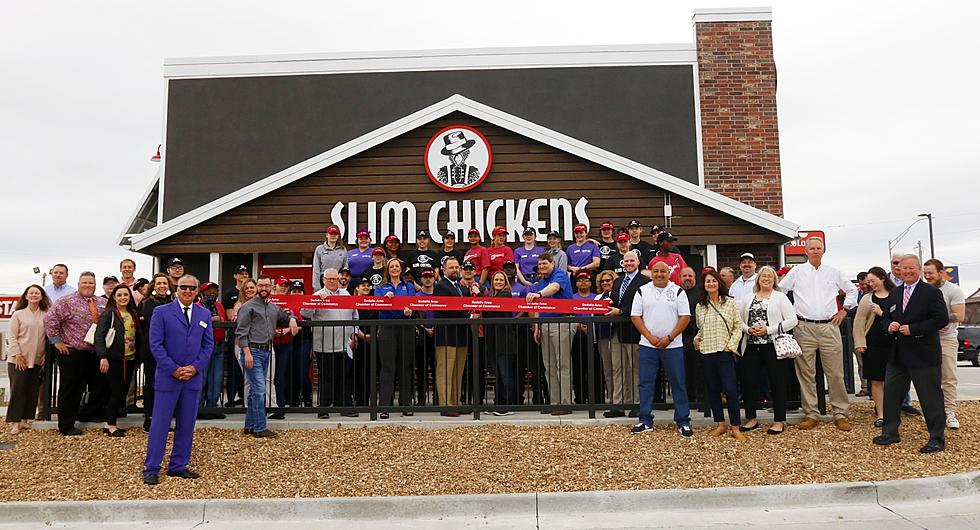 Slim Chickens Officially Opens in Sedalia
Randy Kirby
The long-awaited grand opening of Slim Chickens in Sedalia arrived on Monday morning.
The brand new store, located at 3515 West Broadway, attracted chicken lovers from around the area, as well as several City of Sedalia officials and Sedalia Area Chamber of Commerce Ambassadors.
A red ribbon-cutting ceremony was held around 10 a.m. The giant scissors provided by the Chamber were grasped firmly by Sedalia Mayor Andrew Dawson and Slim Chickens General Manager Holly Morgan.
Morgan was previously the general manager at Mr. Goodcents, (now permanently closed) which was located right across the street from Slim Chickens.
"I applied and I was the lucky one who got picked," Morgan said. "I have about 67 employees now, they're awesome. I started December 12, and I trained at other franchise locations. I opened a store in Indiana, and now I'm ready to be home."
Morgan noted that her family is proud of her, "They've been with me every step of the way. They came to visit me (on location) and I came home as much as I could, so it's been a long time," Morgan told KSIS after the ceremony.
When asked what Slim Chickens has to offer, Morgan was more than ready with her reply.
"We have buttermilk-breaded chicken tenders, we have wings, we have chicken and waffles, we have 19 sauces to choose from, most of our dinners come with toast. And I like that with the gravy. We have sandwiches and salads and warps, also. And they're also really good. We make our ranch in-house. We have fried mushrooms, fried pickles and fried okra," Morgan stated.
How's the milk shakes at Slim Chickens?
"Amazing," Morgan said. "We have strawberry, Oero, chocolate and vanilla."
GM Morgan admitted she will be spending a lot of time at the new restaurant. "Last week was 72 hours," she said. "I don't plan of living here, but I will be here quite a bit."
Slim Chickens is open seven days a week, from 10 a.m., to 10 p.m.
The restaurant will be closed on Easter, Thanksgiving and Christmas Day. "We're a big time 'family-comes first' company and that's part of it," Morgan said.
Ina facebook post on Tuesday morning, Morgan said:
"With all of the obstacles we encountered yesterday.. we sold over $22,000 in food opening day and made our community proud! Thank you for all of the kind words (and patience) as we continue to learn our jobs and produce the best chicken in Sedalia y'all are seriously SOOOOO amazing for coming out to support us! I cannot wait to serve this town every day! I have such a strong staff as they overcame everything and will continue to work hard for you!"
Slim Chickens
Slim Chickens grand opening
QUIZ: Can you identify 50 famous companies by their logos?
How well do you know the logos of 50 of the world's most famous companies? Keep scrolling to see if you can guess which icon belongs to which brand.