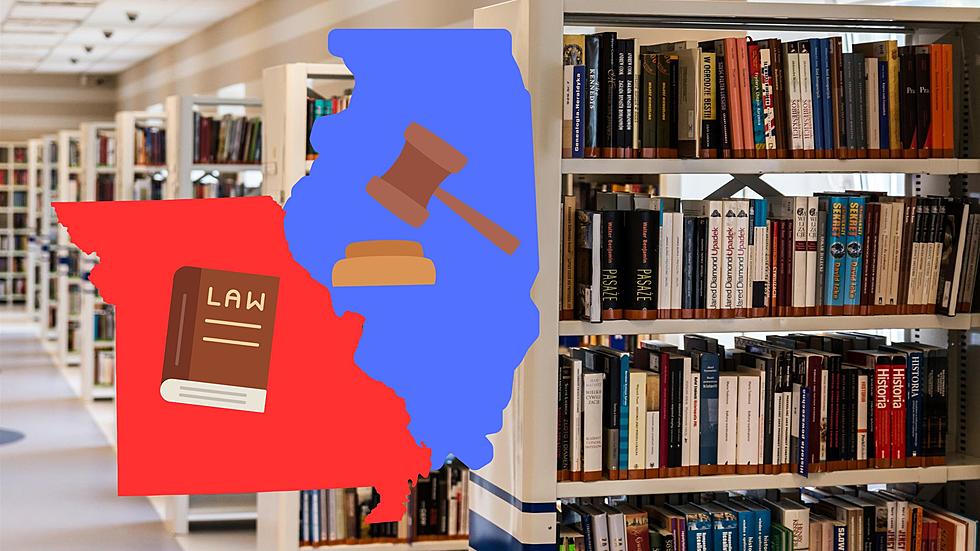 Should Missouri Copy a New Law in Illinois?
Canva.com
There is a new law on the books in the Land of Lincoln and now that it is official people are asking if Missouri should adopt the law on their side of the river...
According to Fox News, Illinois has become the first state in the US to outlaw library book bans. In an article on Fox News, they say...
"Illinois Gov. J.B. Pritzker on Monday signed into law a bill that he says will make Illinois the first state in the nation to outlaw book bans. Illinois public libraries that restrict or ban materials because of "partisan or doctrinal" disapproval will be ineligible for state funding as of Jan. 1, 2024, when the new law goes into effect."
They go on to say that attempts to censor books in libraries are on the rise and hit a 20-year high this year, to read more about it click here!
We live in such a unique part of the country because we are here on the Mississippi River aka on the border between Illinois and Missouri. So many of us here in the Tri-States live in one state but work in the other, have family in the other state, or are constantly doing business in both states. When a new law arrives in one state it is fair to ask...Is it coming to the other state as well?
In this case, personally, I don't see Missouri following in the footsteps of Illinois. This law is the type of law that states like California and New York could adopt pretty quickly but not Missouri.
But the question was SHOULD Missouri copy this law? Now that is a larger question, it depends on whether you think libraries should be allowed to ban books or not. If you think libraries should be allowed to censor material from the public then no, don't adopt this law. But if you believe firmly in a person's right to choose what they consume no matter its "partisan or doctrinal" messaging then you should support this law in your state.
My biggest question with this law will always be "Who decides what is partisan or doctrinal material?" because ultimately, that is the person or persons we are allowing to control what we are allowed to consume.
Finally...who reads anymore? Honestly, these bans or no bans are in place to protect children right? Which kids do you know are going to the library to find these books as opposed to just doing all the research they want on their phones and social media...
QUIZ: Can you identify 50 famous companies by their logos?
How well do you know the logos of 50 of the world's most famous companies? Keep scrolling to see if you can guess which icon belongs to which brand.