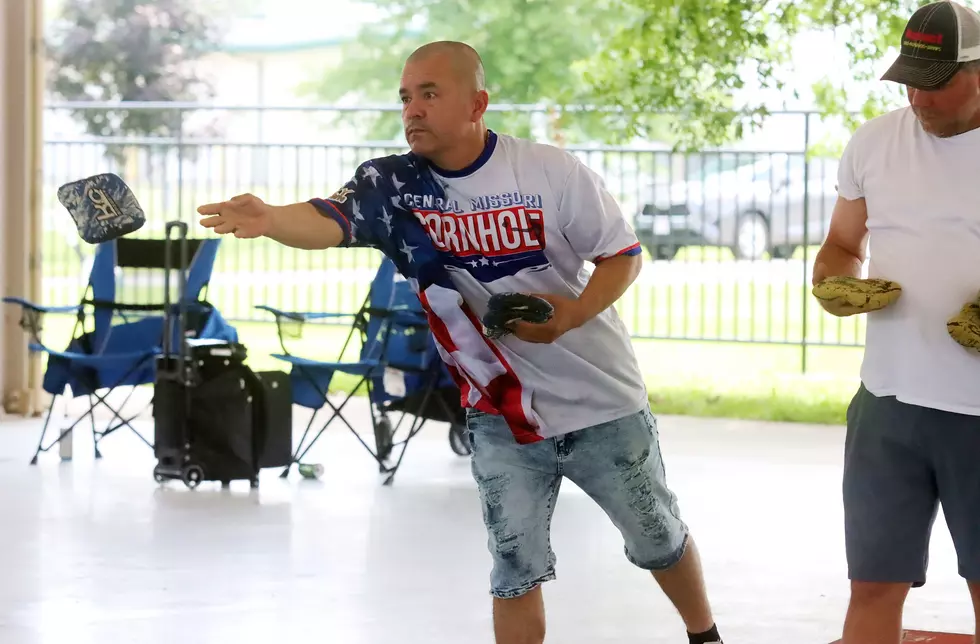 Sedalia Lions Club Cornhole Tourney Draws 37 teams
Randy Kirby
A total of 37 teams in three divisions competed in the Sedalia Lions Club Cornhole Tournament, held Saturday at the Nucor Pavilion on the Missouri State Fairgrounds.
The five-hour-plus competitive event was run by the Central Missouri Cornhole League (CMCL) and KSIS talked with CMCL Secretary Lindsey Thomas.
"This is the second time we've had this event," Thomas said, adding that she was very pleased with the turnout.
According to CMCL President Eric Stewart, there are a total of 97 players in the CMCL. They throw every Wednesday at the Shrine Club.
Stewart noted that the tournament in Sedalia had some competition with a tournament scheduled on the same day theirs at Shady Gators.
"They had a $5,000 payout. Next year, we're going to try and work around their tournament. I've already talked to them. We're going to meet two weeks from now. We're planning on June 10 next year. And I'm going hit Shady Gators up and say hey, I'm running a big one as well. Typically, that's how it works. We hit the directors up," Stewart said. "This year, we didn't get that opportunity (due to a scheduling conflict). I would thought we would have 65 or 70 teams if not for that."
The Nucor Pavilion was only available for the cornhole tournament June 11. Next year, the CMCL may conduct their tournament at the Mathewson Exhibition Center, Stewart said.
Spokesman and Treasurer John Karigan noted that the CMCL is about seven years old after humble beginnings with friends gathered in a driveway.
Karigan credited the Lions Club for their generous assistance and W-K Chevrolet for being the main sponsor.
So just how contagious is cornhole?
"If you throw a bag, you're coming back," Karigan replied.
Stewart said the CMCL protects the backyard division for beginners, who play against people with the same caliber of skills.
"We're absolutely growing year over year," Stewart said.
The next big date for the CMCL is a breast cancer benefit tournament sometime in October, he noted.
Winners from Saturday's tournament are listed below:
Advanced: (11 teams)
1st Place Roy Fields and Travis Hagedorn From Central Missouri Cornhole League  (Our Local guys)
2nd Place Jamie Brown and Jareth Nichols from Throwbra Kai cornhole (KC)
3rd Place Lucas Fritchey and Matt Otten From CMCL
Competitive: (14 teams)
1st Dave Lingrel (Dumpsterfire Baggers) Manuel Castaneda (CMCL)
2nd Dewey Stratton and Steve Hockett (CMCL)
3rd Jake Tyler and Paxton Parker (CMCL) Warrensburg
Backyard: (12 teams)
1st Carter Felton and Tim Felton  (Cooper County)
2nd Keith Balke and Sean Balke (Sedalia)
3rd Keith Hayden and Bryan Crosswhite (Sedalia)