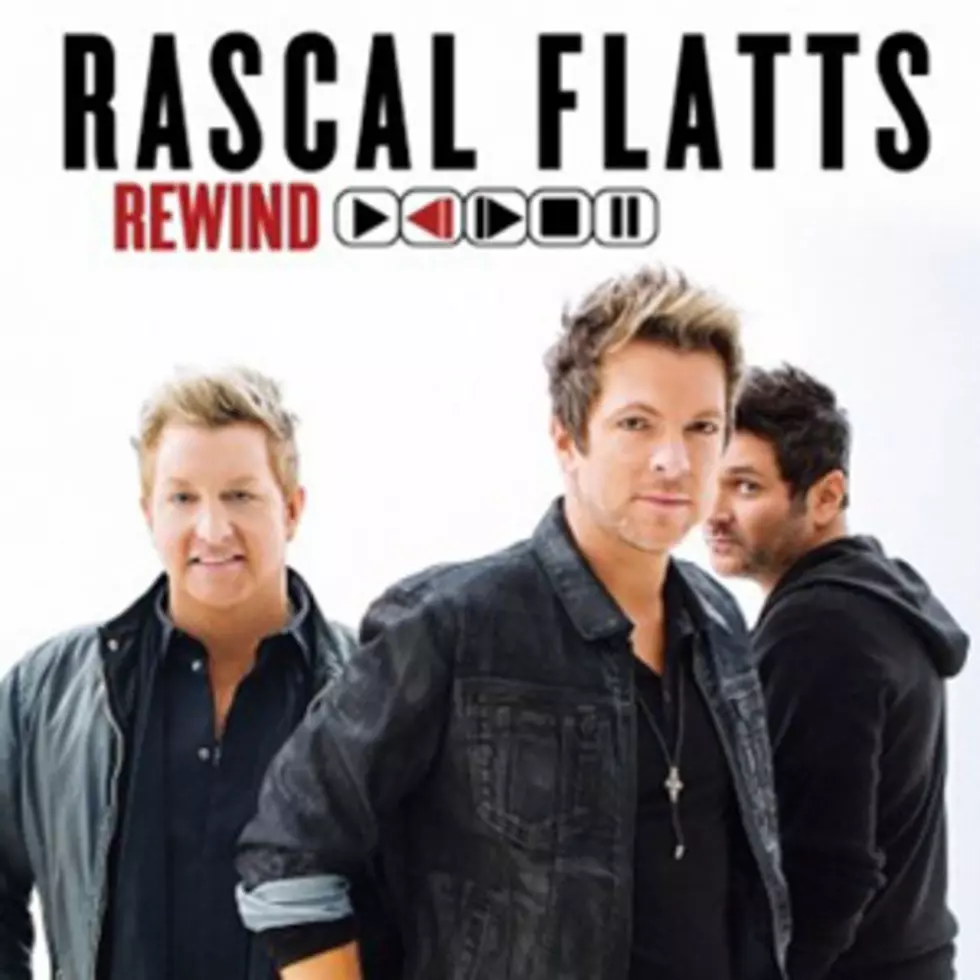 Album Spotlight: Rascal Flatts, 'Rewind'
Big Machine Label Group
The song 'Rewind' is a good measuring stick for Rascal Flatts' new album of the same name as it truly does -- as Jay DeMarcus said -- tie the old to the new. It's the mean of 13 songs that range from syrupy and organic to razor sharp and vengeful.
Songs on both ends of the spectrum work, although not all will please all audiences. A good album shouldn't appease everyone all the time however. Vanilla is the only flavor that does that and 'Rewind' is anything but.
'I Have Never Been to Memphis,' a piano-driven ballad, begins as a gentle love song before swelling into a symphonic testament to faith and loyalty. Later 'The Mechanic' offers sparse instrumentation and Gary LeVox unencumbered by effects or studio tricks. Neither song fits neatly within the Flatts mold however, which is likely what they intended.
The middle of 'Rewind' offers the strongest songs. Four consecutive cuts introduce, expose and feed off a new, more aggressive style the band brought in Howard Benson to help them find. 'DJ Tonight' doesn't try to hide its drum track, but a mandolin (sounds more like a ukulele, but there's none listed in the credits) keeps it country. 'Powerful Stuff' blows the roof open with a roaming electric guitar lick that snakes between crunchy power chords and LeVox's sexy vocals. If they're willing to take a risk, it'd make a fine single.
Next is 'Riot,' a power ballad that lets LeVox show off vocally, and 'Night of Our Lives.'
"Oh hello kisses sweet as wine / I was yours and you were mine / Innocence and butterflies / We left 'em both behind / On the night of our lives," LeVox sings during this dark, smokey, acoustic, nostalgic love song. It's a song one skips ahead to get to. It's the point on 'Rewind' when everything new that they try comes together with the tested Rascal Flatts sound of the past decade. It's perfect.
There's really only one melancholy statement on 'Rewind.' 'Payback' is a break-up song, but it's more about revenge than wallowing in tears. 'Aftermath' does the job, with help from more unique production. Later Joe Don Rooney gets to let loose on 'Honeysuckle Lazy,' an all-out jam that this trio would be foolish not to include in concert.
Rascal Flatts made the album they wanted to make. Rooney, LeVox and Jay DeMarcus take chances but don't sell out to the day's popular sound. They've released stronger lyrical projects, but sonically 'Rewind' is as exciting as anything they've put out since the beginning of their career 14 years ago.
Why Fans Will Love It: Hard work and self-evaluation really paid off for Rascal Flatts. They didn't rest on what's worked before, instead choosing to go after new fans with a fresh sound.
Key Tracks: 'Powerful Stuff,' 'Riot,' 'Night of Our Lives'
Did You Know?: The band has disagreements, and it's tough when lead singer LeVox is the odd man who doesn't believe in a song. The trio says he'll still give it 100 percent, and sometimes after he sings it his mind changes. On 'Rewind' there's a song he didn't care for, but it could be the next single LeVox says. Nope, he didn't say which one it was.
Watch Rascal Flatts Perform an Acoustic Version of 'Rewind'