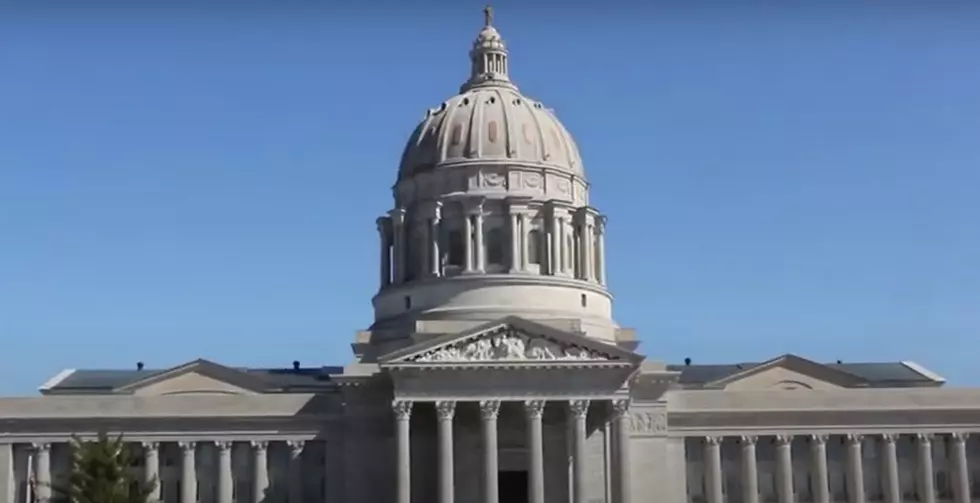 Priceless Art, Irresponsible Train Riding, a Wealthy Widow, and How it All Ties Into The Missouri Capitol Building
YouTube/State Of Missouri
This is an example of what happens to me when I go down a rabbit hole, you guys. 
I started some reading, and well, it was a fun story.  So here we go - History Time!  The Capitol building down in Jefferson City is actually the third building we've had our government centered in here in Missouri.  The other two before it had to be demolished after they were destroyed by fire. Stuff happens, ya dig.
So anyway, they were building it almost a hundred years ago, it finished up for good in 1917.  They wanted it to look nice on the inside, and wanted it to reflect Missouri, its history, and all that jazziness.  So of course, a cursory knowledge of our state knows we are steeped in Native American culture.   Here's where your boy, Oscar E. Berninghaus, comes in. What a NAME, am I right?
The Ozzman was born in St. Louis, and his Dad ran a printing company.  He thought the work was fine, but he really wanted to be an painter.  Of course nobody thought that was practical.  So he worked his hind end off and took night classes and got that degree.  After a spell, he was starting to make a name for himself.  Big enough that he was commissioned by the Denver and Rio Grande Railroad to do some paintings of landscapes out there.  So of course, dude has to see it in person to do it justice, right?  Totally. Sounds like a reason to go get lost to me.  Off he goes on the train down to the Southwest.  He's doing some sketching on the way to get a feel for the place, when the conductor catches wind of his work.  And then promptly invites Oscar to ride and sketch on the top of the train. While it's moving. I can't imagine that.  Even if it was a slower train, that's just crazy!  If you fall off a moving train, you're still going to be out of commission, great sketches or not! But you do you, Berningman.
So anyway, Os B makes certain to stop by the little town of Taos, New Mexico in his pursuit of great landscapes.  You might not have heard of Taos, it's not very big.  It's only about six thousand people.  BUT, it was a big deal for artists to go down there in the early 1900's.  Why? Because of none other than Mabel Dodge Luhan.  Mabel lived in Taos, and she was a very very VERY wealthy woman who happened to love art.  Naturally The B Man wants to make her acquaintance, right? Show him the money! He's gotta get that cheddar sometime for all his time in the game.
Side note, Mabel was a very interesting character. She married a few times and was really big on patronizing literature and the arts.  She went to finishing schools, had affairs with chauffeurs, hung out with the likes of Carl Van Vechten and Pablo Picasso, tried to kill herself once by eating figs stuffed with glass, and married a Native American guy after he camped out in a teepee on her lawn playing the drums every night to get her to talk to him.  Very interesting character.
Anyways, Oscar meets Mabel, and he just falls in love with town of Taos.  He totally digs the vibe and everything about it, and eventually ends up splitting the year there.  He would spend his summers there, and his winters up in the STL.  While Ozzy is chiming it up with the whole scene of Taos and all of the Native culture there, he decides he needs to bring this to life in art. So he decides to start something called the Taos Society of Artists.  These were six people who were all connected by their love of the southwest - and you had to be legit to get in.  You had to have lived in Taos for at least three years in a row (whether you had electricity and running water or not...not everyone did), be an established artist (read: exhibitions in real galleries, not just your house, RANDO), and you had to show an interest and actually be good at painting Native Americans.  They didn't want someone to just waltz in and try to exploit the people of Taos.  None of that.  Mad skills only or next, please.
Well, the Taos Six had a problem.  How do you get people to see this art?  They didn't have a gallery or a building or anything.  It was decided to figure this out on the creative tip. They decided to go on a tour. They sent travelling exhibitions all over the country, including Missouri (remember, that's Oscar's stomping grounds).  So, the Capitol Decoration Commission (hard on that third try) gets in touch with Oscar, and they decide they want some of that art all up in this business.  So all along the second floor, pieces from the Taos Society are in the lunettes (I had to look that up. It means the round pieces above doors or up high on walls).
And now, you can see it and hear more about this crazy but intriguing history. I just got this email from the Missouri State Parks.
Join Dr. Sarah Jones, art historian for the Missouri State Museum, at 7 p.m. Wednesday, Oct. 5, as she explores the history of the Taos Society of Artists and its contribution to the art of the Missouri Capitol. The program will be held at the Jefferson Landing State Historic Site, 100 Jefferson St. in Jefferson City. Parking is available in the lot next to the Lohman Building. For more information, call 573-751-2854. The program will also be livestreamed on the Missouri State Museum's Facebook page at facebook.com/MissouriStateMuseum
So you can have an expert (instead of just an idiot with a Wikipedia problem like me) that will fill in all the actual blanks of the story of Oscar and the Taos Six, and how their outstanding work is permanently on display in the Missouri Capitol.  It could be fun - and if you can't make it, the livestream sounds pretty legitness, too.
Historically yours,
Behka
LOOK: 25 fascinating vintage photos of the first Winter Olympic Games
The first-ever Winter Olympics were held in Chamonix, France, showcasing a variety of sports and athletes.
Stacker
assembled a collection of photos from those first Games.