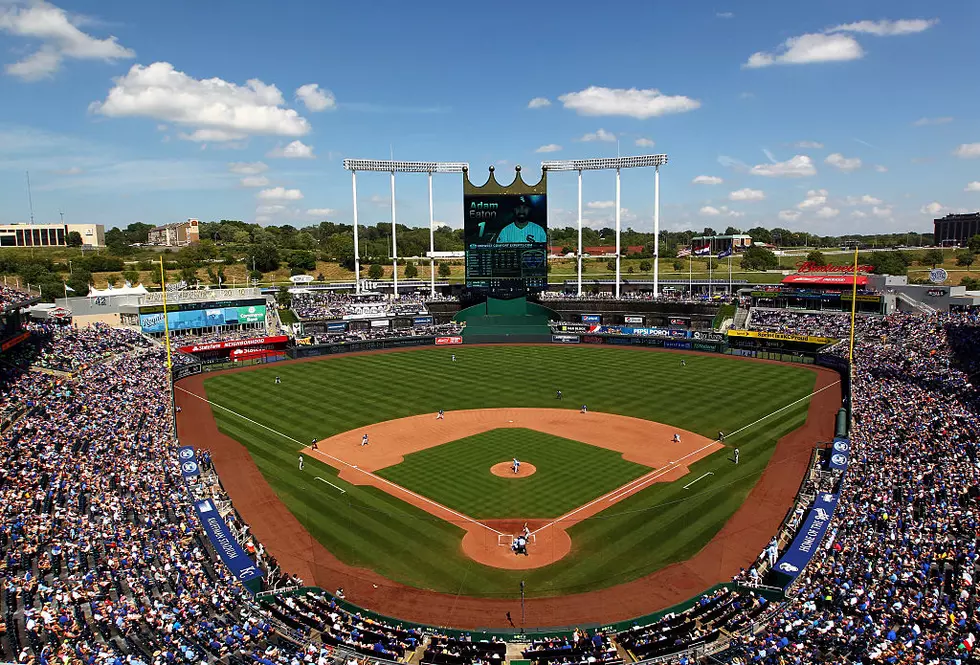 Kansas City Royals Set 19 Weekend Day Games
Getty Images
The Royals and Major League Baseball released their 2021 regular season schedule and the Royals have 19 daytime weekend home games on the schedule.
Start times
First, lets talk overall start times. All 81 home games will start at ten minutes after the hour.
All weeknight games will begin at 7:10 PM CDT. Eight of nine weekday afternoon games will start at 1:10 PM CST, the exception being opening day at Kauffman Stadium which is slated to start at 3:10 PM CDT.
Saturday night home games, the bulk of which are scheduled after the All-Star break will begin at 6:10 PM CDT. All Sunday afternoon contests with the exception of the season finale will start at 1:10 PM CDT.
The season finale on Sunday, October 3 will start at 2:10 PM CDT.
Weekend Day Games
The Royals will play 19 weekend day games at the K this season; which is great for people with little ones who have a harder time staying up late. Or even those of us who love day baseball.
As I mentioned earlier all Sunday games at the K will start at 1:10 PM CDT. That's great, but I always leave Sunday afternoon ball games feeling like the weekend is over. So I'd prefer to go on Saturday.
This season there are six Saturday day games scheduled. All before the All-Star break. Two April games, one on April 3 vs. Texas, and one on April 17 vs. Toronto. Both are set for 1:10 PM CDT. Then as we shift into May and June there are games on May 22 vs. Detroit, June 5 vs. Minnesota, June 19 vs. Boston, and July 3 vs. Minnesota. All will start at 3:10 PM CDT.
Weekday and Weekend Day Games
Thursday April 1 vs. Texas 3:10 PM CDT
Saturday April 3 vs. Texas 1:10 PM CDT
Sunday April 4 vs. Texas 1:10 PM CDT
Wednesday April 14 vs. Los Angeles Angels 1:10 PM CDT
Saturday April 17 vs. Toronto 1:10 PM CDT
Sunday April 18 vs. Toronto 1:10 PM CDT
Thursday May 6 vs. Cleveland 1:10 PM CDT
Sunday May 9 vs. Chicago White Sox 1:10 PM CDT
Saturday May 22 vs. Detroit 3:10 PM CDT
Sunday May 23 vs. Detroit 1:10 PM CDT
Saturday June 5 vs. Minnesota 3:10 PM CDT
Sunday June 6 vs. Minnesota 1:10 PM CDT
Wednesday June 16 vs. Detroit 1:10 PM CDT
Saturday June 19 vs. Boston 3:10 PM CDT
Sunday June 20 vs. Boston 1:10 PM CDT
Saturday July 3 vs. Minnesota 3:10 PM CDT
Sunday July 4 vs. Minnesota 1:10 PM CDT
Wednesday July 7 vs. Cincinnati 1:10 PM CDT
Sunday July 18 vs. Baltimore 1:10 PM CDT
Sunday July 25 vs. Detroit 1:10 PM CDT
Wednesday August 11 vs. New York Yankees 1:10 PM CDT
Sunday August 15 vs. St. Louis Cards 1:10 PM CDT
Thursday August 19 vs. Houston 1:10 PM CDT
Sunday September 5 vs. Chicago White Sox 1:10 PM CDT
Thursday September 16 vs. Oakland 1:10 PM CDT
Sunday September 19 vs.Seattle 1:10 PM CDT
Sunday October 3 vs. Minnesota 2:10 PM CDT
KEEP READING: Here are 50 of the most famous sports goofs