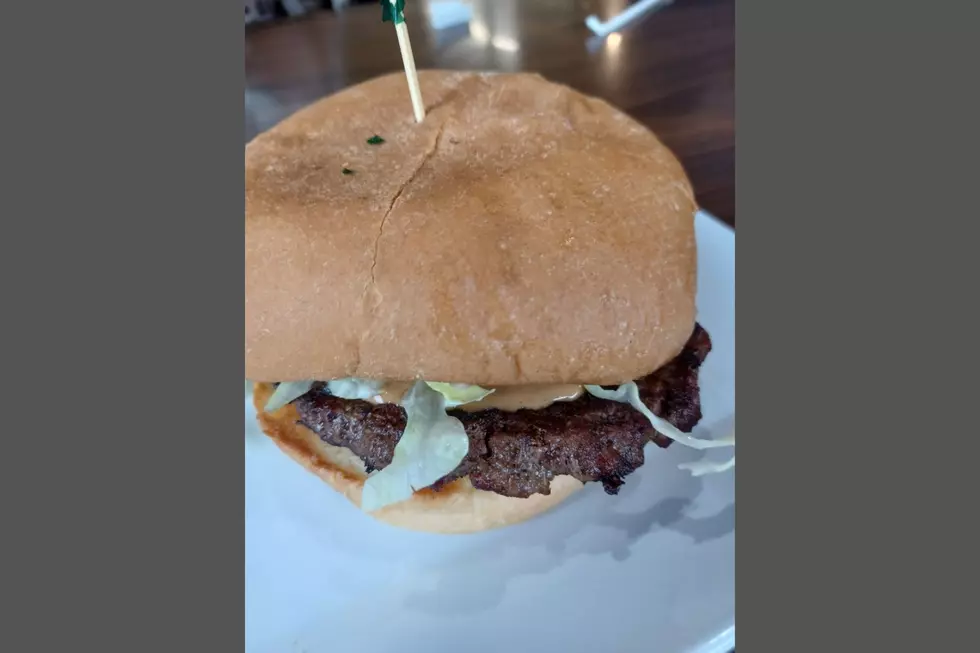 I Tried My First Bite Of The Iconic Guberburger at Kehde's Barbeque
Behka / Townsquare Media
For lunch, we all decided we'd head over to Kehde's Barbeque because we hadn't gone there in a while. While I wasn't up for ordering the burger that made Sedalia famous myself, Behka did, and like a good Sedalian (and friend and co-worker)  she wasn't going to let me leave Kehde's without experiencing my first bites of the iconic burger.
It's not like Gubergurgers, at this point, are something I don't know about. I've been in West Central Missouri for a few years now. I like learning the history and the pop culture of the places I live. I enjoy learning about the iconic places that have faded into history or the vestiges of the town it once was. Whether it's Mike or Lori talking about growing up in Sedalia or looking at the graffiti left behind in the former hotel that occupied the floors above what today is Main Street Logo.
So yeah, I learned about how the Gubergurger was invented at The Wheel Inn, and it's a burger that comes with mayo, peanut butter, lettuce, and tomato, and it's a local favorite. I also learned the two places in Sedalia to get it are Kehde's and Goody's Steakburgers. Behka seems to be more of a Kehde's fan, while Lori gets her Guber Burgers (the Goody's spelling) at Goody's.
I don't think Behka had her Guberburger for more than a minute before she generously cut me a quarter of her burger to try and was putting it on my plate next to my prime rib sandwich.
I'm a finicky eater, and all of my friends know it. So I was a little bit concerned. I'm not a big fan of flame-broiled food. So that was my first concern with the slice of burger on my plate. The second, is lettuce. I've just never gotten the whole lettuce on a burger thing. I believe lettuce should be cold and crispy. On a burger or a taco, in my mind, it just gets warm, slimy, and gross.
But, I had promised I was going to try it and at this point, I had Behka, Lori, Mike, Tim, and Craig all looking at me. Plus, Behka was being very generous sharing a hunk of her burger with me. So yeah, with five sets of eyes on me it wasn't the time to get all "I don't eat flame-grilled food" or start picking off the lettuce. It was time to try my first bites of a Guberburger.
The verdict. I liked it. I don't know if Kehde's flame-grilled the burger or not. I saw what looked like char grill marks, but it didn't taste overly grilled so that didn't bother me. I was only having a small taste of the burger too, so while there was lettuce on it, that didn't bother me at all.
It took a couple of bites for all the tastes to meld together. In my first bite, I tasted mostly meat and a little bit of mayo. I think at that point, Behka and Lori, who I was looking at sort of picked up the expression on my face and I think they thought I might diss Sedalia's favorite burger.
I went for a second bite, and then a third and final bite. The more I ate, the more I picked up the peanut butter flavor and the more I enjoyed with how the peanut butter and hamburger flavors mixed. They work well together. By the time I was done with sampling the burger, I was thinking, yeah I gotta try one of these for myself.
On our way back to the station I mentioned I thought the burger might have been flame-grilled, and Lori said I really should try Goody's version of the burger because, in her words, the burger really needs to be cooked on a flat-top grill, not flame grilled.
I think she's right, for me I'd enjoy it more cooked on a flat tap with just peanut butter and the mayo as the burger's toppings. That said, the combination of mayo and peanut butter on a burger, wow it just works. It's one tasty burger!
LOOK: Food history from the year you were born
From product innovations to major recalls,
Stacker
researched what happened in food history every year since 1921, according to news and government sources.
See How School Cafeteria Meals Have Changed Over the Past 100 Years
Using government and news reports,
Stacker
has traced the history of cafeteria meals from their inception to the present day, with data from news and government reports. Read on to see how various legal acts, food trends, and budget cuts have changed what kids are getting on their trays.