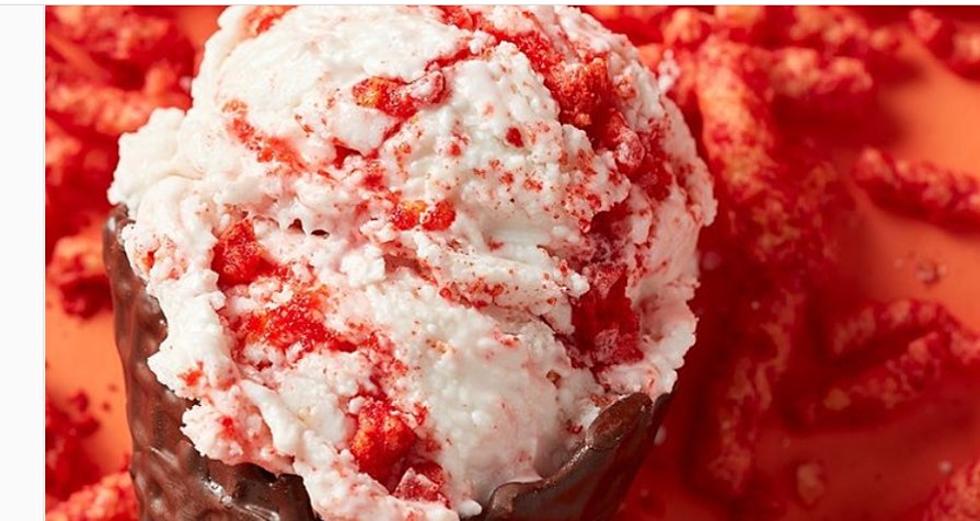 I Don't Know If I Approve of Flamin Hot Cheetos Ice Cream
Marble Slab Creamery, Instagram
Guys, you know I love me a good hot sauce.  I love anything Cheetos deems "Flaming Hot". 
The chips, the mac and cheese, I've tried it all.  I am a person who just loves spicy food.  I mean, I've addressed it before, I may have a problem. But this... I don't know about this.
Marble Slab Creamery, which is an ice cream chain based in Texas that is all over the midwest,  has come up with its latest creation: Flamin' Hot Cheetos Ice Cream.
That's right, folks.  The spicy snack is now on the menu with both the chain's ice cream and its shakes, and the reaction to mixing the two has been, well, mixed online.
"Guys please, it's not too late to pull this from your lineup," quoted one Instagram follower.
"Hell no," offered another.
I like sweet and spicy things. I like ice cream. I like spicy Cheetos. But I don't know if I can do this.  I've never really had a spicy ice cream, they've always been sweet. I don't think I've even had a savory kind of ice cream. I think the most adventurous I've ever gotten with ice cream was maybe a frozen yogurt. This may be the line that I have to draw in the sand, you know?  Look at this thing.
It almost looks....chunky.  I might be able to get with a bit of crispiness in my ice cream.  But I don't know about this.
Both the shakes and the ice cream are available at Marble Slab Creamery shops across the country until September 30.   What do you think? Would you want to try a Flamin  Hot Ice Cream? Or is that a pass on your end?
Flamingly yours,
Behka
LOOK: Here are copycat recipes from 20 of the most popular fast food restaurants in America