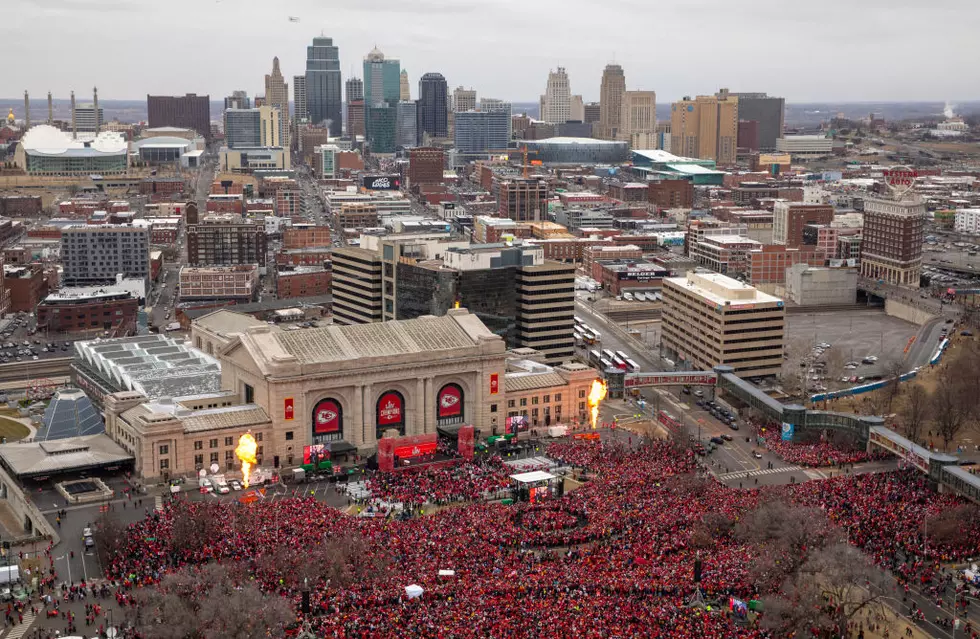 Driving to the Champions Parade? Here's What You Need To Know
Getty Images
If you're heading to the Chiefs Kingdom Champions Parade in Kansas City, Wednesday, February 15, here's what you need to know.
What Time Is It?
The parade kicks off at 12:00 PM CST at 6th Street and Grand Boulevard. It is expected the parade will last about 90 minutes
The rally will begin at approximately at 1:45 PM in front of Union Station and the WW1 Museum and Memorial north lawn. The rally is expected to last an hour.
Parking
Many folks from the Sedalia and Warrensburg area will be driving into Kansas City for the parade and rally. The City says to expect significant travel delays on roadways before, during, and after the parade.
Most lots around the parade site will be charging for parking.
Parking at the National WW1 Museum and Memorial for the parade/rally will cost $35.00. The parking pass must be purchased online in advance here. Tickets to the memorial will cost $10.00. If you're looking for clean restrooms, this might be a good option.
Parking at Union Station normally costs $15.00 per day at most in either their lot or garage, although, sometimes they may charge more for event parking. We have reached out to Union Station for more information. Their parking page is here.
Crown Center parking garages will open at 4:00 AM CST on parade day. The cost to park will be $40.00 and the only form of payment will be a credit card.
KCATA will also be offering several Park and Ride Locations with roundtrip shuttle service to and from the parade and rally. Parking will be available at Worlds of Fun, HyVee Arena/West Bottoms, Swope Park/Kansas City Zoo, Oak Park Mall in Overland Park, and 47th and State Metrocenter. Shuttles will run from lots to the parade/rally from 7:30 AM -11:00 AM and offer return trips from 12:00 Noon to 4:30 PM CST. Learn more here. The RideKC Facebook page also has information on bus route detours, service impacts, and shuttle services for the event.
Parade Route, Road Closures
The parade is the same route they used in 2020. It will kick off at 6th Street and Grand Boulevard, head south on Grand Boulevard, west on Pershing Road, north on Main culminating at Union Station.
You can view the parade map here.
Motorists are asked to avoid areas along and around the parade route including Grand Boulevard, Pershing Road, and Main Street. Road closures along the parade route will begin on Tuesday, February 14, at 12:00 Noon. For more specifics on street closures click here.
Kansas City Attraction and Business Closures
If you're thinking of making it a day, hitting the parade and rally, and heading to Union Station or Crown Center for some other fun, you might be out of luck.
Public access to Union Station will be restricted starting late Tuesday evening and the Station will be closed to the public on Wednesday. All Union Station attractions will be closed Wednesday, February 15.
Crown Center's Ice Terrace will be closed, as will their Funville Exhibit. Additionally, other businesses located in Crown Center may be closed or have changed hours. You can access their complete list on the Crown Center website here.
The bottom line is, if you're looking at including other fun things to do in Kansas City on Wednesday, you might check with that business or attraction to make sure they'll be open. Look, Kansas City is a big town, so many places will be open. That said, some places in and around the parade or rally may have reduced hours or be closed, especially if they're letting staff attend the event.
KEEP READING: Here are 50 of the most famous sports goofs
LOOK: Biggest underdog victories in March Madness
Every spring, legions of sports fans turn their attention to college basketball when
March Madness
takes the national spotlight. Using aggregated Associated Press data, BestOdds has come up with 10 of the biggest—and most unlikely—underdog wins in March Madness history.