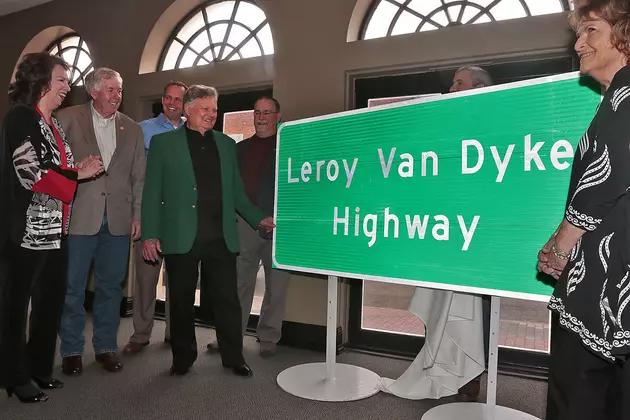 Dedication Ceremony Held For 'Leroy Van Dyke Highway'
Randy Kirby
A portion of West Broadway in Sedalia will now also be known as the Leroy Van Dyke Highway.
Signs were installed on Tuesday morning by MoDOT near westbound US 50 & Sunset (close to Golden Corral) and also near eastbound US 50 & Main designating that stretch of Highway 50 as Leroy Van Dyke Highway to honor famous Sedalian and Grand Ole Opry member Leroy Van Dyke.
Van Dyke was joined by numerous friends, relatives and politicians for an hour-long ceremony held at the Hayden Liberty Center, 111 W. Fifth, Saturday morning. The ceremony concluded with the unveiling of one of the reflective green signs in the lobby. Van Dyke's bright green suit jacket matched the color of the signs designed to recognize his achievements as one of the best-known country music entertainers in the business. Van Dyke said he appreciates the honor.
"This has been a good get-together, it feels like a great big family reunion, as a matter of fact," Van Dyke told KSIS, adding that "it will be interesting to drive up & down the road and see my name up there."
The native of Mora, Missouri and Korean War veteran still travels around 100,000 miles a year for live performances. He is perhaps best known for his #1 hit "Walk On By," released in 1961 and his #9 hit "The Auctioneer," released in 1956. He quoted his good friend Tex Ritter when asked why he still tours. "Because this is what I do."
The Auctioneer, co-written by Van Dyke and Buddy Black, was about the life of his cousin, Ray Sims, also from Missouri. Sims and Van Dyke are both members of the National Auctioneers Association Hall of Fame.
Van Dyke, who has recorded some 500 songs, with dozens of them charting nationally, was joined by his wife and manager Gladys, and their son Ben Van Dyke, who is Leroy's lead guitarist, and his family.
Sedalia Mayor Stephen J. Galliher thanked Sue Heckart, Barbara Hayden and David Wells, who all financially contributed towards the cost of the MoDOT signs to be placed on US 50.
Galliher noted that Van Dyke is a Smith-Cotton graduate and also a military vet.
Longtime broadcaster Bill Anderson (Cousin Carl) said that he doesn't know of anyone who has done more for the country music industry than Leroy and his wife Gladys. "I have played his music since I have been in broadcasting," Anderson said. "We still get requests for Walk On By and Auctioneer and we play them. He is a man that we are all proud of. He's solid. He's sound."
Rep. Nathan Beard used the words goodness, charity, love and kindness in describing Van Dyke. Beard, along with Rep. Steve Cookson co-sponsored the bill to get the sign work done.
Rep. Dean Dohrman thanked everyone for coming "to honor a great Pettis Countian,' adding that he couldn't think of anyone more deserving of the recognition.
Lt. Gov. Mike Parson also attended the event and had some glowing remarks for the honoree.
"It's nice to know that there are people out there who still believe in the values of our country and our state," Parson said, calling Leroy and his family ambassadors for Missouri. "I want to thank you for that on behalf of all Missourians ... you do it for the right reasons, for the right moral values, for the love of your music and for the love of your state."
Parson also noted that "it's important to remember where you came from."
Also taking place during the ceremony was the unveiling of 10 vertical panels covering the windows of the 5th Street side of the Hayden Liberty Center. The panels illustrate historical facts about Sedalia, and one of them features Leroy Van Dyke, who took part in the unveiling.
The panels were funded through the Missouri Tourism Commission, according to LCAA Executive Director Terri Ballard.