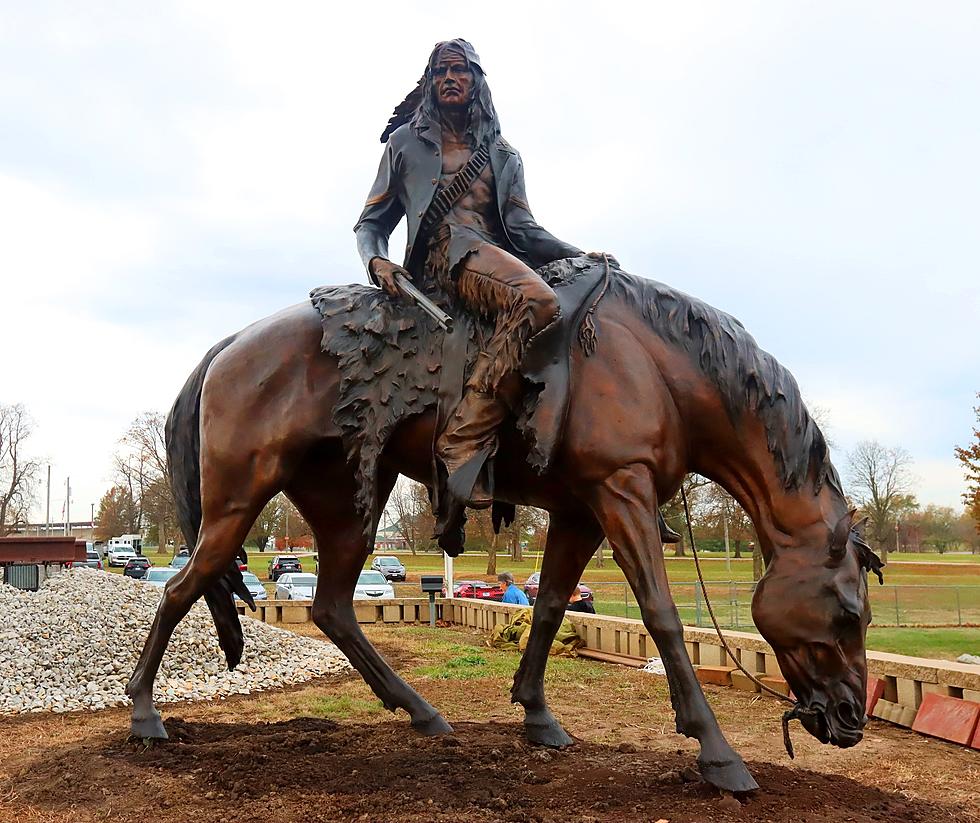 Bronze 'Indian Scout' Statue Dedicated at Mo State Fairgrounds
Randy Kirby
A large bronze sculpture of an Indian scout was unveiled last Saturday morning at the Starline Brass Trails End Plaza.
Kari Wilson, executive director of the Missouri State Fair Foundation, welcomed those in attendance to see the statue revealed, which was at that point covered by a parachute.
"This plaza is an example of the power of a community, and we have the very best community here in the City of Sedalia and on the Missouri State Fairgrounds," Wilson said.
She noted that several years ago, a group of dedicated individuals came up with a vision of a plaza on the southwest corner of 16th and Limit, an area that was largely unused except during peak Fair periods when visitors' cars were parked there.
"Through their hard work and perseverance, this plaza became a reality. But there have been no bigger advocates and supporters of this plaza than the Hayden family. Our community and our fairgrounds have truly been transformed by the generosity of the Haydens. And this Starline Brass Trails End Plaza is a shining example of their generosity," Wilson said.
Wilson said "the plaza also serves as a tribute to the City Sedalia, and it is a welcome beacon for all who visit or pass through our City."
The sculpture was created by artist J. Michael Wilson, and paid for and shipped to Sedalia by Robert and Barbara Hayden, it was noted.
Fair Director Mark Wolfe, who has announced his resignation after 15 years on the job, credited Dr. Doug and Connie Kiburz for their tenacity, diligence and help in getting the job done.
Wolfe recalls that 20 years ago, the area where the plaza was located was more like a swamp with some old trees, with a ditch that was hard to cross, calling it an eyesore.
The change that took place at the highly visible northeast corner of the Fairgrounds now seemingly catches everyone's eye who drives by.
Mayor Andrew Dawson said the plaza "captures the essence of our community's enduring spirit" and the new Indian Scout statue "is a celebration of our heritage and an emblem of our communal memory, and a beacon for future generations."
The bronze statue also "stands as a monument to our collective journey of our ancestors, who laid a path we continue to forge as a community," Dawson said in his speech. "It represents the courage to explore new trails, and the wisdom to honor old ones.
"With the gracious support of the Hayden family, this addition to our plaza enriches the narrative tapestry of our community. As we unveil this sculptural sentinel, let us embrace the values it symbolizes – perseverance, foresight, and a steadfast connection to our roots. This is a symbol of where we have been, and where we aspire to go. A confluence of our history and our aspirations. In this moment, let us draw inspiration from the past, as it illuminates our way forward, for it is by honoring our history that we build the foundations of our prosperous future. May this Indian Scout serve as a silent guardian of our shared values and a reminder of our civic pride," Mayor Dawson concluded.
Indian Scout sculpture
Gallery Credit: Randy Kirby