Adults Can Now Buy Happy Meals Guilt Free With A Twist! When?
Getty Images
If you have young kids at home, I am willing to bet, that at one time or another, you have gone to McDonalds and purchased a Happy Meal for your kids.  How excited were you as kids to get one?  I bet it was just for the toy, right?  To this day, the Happy Meal is the top selling item for the company.
Well now adults will be able to buy a Happy Meal guilt free, with a twist, beginning Oct 3rd.  You see, the Hamburglar is back!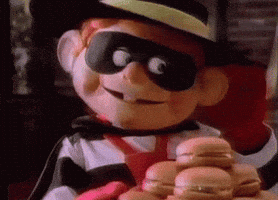 McDonald's is bringing back its family of recognizable figurines in a new adult Happy Meal, which, yes, includes the toys. Beginning Oct. 3, customers can order a Cactus Plant Flea Market Box — a Big Mac or 10-piece chicken McNuggets, with fries and a drink. The meal is a collaboration between the streetwear brand Cactus Plant Flea Market and the fast food chain. Click HERE for the streetwear's website.
The food will be served in a specially designed box that should trigger memories of Happy Meals from the old days. Toys include redesigned takes on McDonald's famous mascots, including Grimace, Hamburglar and Birdie, plus a new one named Cactus Buddy.
Now I suspect like all of these promotions, this will only be available for a limited time.  You can read HERE for more info.  The company does seem to be finding success by collaborating with celebrities. They do seem to be bringing back famous items.  You can click HERE for Rob's article about the breakfast Danish that was brought back.  For the record, can the Sedalia locations please bring back the bagel breakfast sandwiches? Just asking.
LOOK: 15 Discontinued McDonald's Menu Items