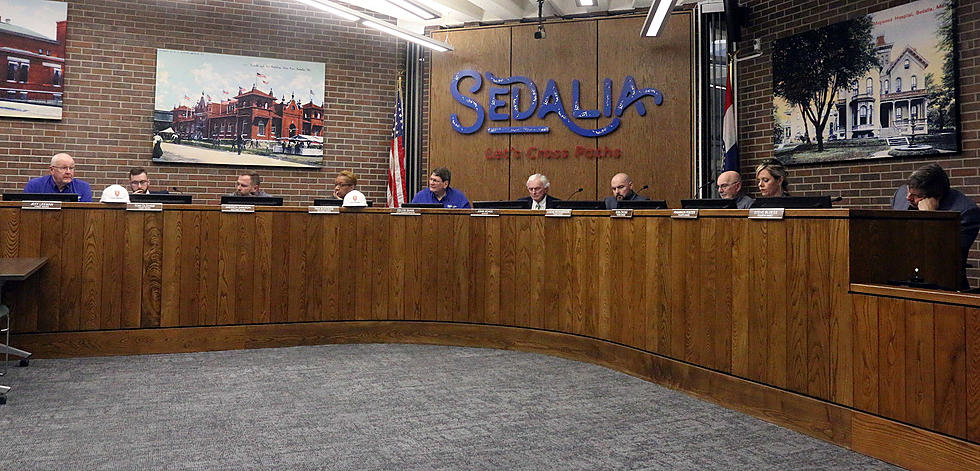 Water, Sewer, Sanitation Rates To Increase in Sedalia
Randy Kirby
A public hearing concerning a proposed increase in sewer, water and sanitation rates received no in-person comments at the start of Monday night's regular City Council meeting.
The rate increase proposal was part of the City of Sedalia's budgeting process, it was noted, and was ultimately passed after much discussion by Mayor John Kehde and various council members.
Sewer rates will increase 10 percent for Sedalia residents, or about $3.75 per month more for average customer, while water rates will increase 2 percent, or about 47 cents more for the average customer. Solid waste disposal rates will increase $1.50 more per month, with a $1 discount available for senior citizens.
It was estimated that the net overall combined increase will be around 7.2 percent on customers' monthly bill, or about $5.72 on average.
"We have not done a good job of communicating with our citizens in regards to how the funding is done, and why we're in the position of where we're at with this Enterprise Fund that funds this particular area," commented First Ward Councilman and Mayor Pro Tem Jeff Leeman.
He added that some past Council members did not want to raise utility rates due to political reasons.
They voted against rate increase "because they wanted to be re-elected ... that to me is short-sighted in the way you handle your financial responsibility as you sit here as a Council person. What's the alternative if we don't do this?" Leeman asked.
The City was forced to raise rates several years ago by the DNR, Leeman noted, and a previous Council decided to raise rates incrementally. "That's what we've been doing."
This comes at a time when the City needs to replace the North Wastewater Treatment Plant at an estimated cost of $60 million.
A chart showing the rates of nearby municipalities was displayed during a presentation.
Second Ward Councilman and future mayor Andrew Dawson noted that private companies have contacted him and as well several other Council members and the Mayor's Office, wanting to purchase the City of Sedalia's utilities. "If that happens, that's going to be disastrous," Dawson said.
Leeman later noted that "you can co-mingle some funds within city finances. Some you can't. So if we can figure out a way to better inform our constituents, the people we work for, really, as to how this is all done, that we don't come to this conclusion lightly. We never want to do it, but service costs go up. It's the nature of the beast, it's like everything else that happens," he said. "And somehow it has to be paid for."
Leeman said that he is afraid that "if the City goes to private funding, the rates will really go up. No one will have any input (at that point)," he said.
Fourth Ward Councilman Steve Bloess echoed Leeman's sentiments, adding that he believes the City provides solid services, and that a 7.2 percent overall increase is reasonable. "I'm happy with the percentage," Bloess said, comparing it to the current rate of inflation, which was 7.9 percent in February, the highest since January, 1982.
Bloess was also mindful of the dedicated and loyal City employees who currently provide those services to Sedalia residents.
Leeman noted that the current Council is open to discussion from the public. "Tonight is the hearing on this and there's nobody here," he said.
Budget discussions are always open to the public as well, it was noted.
It should be noted that Second Ward Councilwoman Tina Boggess and Third Ward Councilman Bob Cross voted no on all three rate increase ordinances Monday night, making the overall Council vote 6 yes, 2 no on those items.
In her statements, Boggess said that she agreed with Jeff, in that "there are pots of money you can move around, and some you just can't."
And the senior discount is great for seniors, Boggess said, "but what about low-income families? ... If you're barely getting by as it is .. it's sad that it didn't get done when it should have gotten done way back when. Well, we can't repair 'way back when' we've got to go forward."
One written comment was received from Albert Reine through the City website's "citizen engagement reporting software" previous to Monday night's meeting:
"Respectfully request defunding: 1. Branding Campaign. 2. Retail recruitment. 3.Neighborhood revitalization. Respectfully request looking in several other places where cuts can be made and thinning out departments before increasing user fees for trash, sewer and water.