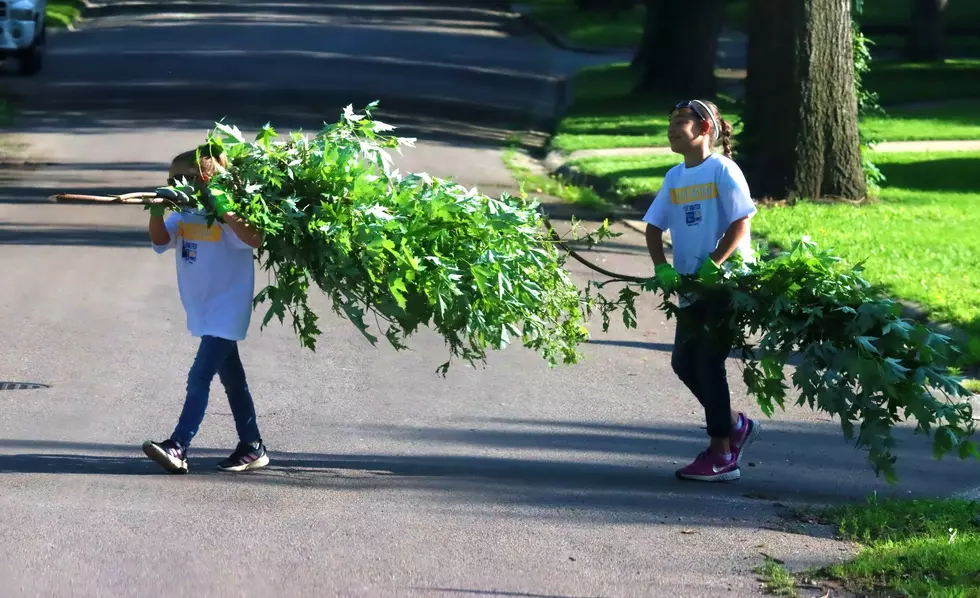 United Way Springs Into Action at Vermont Park
Randy Kirby
After a three-year absence, United Way of Pettis County's Day of Action has returned to Sedalia.
Between 200 and 250 volunteers descended on Vermont Park for opening ceremonies at 7:45 a.m., then fanned out over a six-block radius of the park to help clean up the neighborhood.
In addition, there were five projects outside of that area where volunteers worked at homes where help from United Way was specifically requested.
"We've done our kickoff. Everybody had breakfast - coffee, apple juice – the mayor did his proclamation, Boy Scout Troop 54 came and did a presentation of Colors, and so now teams are all in their assigned areas, and picking up trash, debris, any sort of yard clippings, and we have a couple of dumpsters on either end of the park, and we're just helping neighbors out with any trash that haven't been able to get to,' UWPC Executive Director Samantha Gilpin told KSIS Saturday morning.
Gilpin said the Day of Action Committee took time last week to pass out flyers to all the surrounding neighbors notifying them of the Day of Action event coming to their section of Sedalia.
"It really is a team effort," Gilpin stated.
There were an additional five projects that went through an application process, she noted, and were approved for the 2022 edition of Day of Action. Those projects involved work at La Monte Senior Housing, plus four more home within Sedalia that saw action from United Way teams. Gilpin said that work was bout cleaning gutters, painting a deck and general yard work.
This Day of Action was originally scheduled for last October, but was rained out, Gilpin recalled.
There were four teams from Whiteman Air Force Base that also came out and donated their time and energy. One team was seen tossing old mattresses into a dumpster, which was quickly filling up by 9:30 a.m. "That is fantastic," Gilpin said. "Glad to see that partnership continuing, and then several businesses around town put together teams. So we're very grateful that they gave up time on a Saturday to be with us."
Gilpin expected the work to be completed by 3 p.m. Saturday.