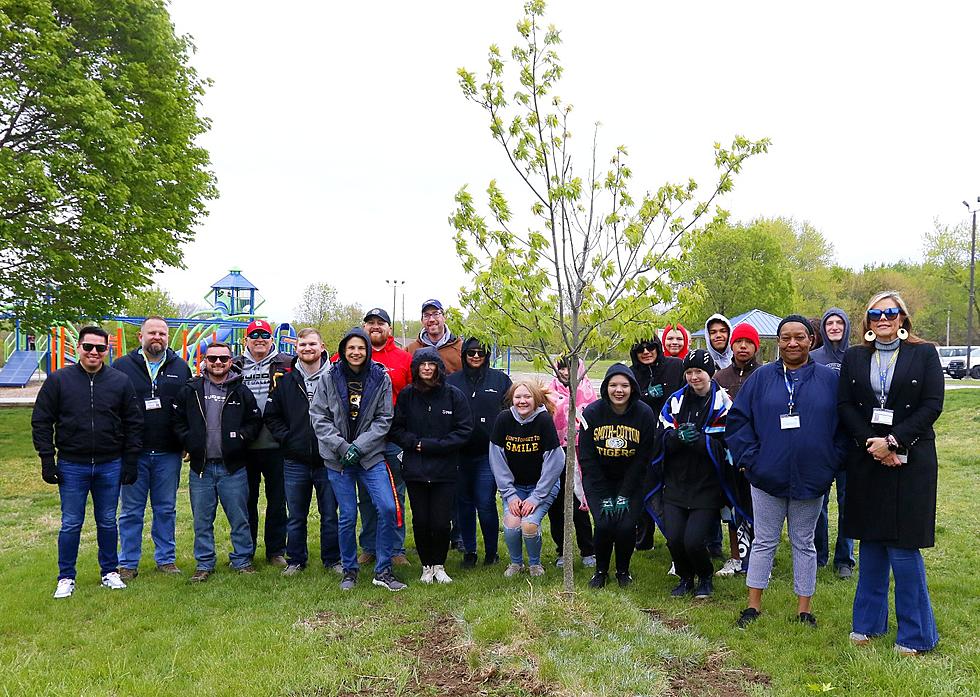 Tree Planting Highlights Earth Day 2023 in Sedalia
Randy Kirby
Earth Day 2023 was a mighty cold one in Sedalia.
But a hearty group of volunteers showed up at Hubbard Park at 11 a.m. Saturday, and gathered around propane heaters to stay warm while eating free corn dogs & lemonade, chatting about how cold it was on this particular Earth Day.
Three types of tree saplings were given away to anyone who wanted them. And a sun valley maple tree valued at $165 was planted just west of a shelter house at the park.
The event was sponsored by Nucor Steel Sedalia, and about a dozen Nucor employees and some of their spouses attended the event. The first Earth Day was held in 1970.
In addition, a group of Smith-Cotton JROTC cadets volunteered their time Saturday to assist with collecting electronic waste on a flatbed trailer for disposal later.
Tim Patterson, Nucor Sedalia's environmental manager, who has lived in Sedalia since February of 2018, spoke with KSIS about the event.
"This is Earth Day for everyone in the United States, and our team at Nucor are all about being environmental stewards through recycling and other things. We set up an E-Waste (collection site) as our inaugural event. So we are just kind of getting started with how we can approach the community with building up our recycling programs in the community," Patterson said.
"With our partners here at AMR, they're part of the Nucor family, recycling metals, and others, like we take everything we use and turn it back into something re-useable. Everything we do at Nucor is about sustainability and how we can reduce our impact (on the environment) through our recycling programs and reducing our carbon and CO2 production," he said. "This mill here is one the most technologically-advanced mills, so it has a lot of efficiencies, which reduces our carbon footprint."
Patterson added that this was Nucor's first Earth Day event, "but not our last."
City of Sedalia Mayor Andrew Dawson, Mayor Pro Tem Rhiannon Foster, Second Ward Councilwoman Tina Boggess, Eastern Commissioner Isreal Baeza, and Sedalia Parks & Rec Landscaping Supervisor Shawna Yager were also in attendance Saturday.
Mayor Dawson thanked Nucor for sponsoring the event.
The tree saplings originated from the Missouri Department of Conservation.