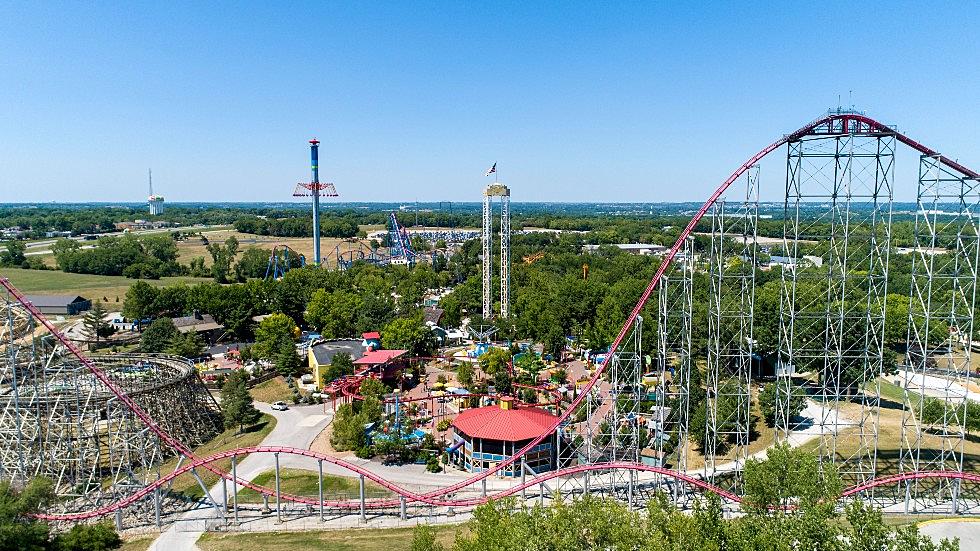 Streamlined COVID-19 Protocols at Worlds of Fun This Season
Chris Foshee / Worlds of Fun PR
Worlds of Fun and Oceans of Fun announced their operating schedule and some of the fun things they have planned this summer back in March. As we get closer to the opening of the theme park on May 22 and the water park over Memorial Day weekend they've released their COVID-19 protocols for 2021.
Both Worlds of Fun and Oceans of Fun will open with limited capacity in the parks, so guests can maintain social distancing from other guests. Season passes and tickets must be purchased online or through the park's app and will not be available at the front gate. It's recommended that parking be purchased in advance as well.
The park has changed some of the protocols from last season as well. Those only visiting Worlds of Fun don't need to make reservations and show up at the specified time. Those visiting both parks or only Oceans of Fun still need to make a reservation for the date and arrival time for Oceans of Fun.
The health screen questionnaire that guests needed to complete on the Worlds of Fun app, will now be conducted by associates at the front gate.
And masks are not required by guests outdoors unless social distancing of six feet or more cannot be maintained. Indoors masks will continue to be required except while actively eating or drinking. Facemasks should completely cover the nose and mouth.
Finally, while the parks will open with limited capacity. There will be no limitations to ride capacity.
Worlds of Fun / Oceans of Fun says wait lines for rides and attractions will be marked for social distancing. And seats, headrests and armrests will be cleaned routinely. In restaurants and dining areas some tables have been removed for social distancing, wait lines will be social distanced and all food will be served on disposable products, including pre-wrapped utensils. Contactless payments including credit cards, Apple Pay and Google Pay are strongly recommended by the park.
At this time Worlds of Fun will not be having any indoor shows. More about Worlds of Fun's COVID-19 protocols can be found on the theme park's website or app.
LOOK: Stunning animal photos from around the world
From grazing Tibetan antelope to migrating monarch butterflies, these 50 photos of wildlife around the world capture the staggering grace of the animal kingdom. The forthcoming gallery runs sequentially from air to land to water, and focuses on birds, land mammals, aquatic life, and insects as they work in pairs or groups, or sometimes all on their own.