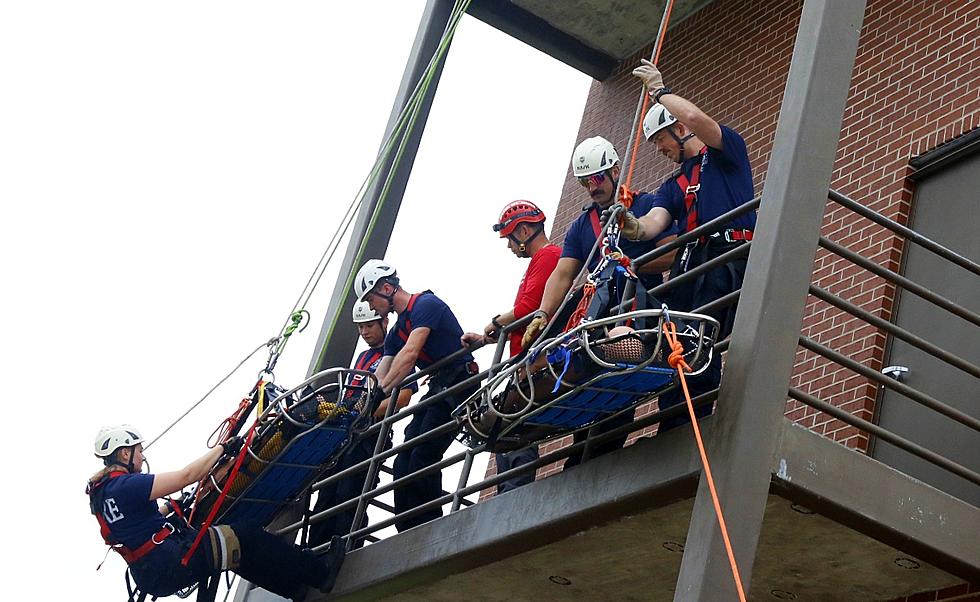 SFD Adds One Dozen More Certified Technical Rescuers to Department
Randy Kirby
One dozen Sedalia Fire Department Firefighters spent most of this week working on technical rescue training at the department's headquarters, 2606 W. 16th Street.
Deputy Fire Chief Daniel Shaw noted that the course will allow the department to add to the existing rescue team and double the number of technical rescuers available in Sedalia.
"This week ends the bookwork that was completed online, and we now have our students performing the physical skills portion of this. We brought in a couple of captains from the Jefferson City Fire Department to help us teach these skills, and then Friday will be state evaluations, where we bring in state evaluators to test their knowledge and certify them on the skilled portion. Then after that, they will be able to take state written exams for three levels of certification, and if they are successful there, they will achieve three state certifications that are also recognized internationally as a technical rescuer," Deputy Chief Shaw told KSIS.
"We are trying to provide the best possible service to our citizens and this is an area, with the amount of industry that we have and people working at heights, that we believe is a necessary level of service that we need to be able to provide and that we need to be proficient at," Shaw said.
Deputy Chief Shaw explained that all personnel at the SFD who wanted to achieve these levels of certification were able to take the course. No one was required, Shaw emphasized. "This is a very highly technical level course, and you need people who are highly motivated to want to achieve this to be successful in it," he noted.
The SFD currently has a total of 43 personnel, 39 of them are line and file on shifts. "We have approximately 12 who are already certified to this level, and we add another 12, so we should be right around that 24 mark, so about half of our department will be certified to this level," Shaw said. "By doubling that number, we will be far more successful in those operations."
Deputy Chief Shaw reminded that continuing education is strong at the SFD, "so they have to participate in a certain number of hours of training every year to maintain that, so their certification lapses at this level every five years, so they have to demonstrate to the state the number of hours they have participated at this high level of training to be recertified every five years."
Shaw went on to add that this is a very physically and mentally demanding certification level, so it takes some work. And the classroom portion of the online course (taught by Shaw) took a lot of studying and dedication as well.
There is currently one opening at the SFD. "We're looking to fill that and post that notice here soon," Shaw said, adding that "we've done several promotions and hirings in the past couple of years. We have a lot of people progressing throughout the department and doing very, very well," Deputy Chief Shaw commented.
"It is wonderful to go to Council (where the badge pinning promotions occur) and see 14 or 15 of our members who are either on duty or off duty showing up to show support for people like Inspector Carver, and all of the promotions that happened over the past couple of months," Shaw said.
"I think we're headed in a very positive direction, and I'm excited to be a part of it," Deputy Chief Shaw stated.
Also this week, while tech training was going on, the rest of the SFD was traveling throughout the City, flushing and testing hydrants.
Tech Training
LOOK: 30 Best Major League Baseball Home Run Celebrations Using Props
We examined every Major League Baseball team and found our 30 favorite home run celebrations where players brought props to the party.