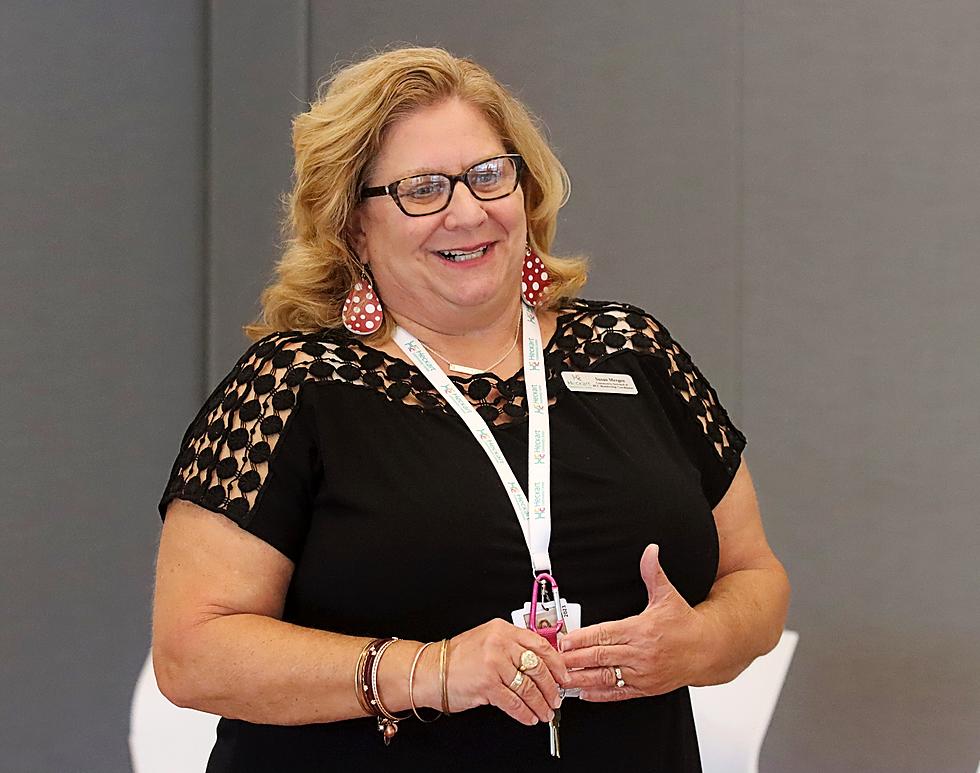 Sedalia Park Board Meets New Community Outreach Specialist
Randy Kirby
The Sedalia Park Board met the Heckart Center's newest part-time employee Thursday evening at its regular monthly meeting.
Susan Mergen, who recently retired from the Center For Human Services after 25 years of service as development director, began working for Sedalia Parks & Rec as a membership development and community outreach specialist for the Heckart Community Center.
Mergen gave the Park Board (minus Kristy Woolery, who was absent Thursday) a brief introductory speech. She said she is excited for the opportunity to promote the newest crown jewel in the City of Sedalia.
According to Parks & Rec Director Amy Epple, Mergen's goal this year is to increase corporate sponorships for the community center. There is already one very large corporate sponsorship at the Heckart, and that's the City of Sedalia. There are already 114 City employees taking advantage of the Heckart, Epple noted.
"We all know that a good employee is a healthy employee. It's not just about physical health, but mental health as well," Epple said.
The other project Mergen is currently working on is a bid to have a business come to the Heckart and serve coffee and juice.
The Park Board had plans to discuss a full-time incentive program Thursday night and make a decision on it at a later meeting. But discussion led to a motion made by Dan VanDyne and seconded by Sydni Herrick to approve the program. All members present voted yes.
During the meeting, Epple noted that nowadays, the average maximum time an employee remains with an employer is about four-and-a-half years. For younger employees, that time frame is even less, affecting retention rates for all companies.
"The push for a (full-time employee incentive program) was that the City did a stay-pay program (in the winter months) and the Parks employees were really appreciative of that," Epple said.
"I have employees who have been here for 25 years and 10 years, and we have invested in them and they have lots of knowledge, and after building this community center, we have to build something for loyalty for those employees who stay here. What can we do when you're a City government, you have a budget, there's only so much you can do. So that's what I was looking at. It's not a lot of money, but at least it's something to show appreciation for someone, like $1,000 if you stay here for five years, $2,000 if you stay here for 10. And it would be on your anniversary date. You can only pat them on the back so much," Epple said.
The Heckart had an AC issue over the weekend in the community rooms and office space that allowed temps to rise to 86, but it has since been resolved.
"Thank goodness it was under warranty," Epple said, noting that even brand-new things can break down from time to time. Most of the vendors at the Heckart worked for (general contractor Paric) so they are the ones who get called to fix the problem, such as the one with the air conditioning unit last week.
"That's part of it, since it's under warranty, we can only use them (the one who installed the unit)," Epple said, adding that she called some local businesses and they said "if we touch it, you will lose your warranty" with the other firm, "so we advise that you not do that."
Epple said that the problem is now fixed, "and that's all that matters."
Slabs of concrete were add to the sidewalk at the Heckart recently to allow for more direct access to the community rooms. Previously, those entering or exiting a community room, had to walk around a flower bed (or through it).
Epple indicated it was a design flaw. "It looks pretty, but it's not functional," she said.
"We also put concrete slabs on the west side of the tennis courts," she added. "So you park here at the Heckart and go right into the tennis courts as well."
Another design flaw concerns proper ventilation for the room that contains chemicals for the pools.
"We're working on ventilation in the chemical room. It's not where we would like it to be. There's a standard, and it meets the standard, but that's not my expectation or my standard," Epple said. "That's a safety and concern I have for my staff, so we're working on that."
At historical Liberty Park Stadium, a $1.3 million Missouri Department of Economic Development Local Tourism Asset Development Grant was announced about a month ago to make major improvements.
The stadium was built in 1937 as a Works Progress Administration project. The WPA provided more than $10 billion in federal funds from 1935 through the early 1940s, employing millions of people in hundreds of thousands of jobs as part of The New Deal.
Now Epple and her staff are working with Rob Rollings Architects to design the next phase of Dey Field at Liberty Park Stadium.
The artificial turf on the infield was installed in 2012, Epple said, and so the next logical step is to turf the outfield as well.
In addition, the gravel parking lot will be upgraded to asphalt at some point. "That's one thing we already had a design for, but we'll start working on that and start putting bids out on it," Epple said.
A new fence around the stadium is also being planned. The new fence will still have an "old feel to it," Epple promised.
Epple plans to take Park Board members on a tour of the park system in June. "Anyone else can join us," Epple said. The tour will be especially helpful for newer board members Jeff Wimann and Sydni Herrick, Epple noted.
The Park Board reviews Parks & Rec's master plans (five- and ten-year-plans) every two years, and makes adjustments according to the needs of the community.
At Centennial Park, Epple is looking at installing outdoor pickle ball courts that can be converted into an ice-skating rink during the winter months. Lee's Summit Parks & Rec already has its pickle-ball/skating rink up and running.
The splash pad at Hubbard Park is hugely successful with the kids, its popularity going way beyond expectation, Epple noted.
Liberty Pool was being filled with water Thursday. Centennial Pool is on the schedule to be filled for the summer season on Monday.
The annual Daughters and Daddies dance that Parks & Rec sponsors is now called Hearts and Heroes as of last year.
The second annual 8th grade semi-formal was also very successful. Epple said.
The Parks Board is considering installing a security camera system at two parks next fiscal year. The system will be directly accessible by Sedalia Police, as well as Epple herself via phone app.
There is no alcohol consumption or smoking allowed in Sedalia Parks. And the curfew is midnight, Epple emphasized. "We have rules for a reason," she said, adding that Vermont and Katy parks see the worst vandalism. And at Hubbard, there is an ongoing problem with alcohol at Hubbard Park, as evidenced by trash cans full of beer cans and bottles.
Former Park Board member Janice (Jan) Summers, 81, died May 5. A tree memorial ceremony is being planned. Summers served on the Park Board for three years, to finish out an unexpired term of another board member. She also served on the Yes-Yes Committee that helped get a tax levy issue passed that help make the Heckart Community Center a reality.
Jeff Wimann was appointed to take her seat on the board at last month's meeting.