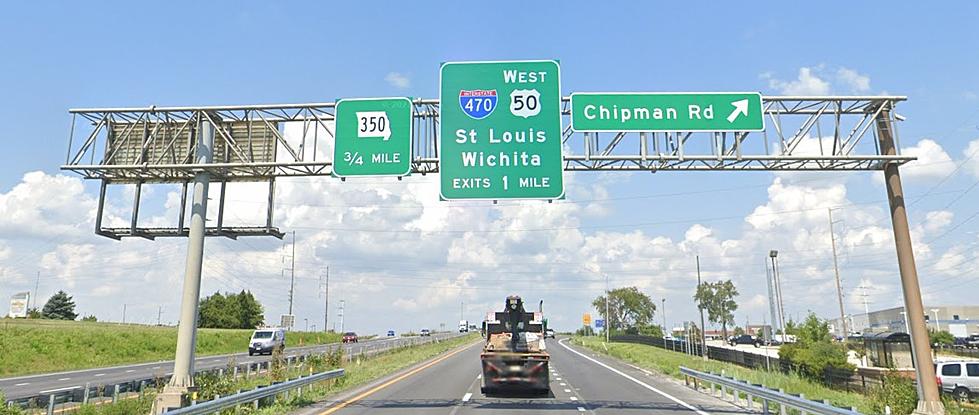 Rolling Slowdowns On Highway 50 At Chipman Road June 2
Google
Motorists who take Highway 50 between Sedalia / Warrensburg and Lee's Summit should prepare for some delays, tomorrow, Thursday, June 2, 2022.
If you've done any driving into Lee's Summit since April or had the occasion to cross Chipman Road on Highway 50, you know the construction has made it pretty messy.
With the bridge out, those on Highway 50 are forced to use the exit ramp, cross Chipman Road, then re-enter Highway 50 on the entrance ramp. Those heading to a restaurant, business, or looking to do some shopping at that intersection find themselves with some interesting Google maps routings to avoid the construction and get where they want to go.
The Missouri Department of Transportation has scheduled rolling slowdowns for Highway 50 at Chipman Road for Thursday, June 2, 2022. The reason for the rolling slowdowns, crews are delivering and staging the girders for the new bridge. The rolling slowdowns are scheduled to occur between 7:00 AM - 7:00 PM CDT weather permitting. Rain on Tuesday and Wednesday pushed this work to Thursday, and MoDOT could reschedule again if the weather doesn't cooperate.
Work on the bridge replacement project on Highway 50 over Chipman Road is expected to take most of the summer.
Underground Basement Home For Sale
Top Gun Easter Eggs in Top Gun: Maverick
Did you catch these callbacks to the original Top Gun in the sequel?