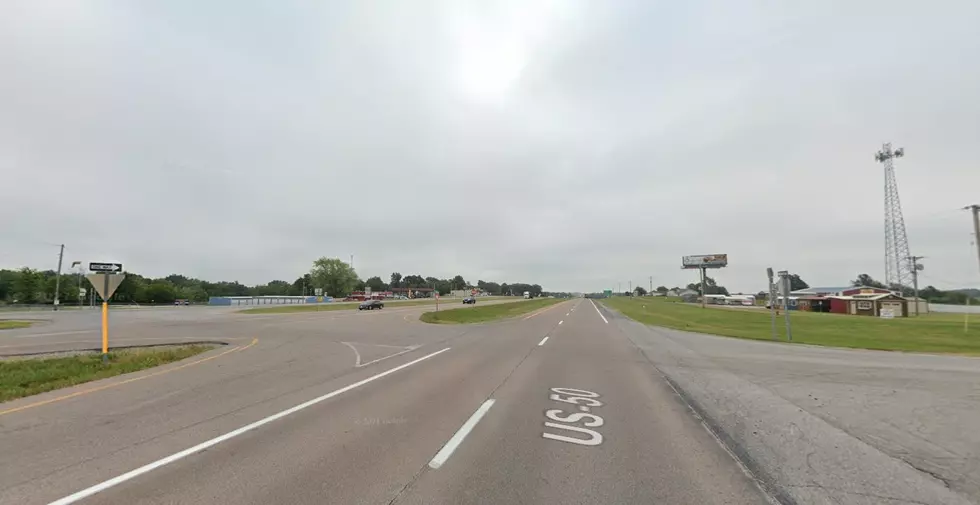 The New J-Turns on Highway 50 and Route 127 Are Already Annoying
Google
So all that construction on Highway 50 at Route 127 is finally wrapping up. This morning I experienced two drivers executing the J-Turn maneuver at the intersection and it's already annoying me and making me wonder why they just didn't throw up a traffic light with turn signals.
In case your wondering what J-Turns are, here's a defintion provided by the Missouri Department of Transportation. "Instead of motorists crossing fast-moving lanes of traffic to get to the opposing lanes, drivers at a J-turn intersection turn right in the same direction of traffic, merge into the left lane, and then make a u-turn in the direction they intend to travel. Although drivers will have to travel slightly further to get where they want to go, using J-turns can take the same or less time than trying to wait for a safe and appropriate gap to cross traffic."
According to MoDOT the turns enhance safety because they greatly elimate or reduce t-bone crashes, the type of crash that causes fatalities and severe injuries by eliminateing the need for motorists to cross high speed lanes of traffic to get to the lanes on the other side.
If you haven't experienced it yet, here's a video from Mo-DOT talking about J-Turns:
When it comes to Highway 50 and Route 127, there certainly needed to be some sort of safety improvement. According to MoDOT the intersection has been on Missouri's high severity list for the past four years, and from 2013-2018 there have been 22 accidents at this location. 18 of the crashes were t-bone accidents.
One of the things the video talks about is how the lanes allow those maneuvering the J-turns to accelerate more quickly. Yeah, sometimes, but that didn't happen to me today, and the pokeyness of the drivers involved actually is what I find annoying.
As I was happily tooling down Highway 50 towards Sedalia, I had two vehicles slowly pull out at Route 127 and make a right into my lane. I moved from the right lane to the left lane so I could maintain my speed. Yet, they wound up doing the same thing, at their pokey speed so they could execute the J-turn and head towards Warrensburg forcing me to slow down. I can see some crashes from drivers not paying attention, and drivers trying to merge quickly from the right to the left lane to not miss their J-turn.
According to Gary Leu, the professional driver featured in MoDOT's video, that can happen, yet it's better than being involved in a T-bone accident. I'll give him that. J turns work according to MoDOT.  In assessing 19 different J-turn intersections in Missouri, the design resulted in a 25 percent reduction in crash frequency for all crashes. Fatal crashes have decreased by 88 percent, and serious injury crashes by 78 percent. Not to mention, the most severe crash type, the t-bone, completely eliminated.
I can't argue with that data, yet having to slow down, change lanes, and change lanes again is still annoying and I wonder if it might have been easier to throw up some traffic lights with turn lanes. One thing is for sure, I'll still be paying attention when I drive through the area to stay out of a fender bender from pokey drivers trying to figure out how the heck J-turns work.
LOOK: Here are the best small towns to live in across America
LOOK: Famous Historic Homes in Every State