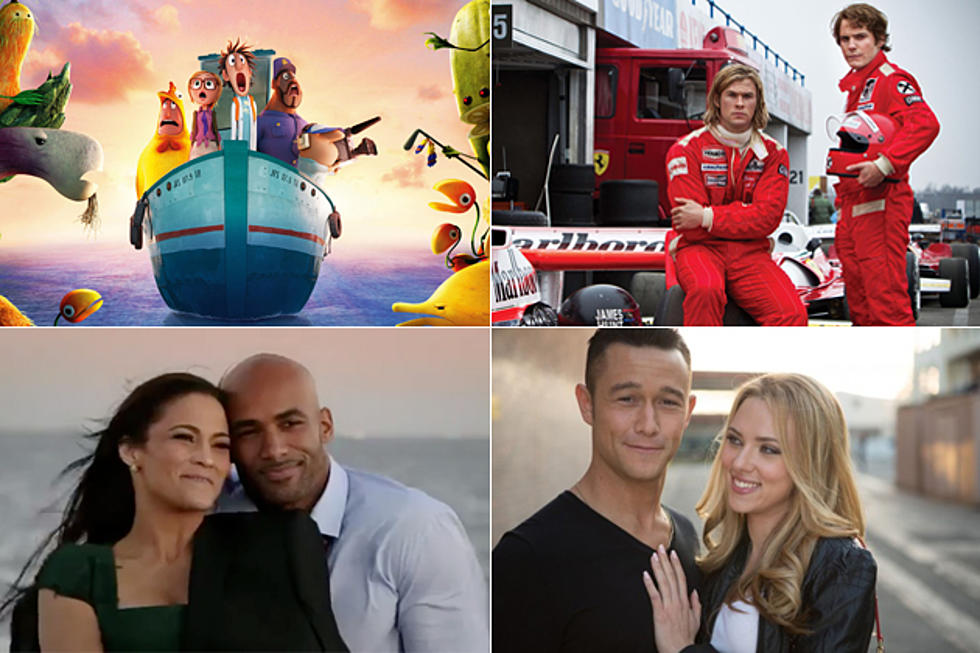 New Movies: 'Cloudy With a Chance of Meatballs 2,' 'Rush,' 'Baggage Claim,' 'Don Jon'
Sony / Universal / Relativity / Fox Searchlight
It's a weekend crowded with newcomers at theaters, with various entertainments aimed at all ages and interests.
'Cloudy With a Chance of Meatballs 2'
The follow-up to the 2009 animated hit finds the strange machine that once turned water into food is now turning animals into food, creating terrifying hybrids like shrimpanzees, apple pie-thons and tacodiles.
Directed by Cody Cameron, Kris Pearn
Starring Bill Hader, Anna Faris, James Caan, Kristen Schaal
---
'Rush'
The story of one of the biggest rivalries in Formula One racing history, between James Hunt and Nikki Lauda, one that extended off the race track as well.
Starring Chris Hemsworth, Daniel Brühl, Olivia Wilde, Alexandra Maria Lara
---
'Baggage Claim'
With her sister's wedding approaching fast, flight attendant Montana Moore is feeling a lot of pressure to find a man she can settle down with, so she tracks down all her exes to see if maybe there's a chance at rekindling things.
Directed by David E. Talbert
Starring Paula Patton, Djimon Hounsou, Taye Diggs, Jill Scott
---
'Don Jon'
A man who watches way too much Internet pornography finally meets a woman who might engage his mind as well as his libido, but she's got issues with love of her own to deal with.
Directed by Joseph Gordon-Levitt
Starring Joseph Gordon-Levitt, Scarlett Johansson, Tony Danza, Julianne Moore