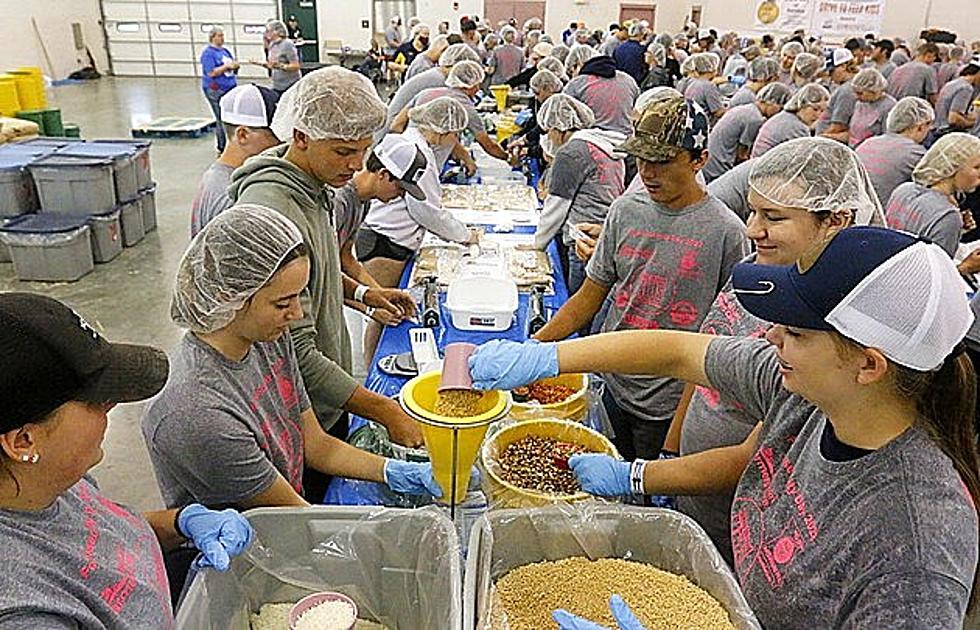 Mo FFA Members, Ag Leaders Pack 160,000 Meals
Randy Kirby
Missouri Farmers Care, agricultural leaders, and partners joined together at the Missouri State Fair to capstone the 2023 Drive to Feed Kids.
The effort to stand in the gap for those facing hunger in our state raised 1,200,389 million meals. Food insecurity affects one in seven Missouri children and increases to up to one in three kids in some rural parts of the state. Missouri agriculture has banded together to take action to help change this reality through the Missouri Farmers Care Drive to Feed Kids campaign. Over the past eight years, this collaborative partnership has raised resources to provide over twelve million meals for children and families across the state.
"Farmers and ranchers work 365 days a year to responsibly and sustainably produce abundance from our farms and ranches," said Ashley McCarty, MFCF executive director. "The Drive to Feed Kids addresses the disparities where that abundance doesn't reach our neighbors' dinner tables. We are honored to again partner with Missouri agriculture, agribusiness, elected leaders and Feeding Missouri to make a positive impact in the lives of our food insecure neighbors."
These activities were the capstone of the year-long effort to meet the needs of food insecure Missourians. Missouri's agricultural youth programs once again partnered with the Drive to raise meals in communities across the state. Missouri 4-H members raised resources to provide 711,286 meals during the 4-H Feeding Missouri campaign this spring. During Missouri FFA Day of Service on Aug. 15, hundreds of Missouri FFA Association members and agricultural leaders came together at the Missouri State Fair to pack 160,000 family meals. Missouri 4-H clubs and FFA chapters statewide expanded their local impact through matching mini-grants provided by the Drive.
Food banks consistently report that protein is the most requested item for families. Through the partnership's Hogs for Hunger initiative, swine exhibitors and producers were invited to commit pigs to feed neighbors in need. Through the generosity of exhibitors and producers, 33,371 servings of pork were donated this year. Drive to Feed Kids donations are distributed statewide through Feeding Missouri, the association of Missouri's six regional food banks.
"The number of Missourians, and specifically children, living in food-insecure households is growing due to several factors." said Heather Hargrove with Feeding Missouri. "We are grateful to have the continued commitment of the agriculture community. This partnership helps ensure children in Missouri have access to the nutritious food necessary to succeed during the school year."
Fairgoers participated in the Missouri Farmers Care $2 Tuesday at the Missouri State Fair by bringing non-perishable food items and monetary donations. Missouri FFA donated fresh produce from FFA student projects on display at the fair. Missouri's elected and agricultural leaders packed meal boxes on Governor's, Legislators' and Judges' Day. Through all of these efforts, resources for 60,900 meals were donated.
The Missouri Farmers Care Drive to Feed Kids is made possible by: ADM, Brownfield Ag News, American Family Insurance, MFA Incorporated, FCS Financial, NutraBlend, Missouri Corn Merchandising Council, American Family Dreams Foundation, Missouri Soybean Merchandising Council, Missouri Farm Bureau, Martin Rice, Missouri FFA Foundation, Jerry Litton Family Memorial Foundation, Missouri State Fair Foundation, Missouri Pork Association, Missouri's Electric Cooperatives, Forrest and Charlotte Lucas - founders of Protect the Harvest, Midwest Dairy, Professional Pet Association, Missouri Department of Agriculture, Missouri State Fair, Missouri FFA, Feeding Missouri, Missouri 4-H and University of Missouri Extension, benevolent individuals and the contributions of Missouri farmers, ranchers and agribusinesses.
The year-long campaign concluded Saturday, Aug. 19 at the Missouri State Fair with the announcement of the total impact of 1,200,389 meals raised for Feeding Missouri. Photos from this year's Drive to Feed Kids' events can be found on the Missouri Farmers Care Flickr page. The Drive to Feed Kids was launched in 2017, with the goal of building collaborative partnerships among non-profit organizations, farmers and agricultural businesses committed to addressing food insecurity in Missouri. To learn more about Drive to Feed Kids, including how to be involved in 2024, visit www.MOFarmersCare.com/drive.