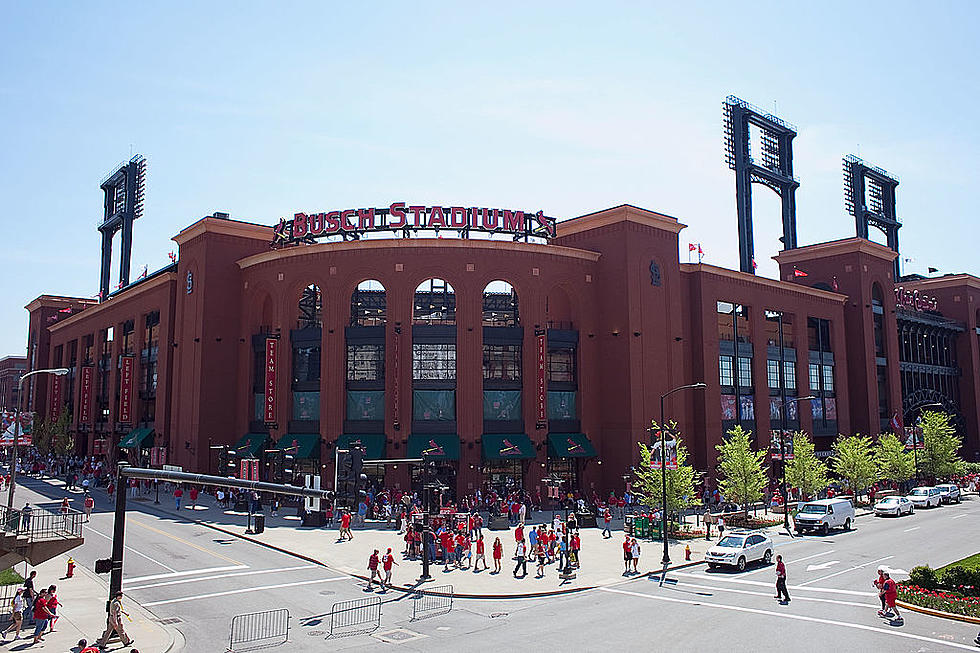 Going to Opening Day at Busch? Here's What You Need to Know
Getty Images
The St. Louis Cardinals open their 2022 season at Busch Stadium on Thursday, April 7. If you're heading to the game, here's everything you need to know.
Your day gets started early, with the Cardinals' official Opening Day Pep Rally at Ballpark Village. Fredbird, Team Fredbird, DJ Todd Thomas, Cardinals organist Dwayne Hilton, and Cardinals Alumni will lead the pep rally in the Together Credit Union Plaza. The team will be giving away prizes and tickets to Cardinals games this season, including opening day. The Opening Day Pep Rally will run from 10:30 AM -12:30 PM CDT and is free for all fans to attend.
The gates to Busch Stadium will open at noon, and fans 21 and over will receive a 2022 Cardinals magnet schedule. The Cardinals will take batting practice at 12:05 PM CDT, followed by the Pirates at 1:00 PM CDT.
Pregame ceremonies will begin with an appearance by the Budweiser Clydesdales, a Busch Stadium tradition at 2:30 PM CDT, followed by the introduction of Fredbird and Team Fredbird and a hype video shown on the scoreboard and recognition of ownership and management.
At 2:38 PM CDT, Cardinals Hall of Famers will be introduced via motorcade around the ballpark, there will be another video presentation. And then at 2:53 PM CDT the 2022 St. Louis Cardinals will be introduced.
Our National Anthem will be performed at 3:06PM CDT with our Nation's colors presented by a Color Guard from Fort Leonard Wood, and the Ceremonial First Pitch will be thrown at 3:09 PM CDT.
Finally, the Cardinals will take on the Pirates at 3:15 CDT.
You can check out the Cardinals opening day schedule on the Cardinals website.
If you're looking at enjoying lunch at Busch Stadium and would like something more than the ballpark hot dog, new on the menu this year are the following items:
Nonna's Italian Beef Sandwich is available near sections 151, 189, 434 & the new "Top of the 5th" stand near gate 5.
Grilled Meatballs in garlic marinara or BBQ style are available at the Terrace Grill in section 428.
St. Louis BBQ Nachos with pulled pork smoked in-house are available at the Broadway BBQ stand in section 109.
"Pop Pop Hurray!" Gourmet Popcorn - (A local family-owned gourmet popcorn company) will have cheddar, red caramel, kettle corn, and stadium mix, popcorn available in the Coke Corner near gate 1.
Island Freeze Frozen Drinks will be available near section 160.
If you can't make opening day at Busch Stadium, we will have live coverage of the pre-game ceremonies from the Cardinals Radio Network on Sedalia's News Leader 1050 AM KSIS beginning at 1:40 PM followed by the game at 3:09 PM CDT. You're on your own for lunch, though.