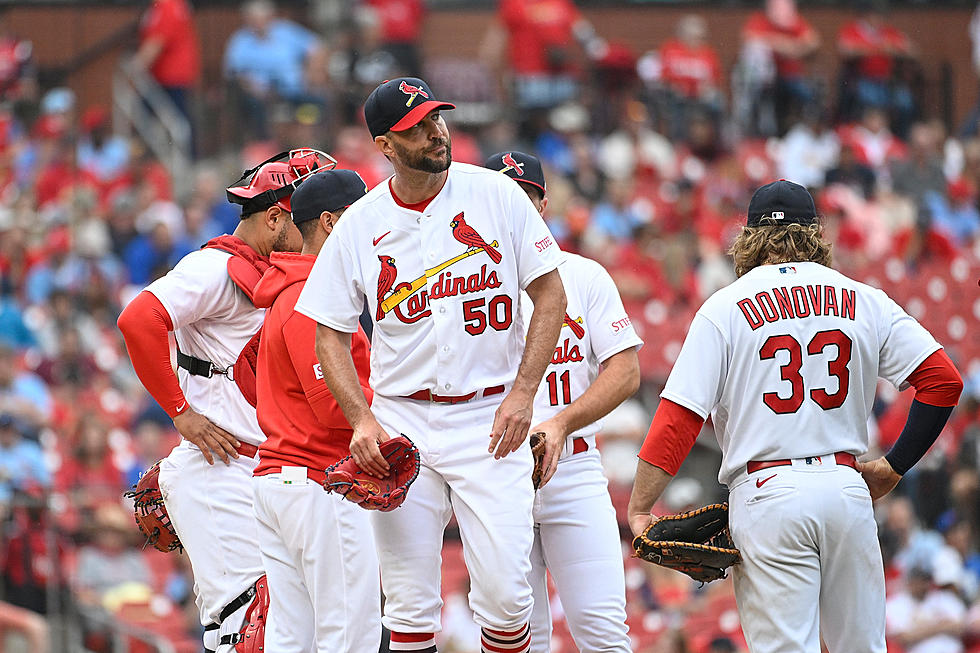 An Open Letter to the St. Louis Cardinals from a Lifelong Fan
Getty Images
I have lived through so many different eras of St. Louis Cardinals baseball, I feel like a wily veteran who has seen everything. But, even I have never seen anything like the season they've had so far this year and I'd like to make this appeal to the team I've loved since birth.
Quick backstory if you're not familiar with my own history. I was born in Missouri in the mid-1960's and attended my first St. Louis Cardinals game in the early 1970's. Spoiler Alert - we weren't very good back then. As you can tell by the look on my cousin's face, the ballpark soda wasn't very tasty either.
Back in those days, at least we had Lou Brock. I barely missed the Bob Gibson era, but knew enough about him to respect all he achieved. Joe Torre was my first favorite Cardinals player. Eventually, I made the ill-advised choice to change to Garry Templeton (until that infamous game when he flipped the crowd off and eventually got traded). Good times, good times.
When I was 16, the Cardinals suddenly became champs again in 1982. A surprising run that led them past the Brewers in the World Series. Off and on through the 1980's, we jump up and surprise everyone and grabbed some pennants. Then, there were the early 1990's and we were terrible yet again. I'll never forget sitting through a double-header versus the Astros in 1994 when we were beaten by double-digits in both games. My point to all this? I have lived through many eras when our team was simply not very good.
All of those eras combined could not have prepared me for what the 2023 season has become. So many great players like Paul Goldschmidt, Nolan Arenado, Nolan Gorman, Brendan Donovan and Tommy Edman and so many high expectations.
If I could sum up my emotions about the 2023 St. Louis Cardinals, my disappointment isn't that they've lost...it's HOW they've lost. Ridiculous, lackadaisical mistakes that resemble a team that really isn't focused and/or doesn't care.
Where is your heart?
Where is your fire?
What has happened to the St. Louis Cardinals team I could always count on to fight?
I have so many questions and so few answers. Where are leaders like Chris Carpenter and Yadi Molina when you need them?
So who can we fire?
If only that would fix this team. I thought Oli Marmol did a great job in 2022 navigating the team through Albert Pujols final season and we at least made the playoffs last year even though we bowed out rather quickly. However, I don't think I've ever seen a St. Louis Cardinals team that lacked leadership quite like this one. Someone has to be accountable and that falls on the manager's lap.
The front office let all of us down
After promising to increase payroll after last season, the Cardinals front office sat on its hands. Other than signing Willson Contreras, they brought in no real pitching help. Then, the front office and manager promptly threw their free agent catcher under the bus as soon as the pitching went wrong to start the year. Same with Tyler O'Neill. These things should never have been done in the public eye. Never.
Where do we go from here?
As the All-Star Game plays itself out, we still have the 2nd half of the season to face. The whispers I'm hearing is the Cardinals are likely to trade Jordan Montgomery and probably Jack Flaherty, too. Don't be surprised if more regulars get moved prior to the end of July trade deadline.
My personal belief is this is not all the fault of the players. I think it's time for new leadership in the manager's chair and the front office, but that's not likely to change anytime soon.
My hope at this point is the team can at least put a competitive team on the field and that Adam Wainwright can find a way to gracefully end his incredible career.
The sad part? There's still a tiny part of me that holds out hope this team can turn on a miracle run and still make the playoffs. That's likely just the sentimental part of this old St. Louis Cardinals fan talking though. (*sigh*)
St. Louis Cards Paul Goldschmidt's Home in Florida Can Be Yours
Inside Yadier Molina's St. Louis Mansion