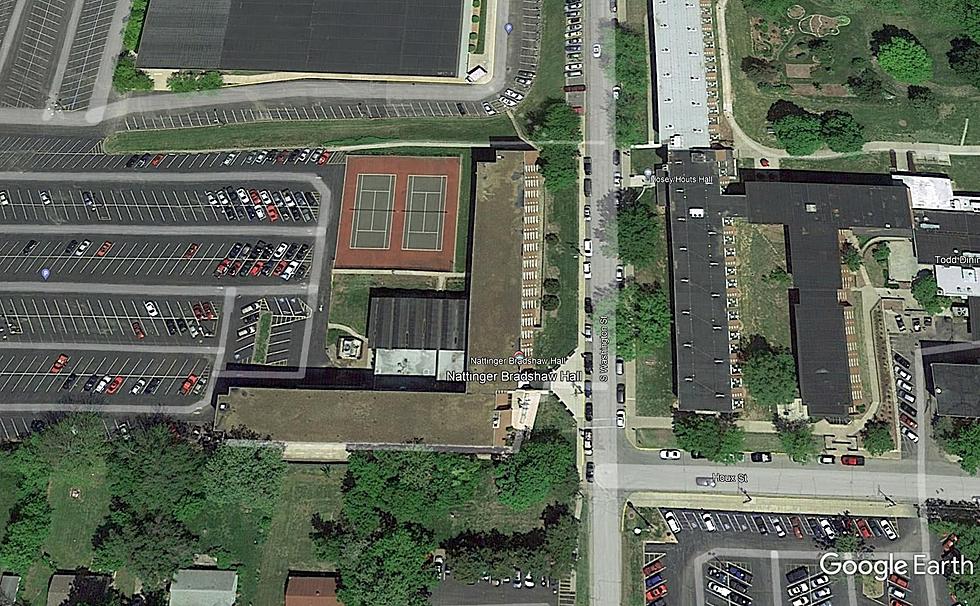 UCM Residence Hall Set for Demolition
Google Earth
With the University of Central Missouri planning to demolish one of its aging residence halls, the university is putting the building to temporary use as a location for training local firefighters.
Nattinger-Bradshaw Hall, constructed in 1963, will be the site for exercises by the Warrensburg Fire Department that were scheduled to begin Nov. 9 and run possibly into December during the building's pre-demolition phase.
As UCM waits for the building's deconstruction to begin, local firefighters will use this site for a wide range of training, including the opportunity to gain experience using a firetruck with a ladder capable of reaching the top floor of this five-story building.
Sam Hafley, manager of Environmental Health and Safety at UCM, said this cooperative effort allows firefighters to train in areas such as search and rescue in a multiple-level building. The training will involve using a smoke generator to make simulations as realistic as possible, along with opportunities for firefighters to practice using thermal imaging equipment and other search and rescue tools inside the facility, and possibly using the exterior rappelling exercises.
"The training will involve some weekend and evening drills," Hafley said.
Demolition of Nattinger-Bradshaw Hall was among items considered by the Board of Governors when it met during its plenary session on Aug. 19. It approved a $901,200 contract with Dore & Associates Inc., Bay City, Michigan, to demolish this building and the Fraternity Complex with costs will be covered through University Housing funds.
The state of Missouri also requires that any asbestos in these buildings be removed
prior to demolition. The university entered a $491,400 contract with Major Abatement and Demolition, Inc., Blue Springs, to complete this work.
Board documents indicate that the general conditions of Nattinger-Bradshaw and the Fraternity Complex, built in 1965, is such that the costs to renovate them significantly outweigh the benefits of doing so. The Fraternity Complex is currently offline due to significant mechanical issues that are not cost-effective to repair. Nattinger-Bradshaw is outdated and would require significant expenditures for mechanical systems in order to continue its operation.
Projections indicate UCM will have sufficient housing inventory without these facilities for at least the next 10 years. Abatement and demolition is projected to be completed by January 2022.